by Chris Clemens
It was 10:30 on a Wednesday night when I received an email from my friend Dave Horan of Everyday Carry Gear. He had heard of a 'huge metal cross' somewhere high up in the hills of Wayland, New York and when connected on a map with a couple of other crosses in Wayland, it made up a greater 'secretive' intentional design. Since two wooden crosses were mentioned, it made perfect sense to me that there could be a third, though typically the 'Trinity' crosses are all immediately next to one another. Just maybe, someone built three crosses and placed one of them much further away–but why?? And, why build two wooden and one metal?? A little bit of online research got me nowhere. Scouring Google Maps on satellite view seemed futile at best. I even reached out to my niece who lives not far from the area asking if she had ever seen or heard of a bunch of huge crosses. My next step should always be my first because it's successful nearly 100% of the time: I looked up the Wayland Historian's info and sent an email that same night. Thursday morning I awoke to a reply that had some great leads and info. Just a couple days later, Dave and I set out driving through the hills of Wayland to figure out exactly what was up with these mysterious crosses.
Wayland is a pretty small town located in Steuben County in what most would refer to as the Southern Tier region. Once inhabited by the Seneca Tribe, it was later settled in the early 1800's and then officially made a town in 1848. Easily one of the most recognizable traits of the area would be the moraine's that Upstate is so famous for. Remnants of the glaciers that once scraped up the region, moraines are seemingly random hills made of rocky soil and glacial deposits often with super steep inclines. It's common to see dirt roads in the area with signs indicating that they're not be used during winter. In fact, some of the dirt roads in the region I'm not even sure my sedan could scale in perfectly dry conditions. Luckily, our guide for the afternoon that we met up with had a four wheel drive pick-up truck and offered to use it to show us around.
The Two Wooden Crosses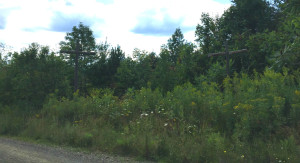 Ashley Road off Route 15A is a seasonal, dirt road that steadily climbs and peaks at the Ashley Cemetery. The oldest internment I can find is that of ten year old Caroline Ashley who passed on December 27, 1810 and who's family namesake clearly carries on centuries later. Just prior to the crest of the hill as Ashley Road bends, two wooden crosses appear on the west side of the road in some brush overlooking the direction of Route 15A. Typically, roadside crosses like this would've been done in three's. There are multiple opinions as to what the three crosses gathered together would've meant, but most agree that they represent the Trinity (God, The Son, The Holy Spirit). Another popular interpretation, mostly of non-Catholics, is to represent Jesus being crucified while the two thieves were crucified beside him. But just having two crosses like this didn't make sense, unless the third metal cross miles away was somehow involved. What if the 'metal cross' off in the distance appeared between the two wooden crosses if viewed just right? Looking west at sunset would've been a nice time to try and view them, but based on the map and the amount of trees, that metal cross was nearly impossible to see from that position.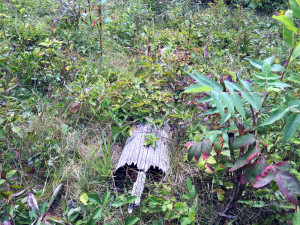 Stepping into the grass just off the side of the road and digging around a little found us a third wooden cross laying down perfectly in the center of the other two. Clearly it had fallen a long time ago and the brush and vegetation had taken it over. No indication on when they went up or who put them there, they appear to have been made from thinner than average telephone poles. It seems like the theory that the crosses of Wayland somehow were connected was already debunked. Unless, we were only finding more than we had previously known about and there was an even greater connection…
The Stone Cross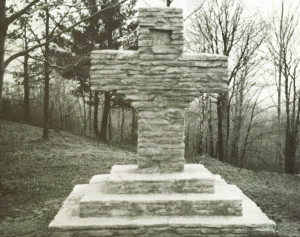 The area known as 'Sandy Hill' was first settled in 1817 by a German settler named John Brail. Soon after, he brought his family and a small German settlement was started. Suffering a cholera epidemic in their small community in 1834, many were buried in a chosen spot located on Acomb Road, a dirt road that today meanders through steep hills and mature forestland.
At the site of the cemetery, a small, log-framed church was built in 1838. However, those burials and the church no longer exist. Today, a small clearing exists where the church and cemetery once were, though the only indication of that history is this single stone cross. Believe me, we looked for other clues of the burials and church and found only 'POSTED' signs.
A date on the back indicates that it was placed there in 1949, though a photo in the "Our Heritage: Wayland Area 1976" history book shows the cross without the stucco that covers most of it today. So most likely at somepoint after the photo was taken in the early 1970's, someone covered the entire cross with the stucco. Based on the age of the stucco, it's probably been decades since the cross has been maintained.




In addition to the stucco, it looks like the initials INRI were placed near the top by embedding some stones into it, though, many of those have fallen out so it's no longer legible. It appeared there wasn't much of a mystery with this cross either, it was simply to commemorate the founding of the Sandy Hill region and the Catholic and Protestant folks who used to be buried in that spot next to their church.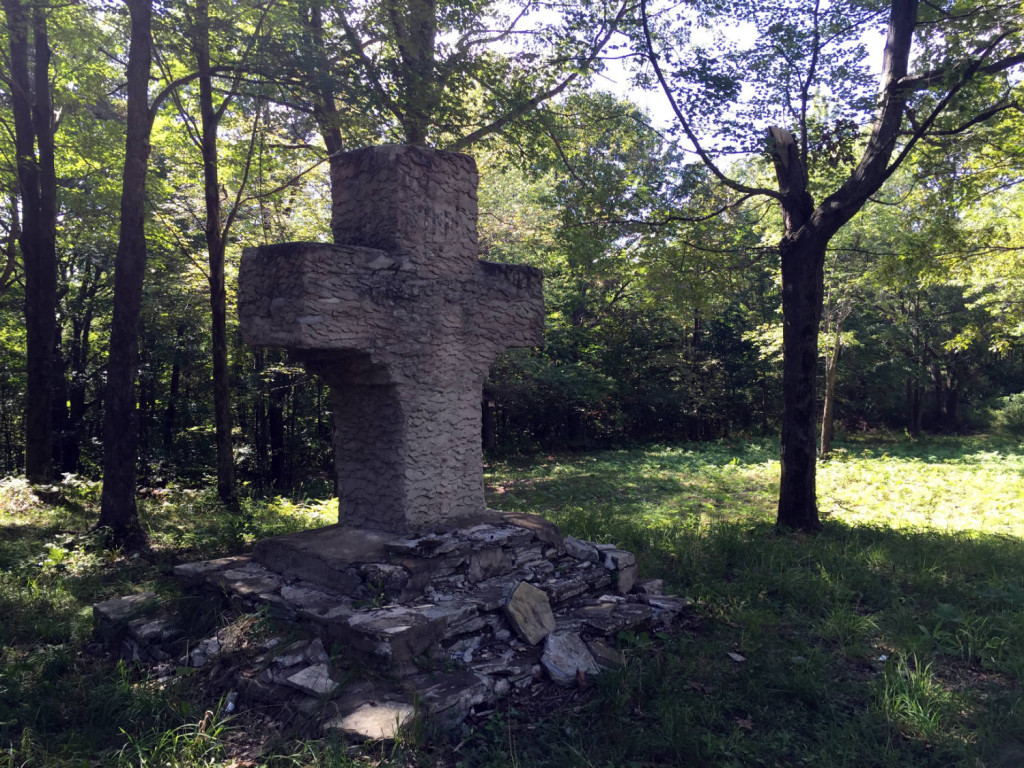 The Metal Cross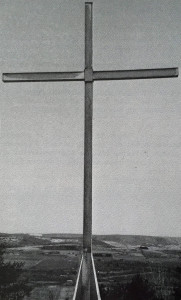 John Landino has lived nearly all of his life in the Wayland region, except for World War II when he was off in Germany courting his wife. He took the lead in creating a history book of the Wayland area back in 1976 and lives in a home in the area that is listed on the National Register of Historic Places. Town Historian Carol Mykel put me in touch with Landino knowing full well that no one could tell the story of the crosses and explain any mysterious back story better than he could. In fact, when we arrived at his house and explained what we were trolling around Wayland for, we mentioned the metal cross and he exclaimed, "Well, there's no special connection that I know of, and I'm the one who put it there! But, let's go have a look." As we rode in his much needed, 4-wheel drive pick-up truck, he told us the story of the 'metal cross'.
Selbig Hill is located at the top of County Line Road, a steep dirt incline that travels 500 feet high in just a half mile. In the early 1900's, the hill was known as a place where the Ku Klux Klan gathered to burn crosses. Later on in the mid-1960's, the different religious denominations of the region began to join their positive forces together and formed one of the first interfaith councils in the region. In the early 1970's, the religious celebrations of the town continued with increased signage, a religious arts fest, and then in 1973 a walk amongst the stations of the cross. The walk was the brainchild of John Landino himself and began at the Town Hall, then continued with 14 stops to the top of what had been re-named to Calvary Hill. Completed each Good Friday, the first Way-of-The-Cross Walk broughts hundreds, and each year thereafter brought visitors by the thousands during the walk's most popular years.




The first cross at the top of the hill was a wooden one which almost immediately fell victim to vandals. Landino replaced it with a 25 foot by 15 foot steel i-beam cross in 1974 and though it's tall enough to sway slightly in a stiff breeze, it has more than withstood the test of decades. In fact, there are numerous bullet holes in the cross where someone fired off a super high powered rifle of some sort. The type of weapon that it would take to blow a hole through 5/16″ of steel is no bb gun, but the cross stands strong and unphased by the attempts. Much more recently, he created a smaller steel cross to serve as the second station located at St. Joseph's Catholic Church down in town. While a towering, steel cross placed at the edge of the woods in a farm field high up on a dirt road did seem like it would be a random find, the mystery behind its presence didn't have a larger, mysterious meaning at all. I should note though, forty years ago the woods were much, much shorter and provided a wider view of the town than they do today.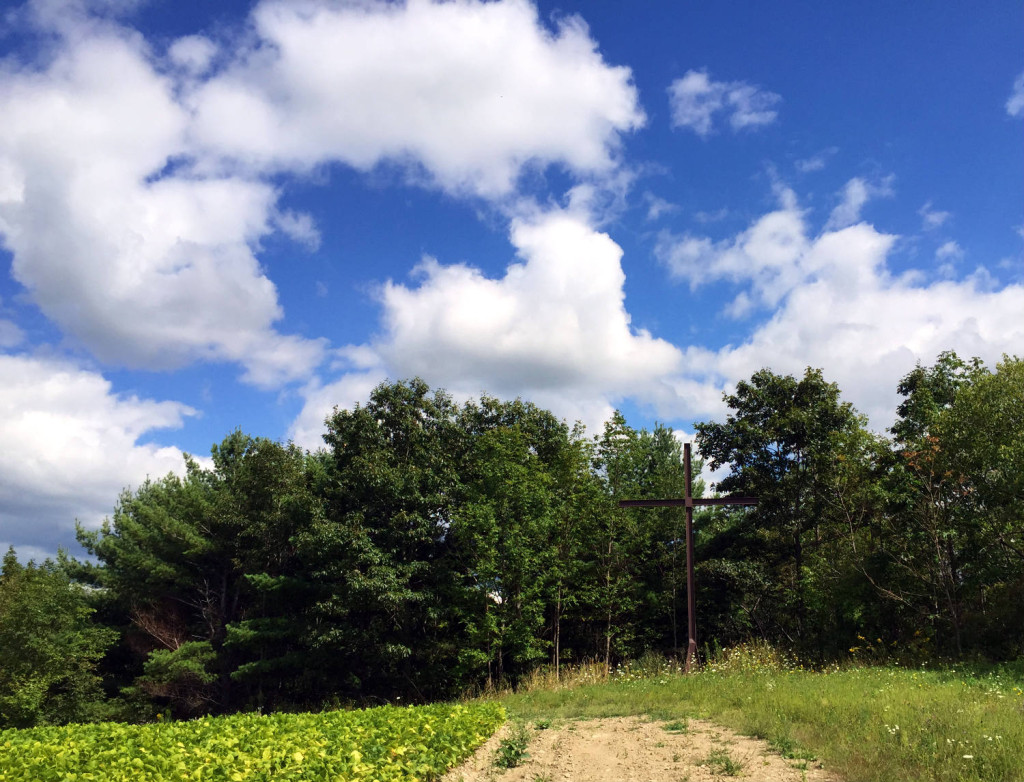 Epilogue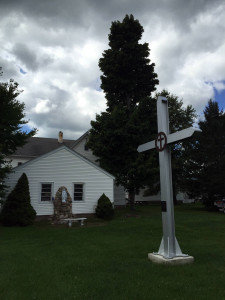 While there wasn't a particularly strange or mysterious connection among the crosses in Wayland, I will say that there seems to be a higher-than-average number of large crosses in a small town. Even though Dave and I didn't uncover a secret message in the hills, we totally uncovered a super cool collection of history and did it with the help of a guy whom we are honored to have spent an afternoon with. If you're driving through the hills of Wayland and happen across a seemingly random cross on the side of the road, now you know that it's not so random at all.
And, thanks Dave for tipping me off to a super cool story and for trucking around with me all afternoon to check it out. It's nearly impossible for me to discover the history of the state on my own, so having people mention stuff when they think of it is awesome.
Resources and Additional Reading
Book: 'Our Heritage: Wayland Area 1976'
Wayland on Rootsweb
Steuben County Official Website
The Meaning of Three Wooden Crosses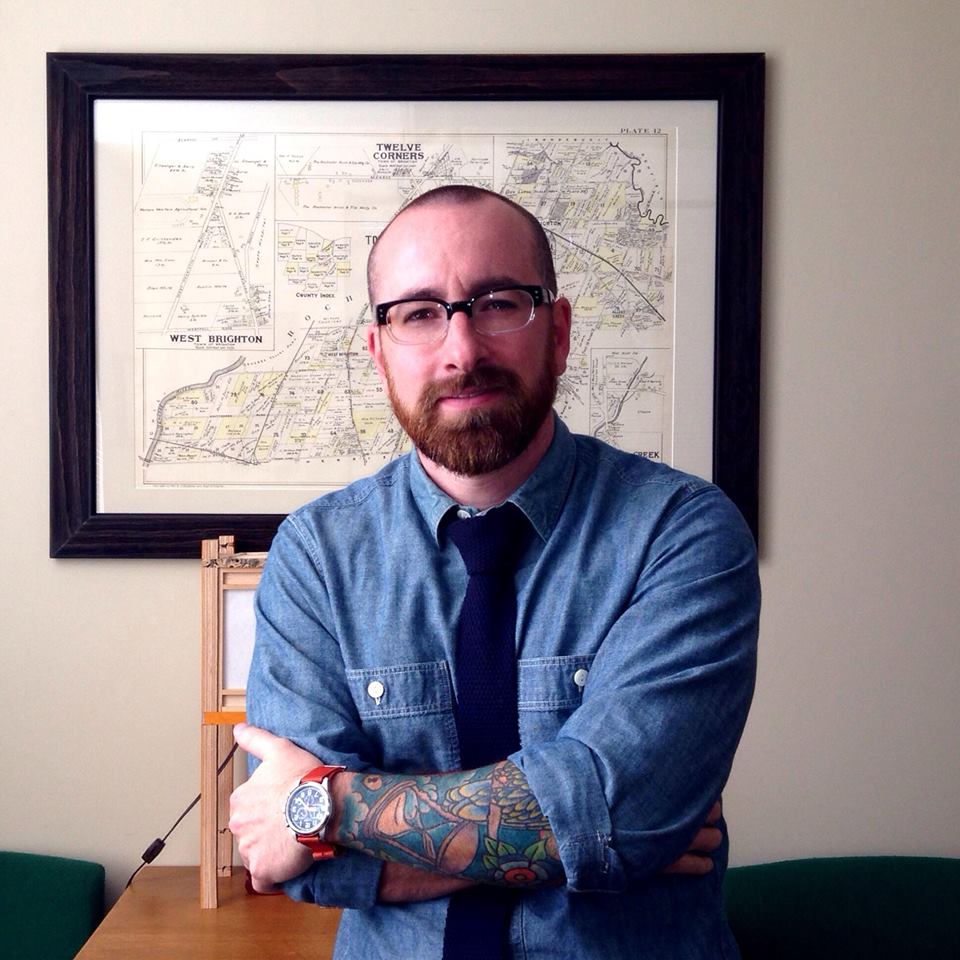 Chris Clemens is the Founder/Publisher of Exploring Upstate. From his hometown in Rochester, he spends as much time as possible connecting with the history, culture, and places that make Upstate New York a land of discovery. Follow him on Twitter at @cpclemens