by Meredith Marsh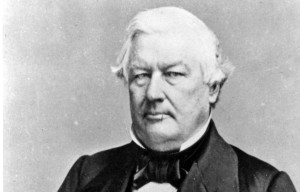 Millard Fillmore is not the most highly revered of U.S. Presidents. In fact, it's possible you didn't realize he existed, let alone that he is one of only four U.S. Presidents born and raised in New York State. Don't feel bad–as far as U.S. Presidents go, Millard Fillmore isn't historians' favorite either. So, why is he claimed as the hometown celebrity by two different Upstate towns, 150 miles apart? And what (if any) impact did Fillmore have as President of the United States of America?
Quick Background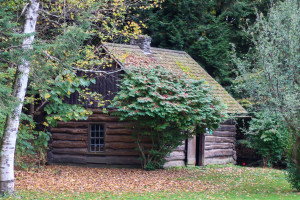 Millard Fillmore was born in a small cabin in southern Cayuga County in 1800. Moravia, New York is often cited as Fillmore's birthplace. But the cabin was actually located in the wilderness, quite a ways up the hill from Moravia (now known as Summer Hill). Generally speaking, it was smack dab in the middle of absolutely nowhere.
Although there is nothing left of the actual cabin he was born in, there is a replica you can see in person, and even step inside. The cabin replica is at Fillmore Glen State Park, right in the village of Moravia.
You can also visit the site of Fillmore's birth up on the hill above Moravia in Summer Hill. There is a picnic pavilion and a garden there, but nothing left of the cabin.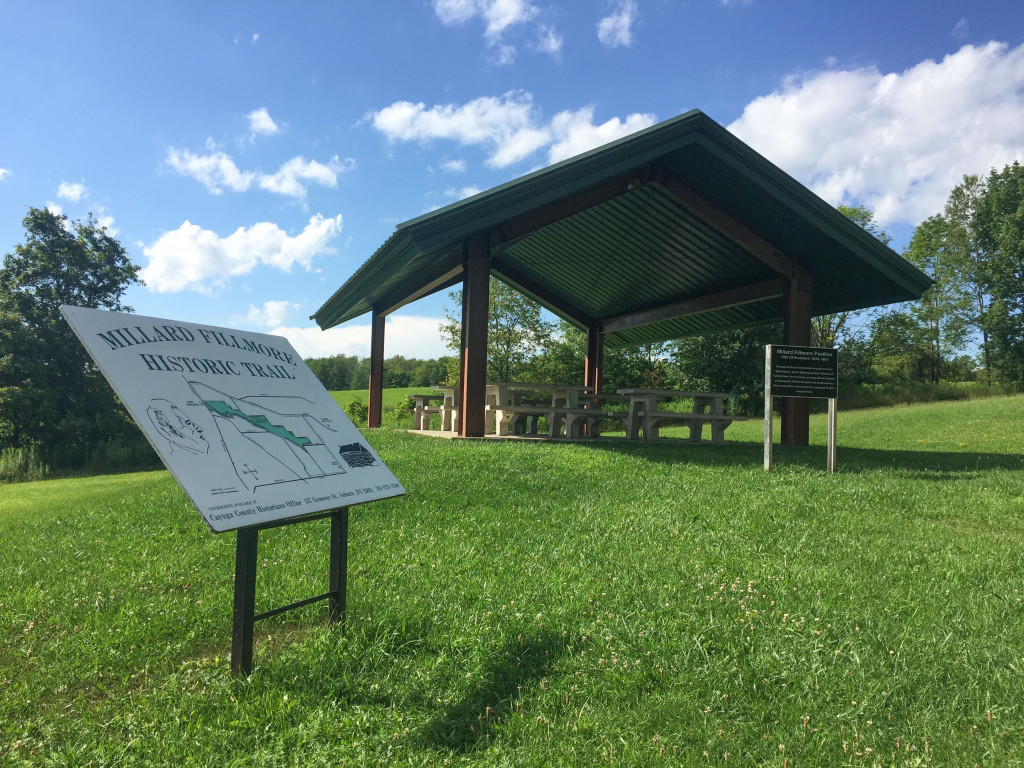 Fillmore didn't live in the cabin for long. When he was two years old, his family moved a few miles north to New Hope, New York (now the Town of Niles). During his teenage years, he was a cloth-maker's apprentice, a student, and a teacher. He spent a great deal of time studying with his teacher, Abigail Powers, a smart young woman just two years his elder. We can chalk that up to his desire to make something of himself, or his desire to make Abigail his wife. He eventually accomplished both.
Fillmore began working for Judge Wood in Montville, NY (also near Moravia). He seemed to enjoy the challenge of learning this type of work, and he continued to pursue a career in law. He made his way to Buffalo and eventually settled in the small town of East Aurora, where he began practicing and studying law. He was admitted to the bar in 1823.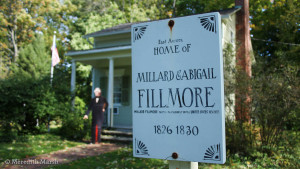 With the help of his family, who moved to East Aurora in 1820, Millard built a small home on Main Street in East Aurora in 1824. After he and Abigail married in Moravia in 1826, this was their first home. Their son, Millard Powers Fillmore was born there.
In 1830, the Fillmore family moved to Buffalo. At the time, Buffalo was a growing city, and easily accessible to the Erie Canal. Millard and Abigail's daughter, Mary Abigail, was born in 1832.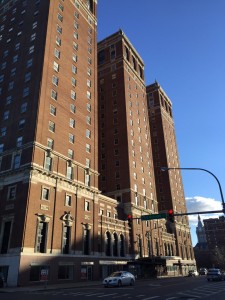 Career
Erie County nominated Fillmore as their candidate for Assembly, after a tumultuous series of events took place in Western New York. An uprising in the western part of the state was sparked after the kidnapping, jailing, and (presumably) murder of a man named William Morgan. Morgan was a former Freemason, who threatened to publish a tell-all book revealing the contemptuous nature of the Masonic Order.
The "Morgan Affair," as it is now referred to, was an attempt by the Freemasons to quiet public criticism of the organization. After Morgan's disappearance, another printer published his tell-all book. This motivated a significant shift in the political landscape of New York State.
Fillmore was among those who eventually made up the "Anti-Masonic" party. Due to his public speaking skills and likable demeanor, he was the party's pick for Assembly. He really didn't want to be a candidate for office though, and tried to refuse the nomination. He changed his mind after realizing a unanimous vote was cast by his friends and fellow citizens. He considered it his duty to accept the nomination, and won the election in 1828.
Fillmore served as an Assemblyman through 1831. His peers considered him to be a hard-working, honorable member of the NY Assembly. He was most notably known for leading the charge to abolish imprisonment for debt in 1831 (something we can all appreciate).
In 1832, Fillmore formed a law partnership and in November of that year, was elected to the U.S. Congress as a member of the National Republican party.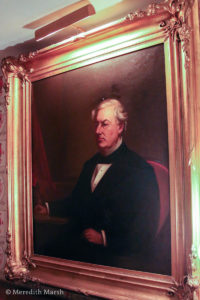 Fillmore continued to grow his law practice in Buffalo, which would eventually become the prominent law firm in the city and in western New York. While in Washington D.C., Fillmore often wrote letters to his family expressing how much he missed them.
During this time in Congress, the Anti-Mason party began to lose steam. Fillmore would eventually become a member of the Whig party.
As a freshmen Congressman, Fillmore didn't make a substantial mark on society. In fact, he didn't draw much attention to himself at all until 1837.
While Fillmore was in Washington, a rebellion had begun to develop along the U.S.-Canada border. Many in the western New York region feared that the "Upper Canada Rebellion" would lead to a war between the U.S. and Great Britain. The battlefield? Navy Island, a piece of land in the middle of the Niagara River, on the Canadian side of the border.
Being his home district, Fillmore was also concerned and he asked his law partner to keep him informed. Fillmore was able to present current information to President Van Buren. Details of the skirmish–including stolen artillery and a torched ferry boat–had Van Buren concerned as well. He sent General Winfield Scott to address the issue first hand. General Scott successfully defused the situation, thus preventing a war right here in Upstate New York.
At this point, you could say Millard Fillmore already had a pretty successful career. As a self-educated attorney and United States Congressman, he had come far from the meager life he was born into.




He declined nomination for congress in 1842, serving out his final term in the 27th Congress.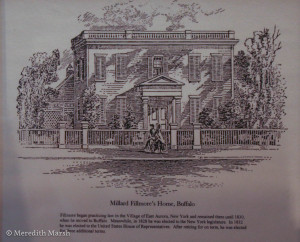 Millard returned to Buffalo, and essentially picked up where he left off with his law practice. In 1844, he was nominated to run for Governor of New York (despite his initial reaction to refuse). He lost the election.
Fillmore took a short break from politics after that. Instead, he chose to focus on his law practice in Buffalo and spear-headed improvements in the city he called home.
In 1846, Fillmore helped found the University of Buffalo. He served as the University's first Chancellor (a role he remained in until his death).
Heading back into the political arena in 1848, Fillmore took office as New York State Comptroller. But a little over a year later, he resigned as Comptroller to take office as the Vice President of the United States.
Thanks to author Richard J. Scarry, and his book "Millard Fillmore," we have in-depth (and honestly, pretty fascinating) background on America's 13th President. Many of the facts briefly laid out here can be attributed to this book.
Additional Reading
Aurora Historical Society
Fillmore Glen State Park website
Millard Fillmore House on National Parks Service website
Millard Fillmore on WhiteHouse.gov website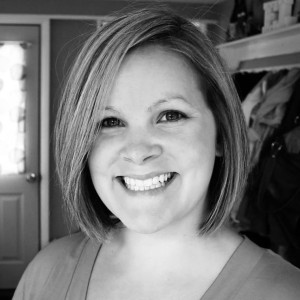 Meredith Marsh is a native Upstate New Yorker, born and raised in the Finger Lakes. She teaches folks how to create awesome GoPro videos and family movies on her VidProMom blog and YouTube channel, and blogs about her adventures in the Finger Lakes on myFingerLakesny.com. Meredith lives in Penn Yan, NY with her husband and two kids.