by Chris Clemens
Rochester has a really great collection of Louis Comfort Tiffany stained glass dotted around the city and surrounding region. While doing some research on the area's stained glass a few years back, I discovered an absolute gem of a Tiffany window in a location I never would've thought to look.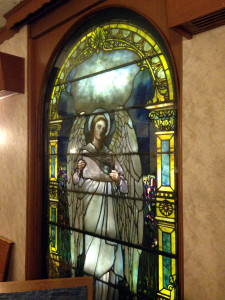 Isabella Graham Pond was born in Rochester on September 16, 1836 and later married a wealthy Rochestarian by the name of James C. Hart. He donated a ton of money to Rochester General Hospital, but his wife Isabella made her own lasting impression on the institution. She was appointed to the Board of Lady Managers for the hospital in 1886 which subsequently led to her designing much of the programming involving volunteers.
When she passed away in 1898, James created an endowment in her name intended to provide opportunities at the hospital to continue in her memory. Additionally, he donated the funds to construct the Isabella Graham Hart Nurses' Home, which included a Louis Comfort Tiffany stained glass window of an angel. Since the original Nurses' Home is no longer there, the window was preserved and maintained, and then moved.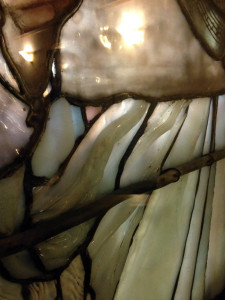 Today, the picturesque angel is on display in the chapel at Rochester General Hospital and since the wall is internal, it's back lit with lamps. With the rest of the small sitting area modest and unadorned, Tiffany's angel shines brightly.




Because many of the Tiffany glass pieces around Rochester are much larger and exist as windows, it's difficult in some cases to see the unique craftsmanship that Tiffany incorporated in his work up close. What's particularly cool about the Isabella Graham Hart Memorial Window is that every corner and nook and cranny can be viewed up close–even for someone short like myself! One of Tiffany's key developments in his Favrile glass art was how he folded and 'lumped' glass to give a dimensional appearance to things like a robe, which he deemed 'Drapery Glass'. This angel at Rochester General Hospital is a great example that can be seen up close.
So if you've set out to view as many of the Louis Comfort Tiffany stained glass pieces that you can, be sure not to miss this one in the chapel at Rochester General.
Sources and Additional Reading
Isabella Graham Hart
Louis Comfort Tiffany on the Morse Museum website
Louis Comfort Tiffany Stained Glass in Rochester on McKay's Photography website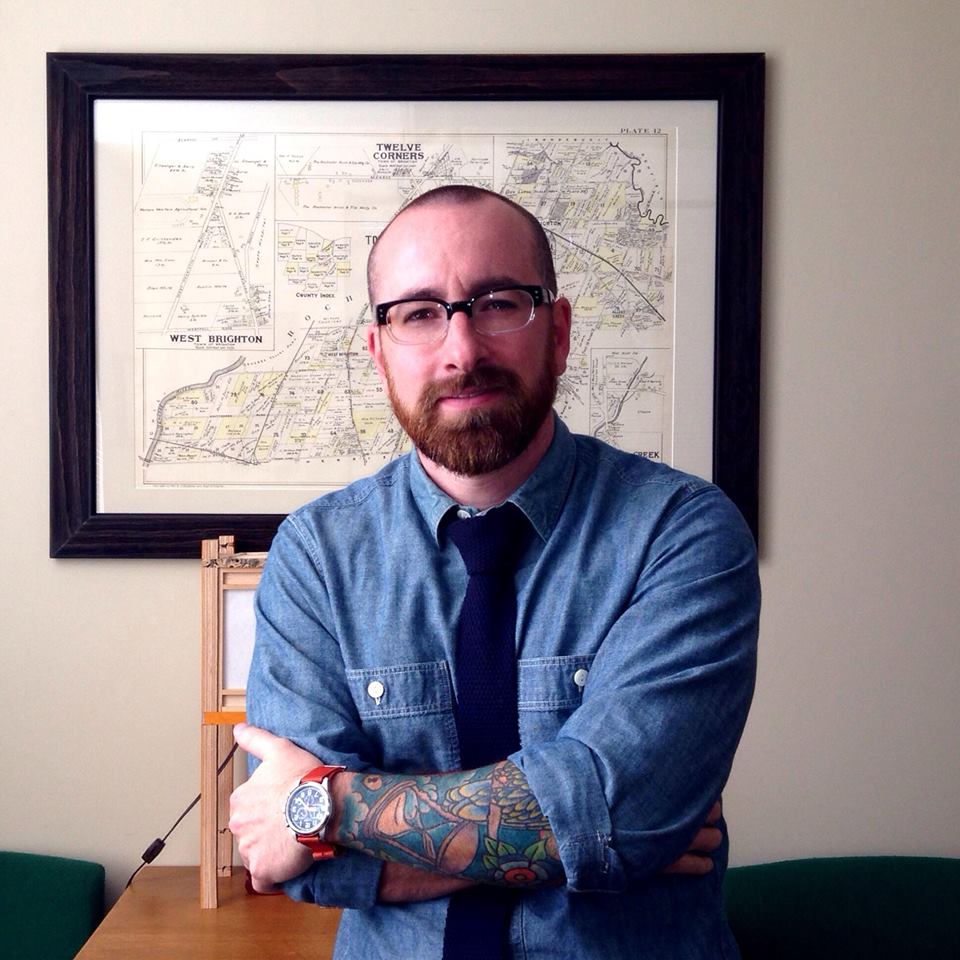 Chris Clemens is the Founder/Publisher of Exploring Upstate. From his hometown in Rochester, he spends as much time as possible connecting with the history, culture, and places that make Upstate New York a land of discovery. Follow him on Twitter at @cpclemens