by Chris Clemens
On October 21, 2012 the Blessed Marianne Cope Shrine and Museum in Syracuse was forced to change their name. On that day, along with the Blessed Kateri Tekikwitha of Fonda, New York (and a few others from around the world), Marianne Cope was officially canonized by Pope Benedict XVI. The declaration by the Catholic Church officially made this Central New York native a saint–a most sacred distinction held by only ten others from the United States.
Just a few months prior, a friend and I visited the shrine to learn more of her story and pay our respects to a woman who dedicated her to life to caring for others. Now, five years later, I returned to visit the shrine in Downtown Syracuse at their new location and with their new name: the Saint Marianne Cope Shrine and Museum.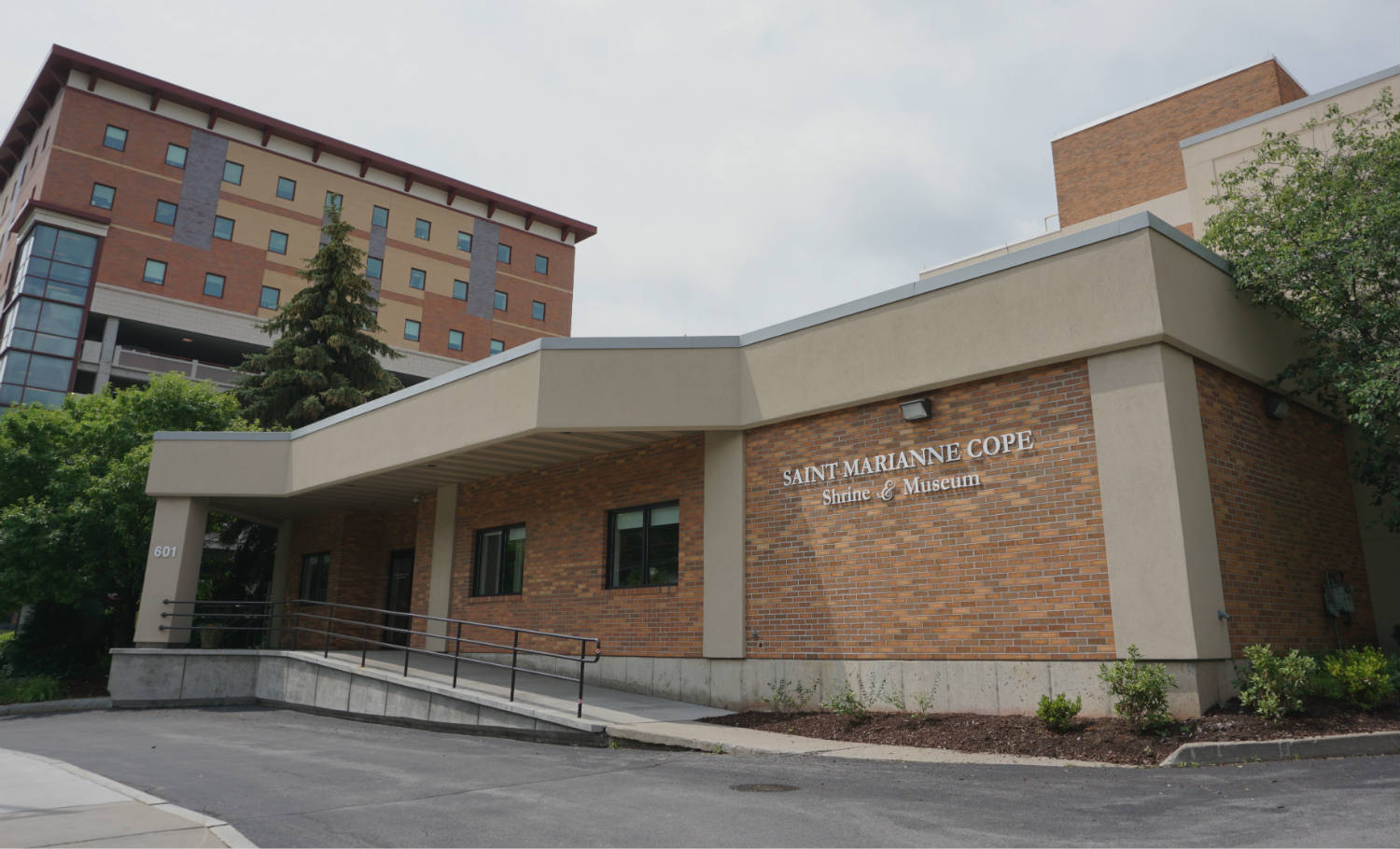 Who Was Marianne Cope?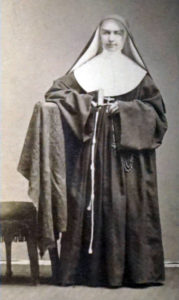 Born January 23, 1838 as Barbara Koob, she would come only a year later to live in Utica when her family emigrated from Germany. As a family, they became members of the Parish of St. Joseph. In 1862, Maria committed to her desire for serving the Catholic Church and joined the Sisters of the Third Order Regular of Saint Francis in Syracuse. It was at this time she adopted her religious name and became "Marianne".
She began work as an educator in various schools in a few cities in Central New York, but soon after Cope played an important role in founding the first two Catholic hospitals in the region. She quickly became known for providing medical care to anyone who approached the hospital, regardless of their race, gender, or even their ability to pay their bill after receiving treatment. Sister Marianne Cope was named Superior General in 1870 to oversee the city's only public hospital. This would mark a rare event in the late 19th century where a woman would hold such an esteemed position.
Cope's Departure for Hawaii
In the early 1880's, a call came from an isolated island in the Pacific known as O'ahu. Hawaii had been experiencing a growing trend of diseases that warranted special care–namely, leprosy. While numerous others from around the United States let the call go unanswered, Sister Marianne Cope not only proudly accepted, but so did thirty-five of her sisters. This was an astounding number considering others across the United States weren't interested in volunteering at all. Cope chose six of the volunteers to join her.
Not only did Sister Marianne Cope leave her historic post in Syracuse, she did it to travel in difficult conditions to arrive in another world full of disease nearly synonymous with suffering and death.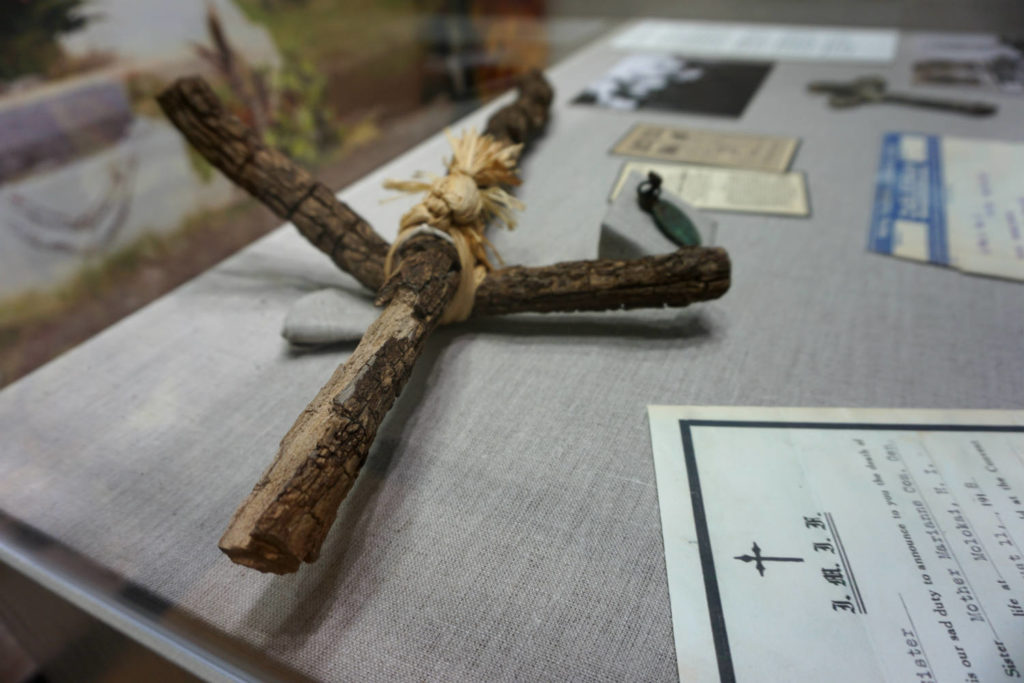 Her involvement in providing care to the sick in a respectful, compassionate manner was well recognized. Each time a particular hospital or colony was in need of new direction, Cope was called upon for her leadership. Including, the leper colony at Molokai.
Cope joined the efforts at the island of Molokai to care for those with leprosy. At the time, the Hawaiian Government chose only to exile those with leprosy to the isolated island, effectively cutting them off from the outside world. Prior to her arrival, the colony was under guidance of Father Damien (also a saint in the Catholic Church). While the government's goal was to isolate those with leprosy as outcasts, it was Damien that led efforts to provide spiritual care, clothing, and to make attempts at providing the colony with basic needs.
Cope worked to reinvent methods for caring for those who had been cast to an isolated island to live out their final years of suffering. Her efforts to provide a compassionate care model for the colony included the improvement of living conditions, as well as educational programs. Under the guidance of Cope, the colony sought to celebrate the natural talents of patients, regardless of their projected lifespan. She introduced many of the skills and procedures she learned while working at the hospital here in Central New York.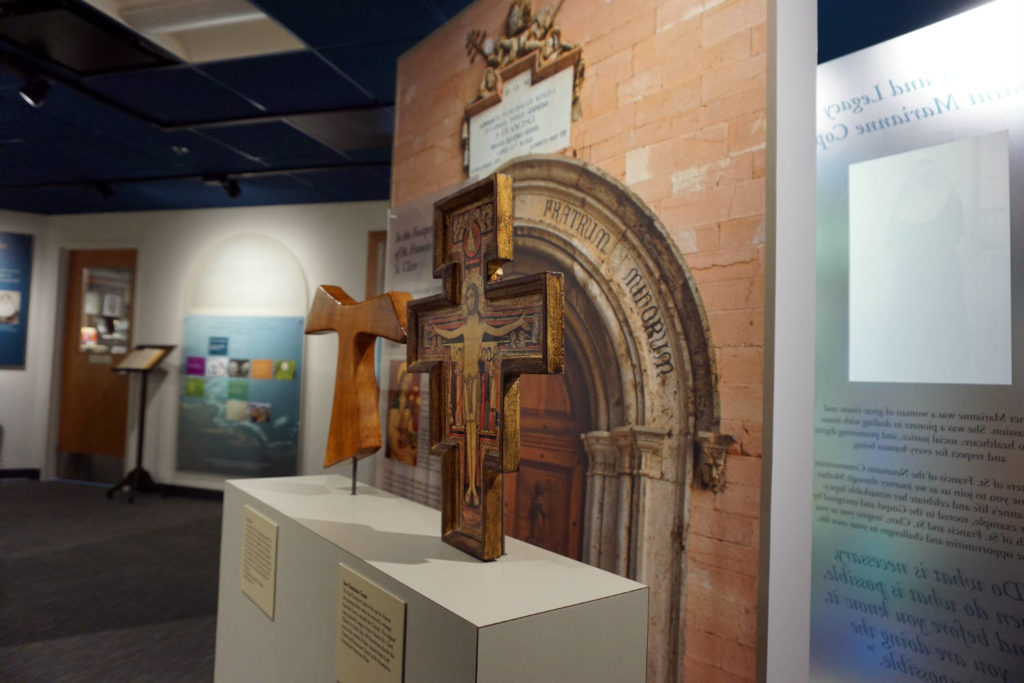 Cope's Legacy
Ultimately, Father Damien would contract and succumb to the disease himself. Cope dedicated herself to ensuring that he would receive the same care he gave to others in his final days. After his death on April 15, 1889, Cope would be assigned the enormous task of overseeing care for the entire colony.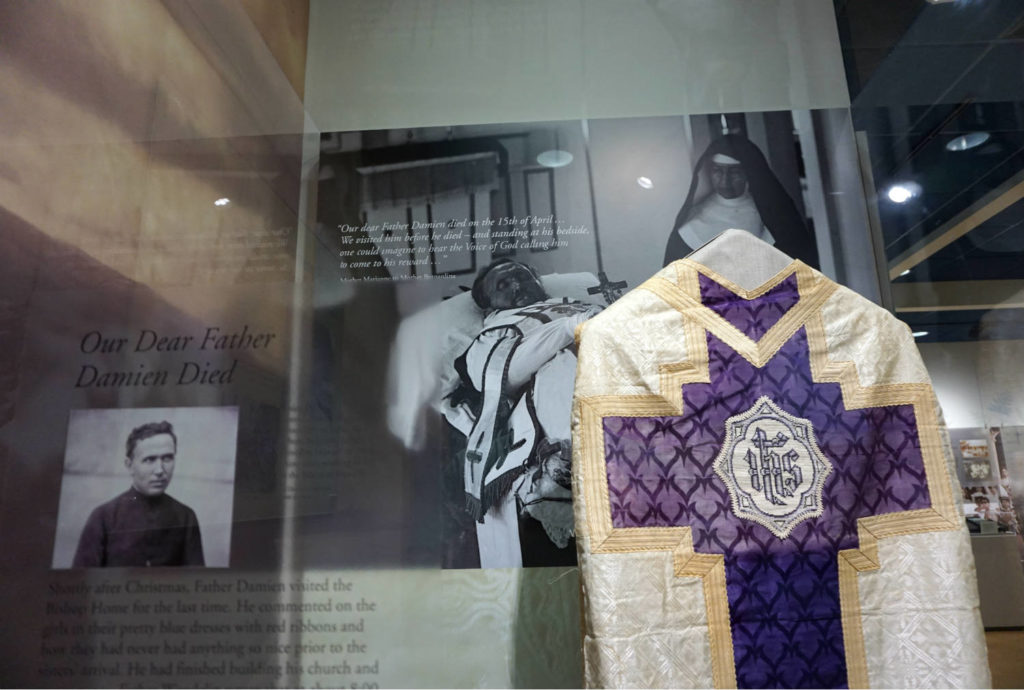 Miraculously, after having worked in Hawaii for nearly four decades, Cope would never contract leprosy and neither would the nuns that accompanied her from Syracuse. When she passed on August 9, 1918, it was due to natural causes. Some say that she was able to avoid the illness because she practiced modern measures for avoiding contraction, much of which would be included in a blood borne pathogen training today. Others claim that Cope's protection came from a spiritual place; a non-sentient being that wished to ensure she could continue to help Hawaii's least fortune citizens.
In 2005, Cope's remains traveled the same arduous, cross-country trek that she first made when leaving Central New York in 1883. For about ten years, people from all over the world would make pilgrimage to the Sister House in the northern section of Syracuse. Some simply wanting to pay respects, and some hoping that even a posthumous presence could cleanse their own bodies of a disease in need of healing. While many claim that prayer and connection to a relic of Cope did indeed cure them of a disease, there were two cases that the Catholic Church deemed to be so extraordinary that they could only be explained as miracles. Those two cases would be the final evidence that Cope was ready to be deemed a saint.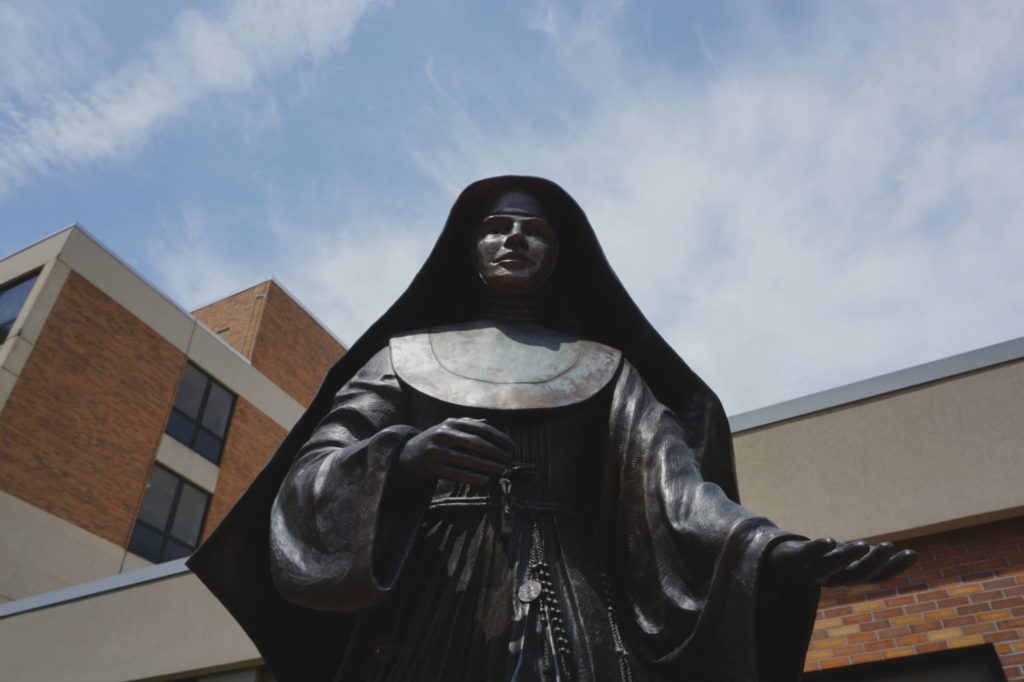 Saint Marianne Cope Shrine and Museum
Today, the museum and shrine to Saint Marianne Cope can be found in a small, modern building that rests on the property of St. Joseph's Hospital–the very same institution she played such an important role in before her departure to Hawaii.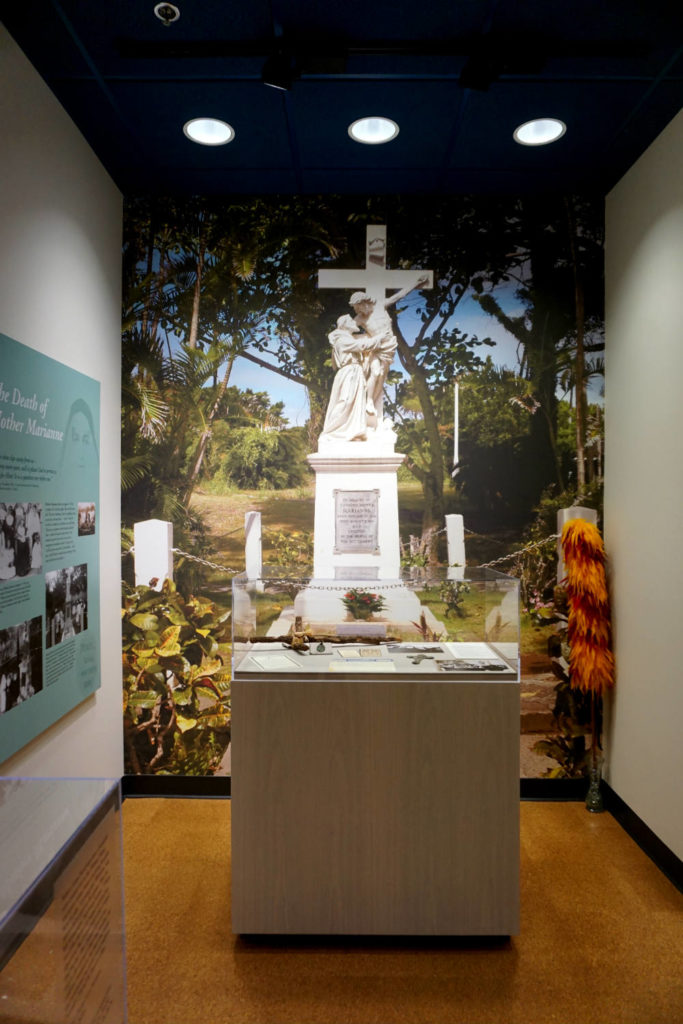 Plaques, photos, and interactive exhibits tell the story of Cope's life and allow visitors a glimpse in to the irreplaceable role she filled both in Central New York and in Hawaii. The depiction of how medical care changed under her tutelage here in Central New York is well represented, but her role in the lives of countless Hawaiians shines brightest. Though Saint Marianne Cope's remains did return to Hawaii a few years ago, the new location does maintain a number of first class relics that visitors may visit.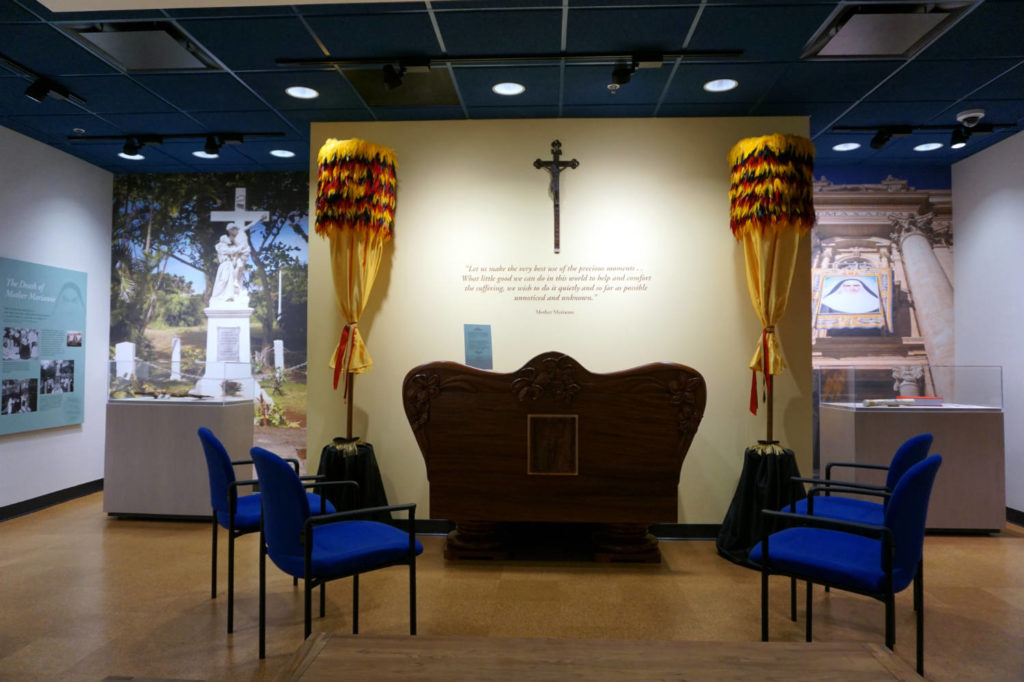 With two large exhibit spaces and a shrine to Cope, the new location is a really wonderful homage to one of Central New York's most notable women. Regardless of one's religious affiliation, the Shrine and Museum are a worthy visit for those seeking an experience in learning more and paying respects to Saint Marianne Cope, the "Mother of Outcasts".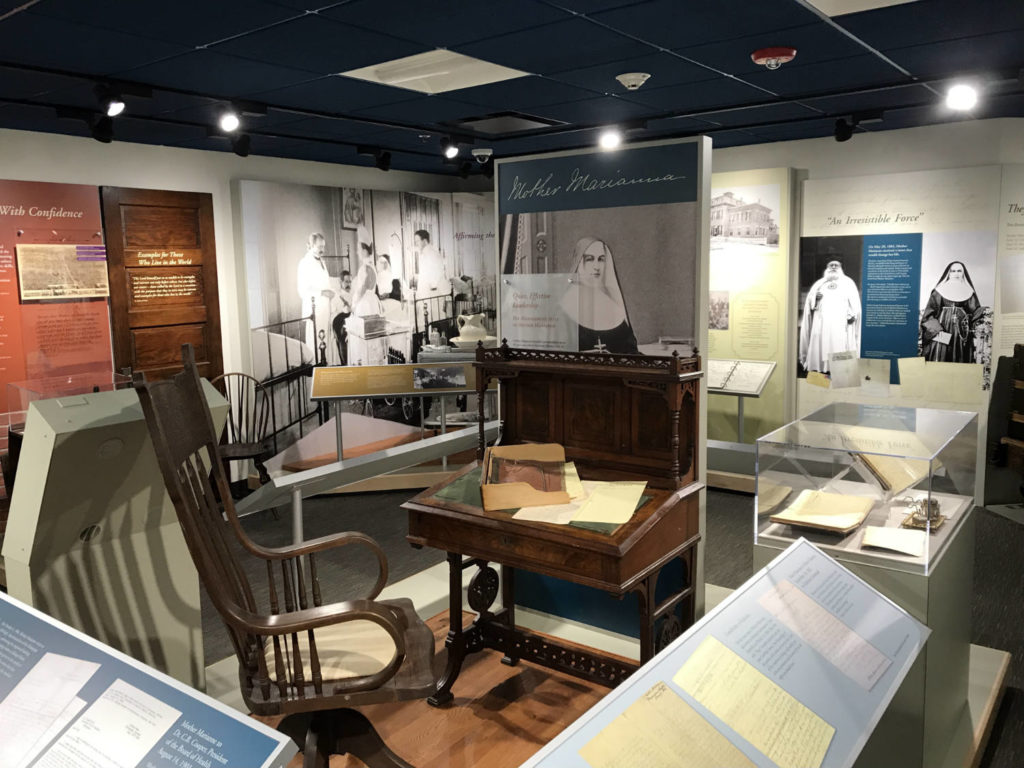 To learn more about Saint Marianne Cope, I'd strongly recommend making a visit to the Shrine and Museum in Downtown Syracuse. Regardless of your beliefs on religion or the spiritual realm, these walls hold artifacts that tell the story of a local woman who went on to impact the world in a way that few ever will. For more information and to plan your visit, you can checkout their website, their Facebook page, and follow them on Twitter!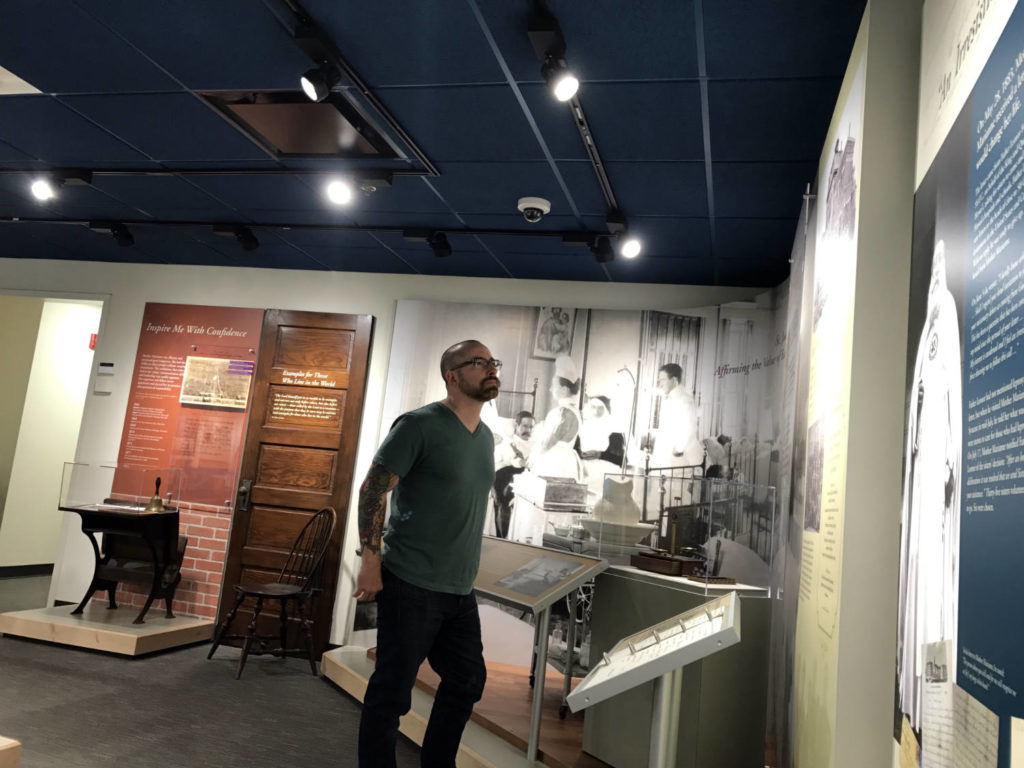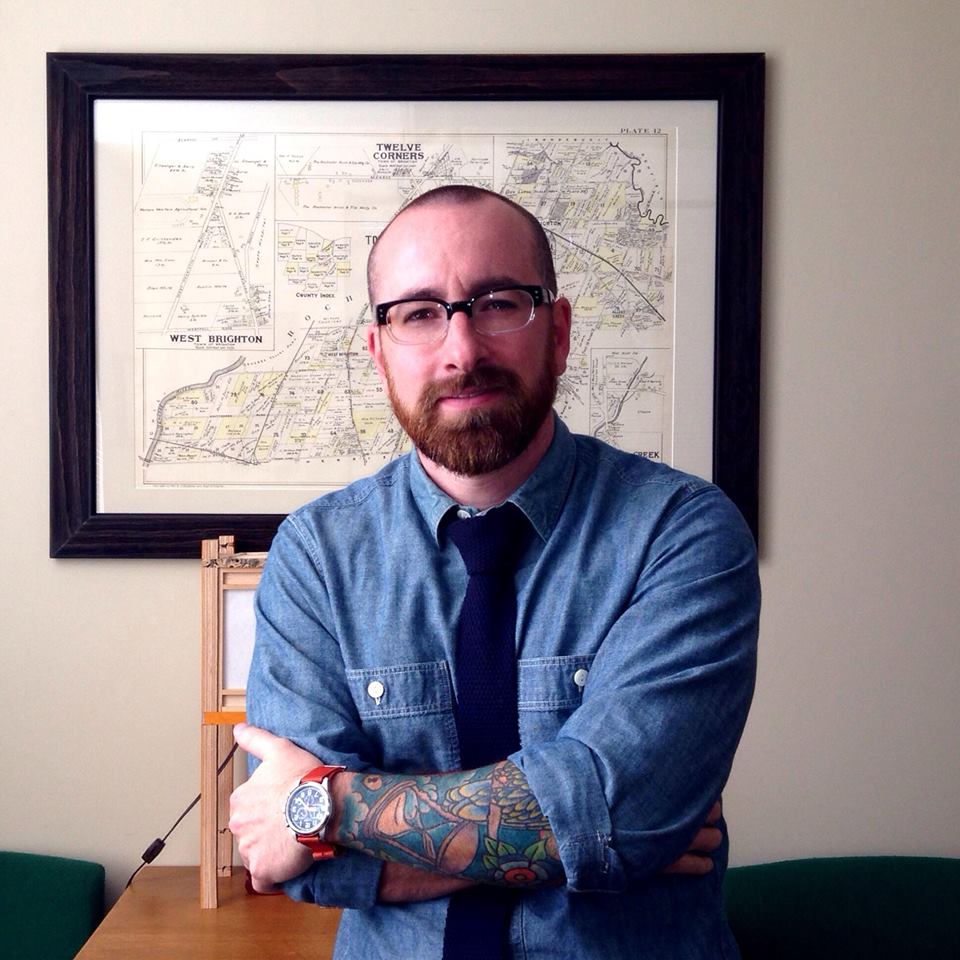 Chris Clemens is the Founder/Publisher of Exploring Upstate. From his hometown in Rochester, he spends as much time as possible connecting with the history, culture, and places that make Upstate New York a land of discovery. Follow him on Twitter at @cpclemens