Secret Caverns is the other cave tour experience near Cobleskill. Their 100 foot underground waterfall, quirky folk art and relaxed visiting experience means it should be on your list of things to do in Schoharie County.
by Chris Clemens
Most everyone has heard of Howe Caverns, and for good reason. That underground system of caves is the second most visited natural attraction in New York State. But just a few miles from Howe Caverns, there's another underground cave experience. While it's not exactly a secret, it's safe to say that Secret Caverns is still somewhat of a hidden gem.
Since it's just a short drive from Howe Caverns, we included both stops in one day!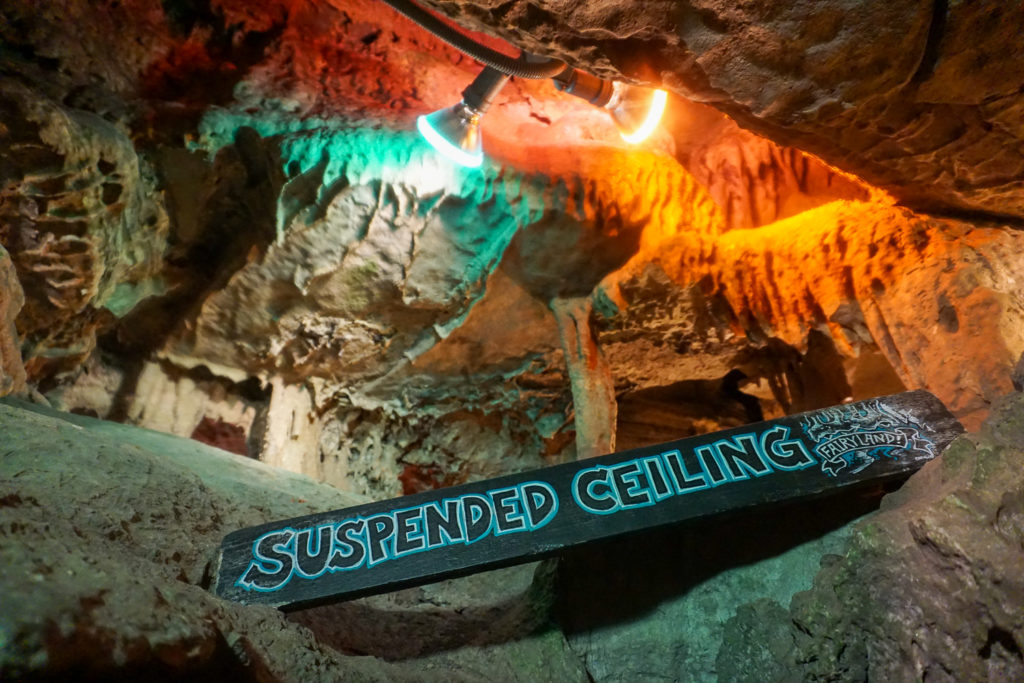 History Of Secret Caverns
If you're looking to find a set of caves in Upstate, it seems that cows should be on your list of resources. Just like the discovery of nearby Howe Caverns, the discovery of Secret Caverns began with cows. Except, in this case, the history is a bit more…dark.
Though the caves were first formed about 38,000 years ago, they weren't discovered until 1928. That's when two cows, Lucky and Floyd, wandered a bit too close to a hole and fell 85 feet below the surface. The bovine duo didn't survive, but their misfortune led to the discovery of a series of underground caves.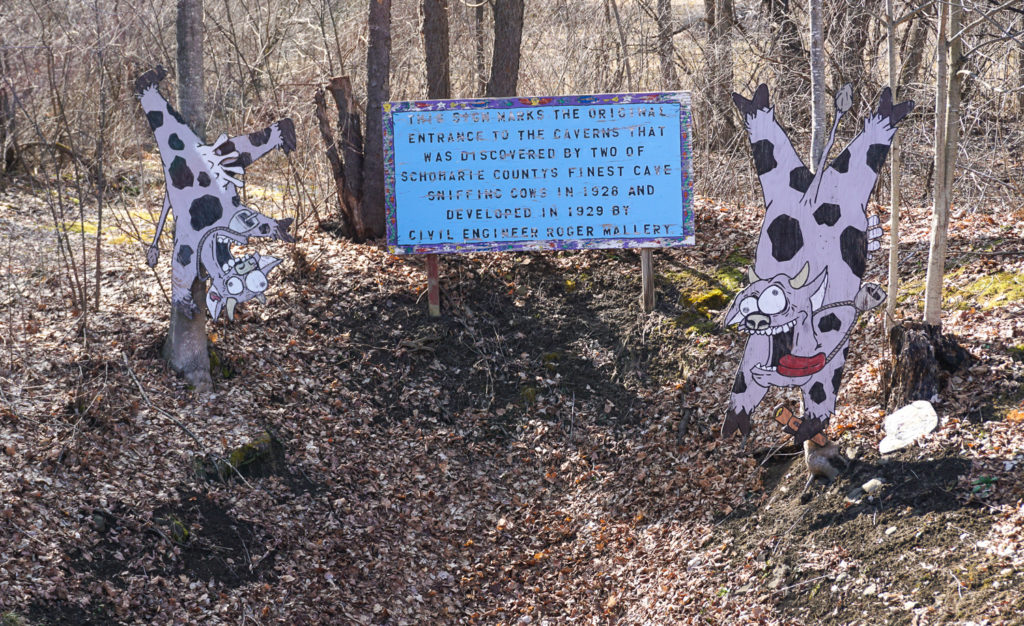 While working nearby at Howe Caverns, local civil engineer Roger Mallery was called over to help. The farmer knew if he wanted to learn more about the caves beneath his land, he'd need an expert. Mallery found five brave local teens, armed them with flashlights, and got to work. By that, I mean he lowered them down the 85 foot depth on a rope and set them loose inside. Those kids helped Mallery map out the entire connecting cave system.
Knowing what a successful tourist attraction Howe Caverns was, Mallery purchased the land from the farmer. He then opened what we now know as Secret Caverns.
Visitor Center
It'd be tough to sum up the experience at Secret Caverns, but if forced, I'd say it was: quirky.
Even while driving within a few miles of the caves, you'll see huge folk art style billboards announcing the approach. That folksy art kind of sets the tone for everything in the visitor center with a bit of a hippy, laid back vibe.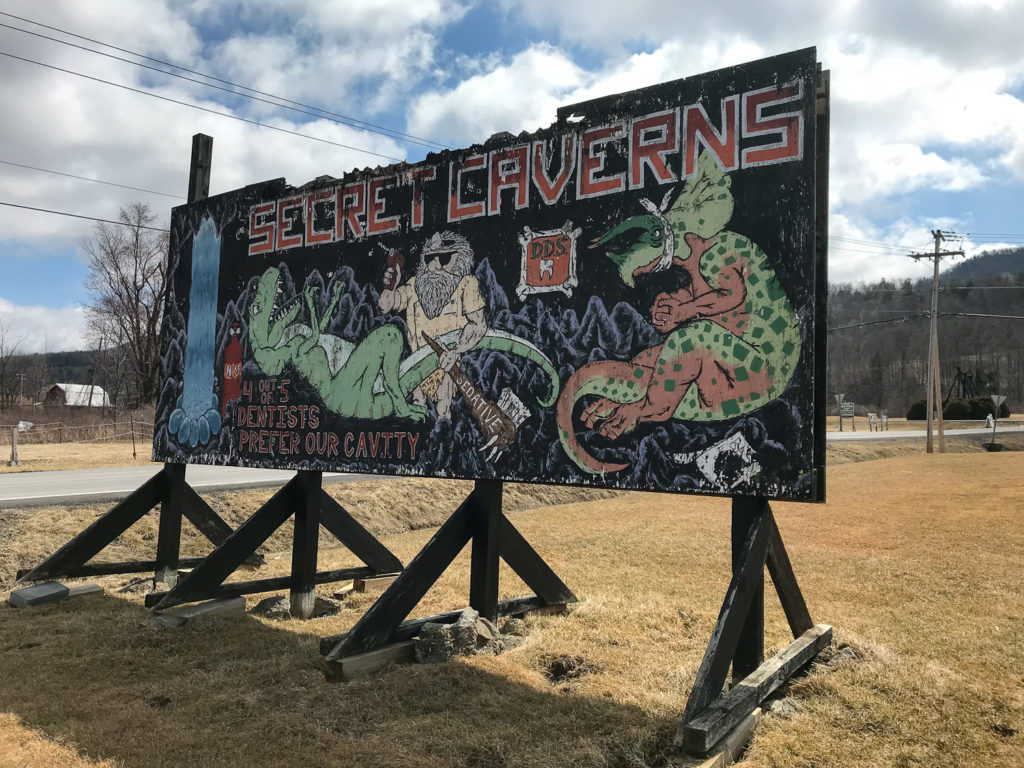 While Howe Caverns has a well-oiled tourist destination feeling, Secret Caverns feels more like a roadside attraction. The bathrooms are covered in weird psychedelic looking paintings and there's some kind of mummy in the corner. A trash cash is painted like R2-D2 for some reason. There's a huge map of the caverns with little lights flashing to show where the current group is in the cave system.
It all kind of seems like someone said, "Ya know what would be cool??" and then just made it. Like, by hand.
And, it is all totally cool.
Inside Secret Caverns
Access to the caves is only accessible with a guide. You'll begin with a steep decent of some narrow stone stairs, and then more stairs, and more. There's dripping water from the ceiling, and nearly everything is wet.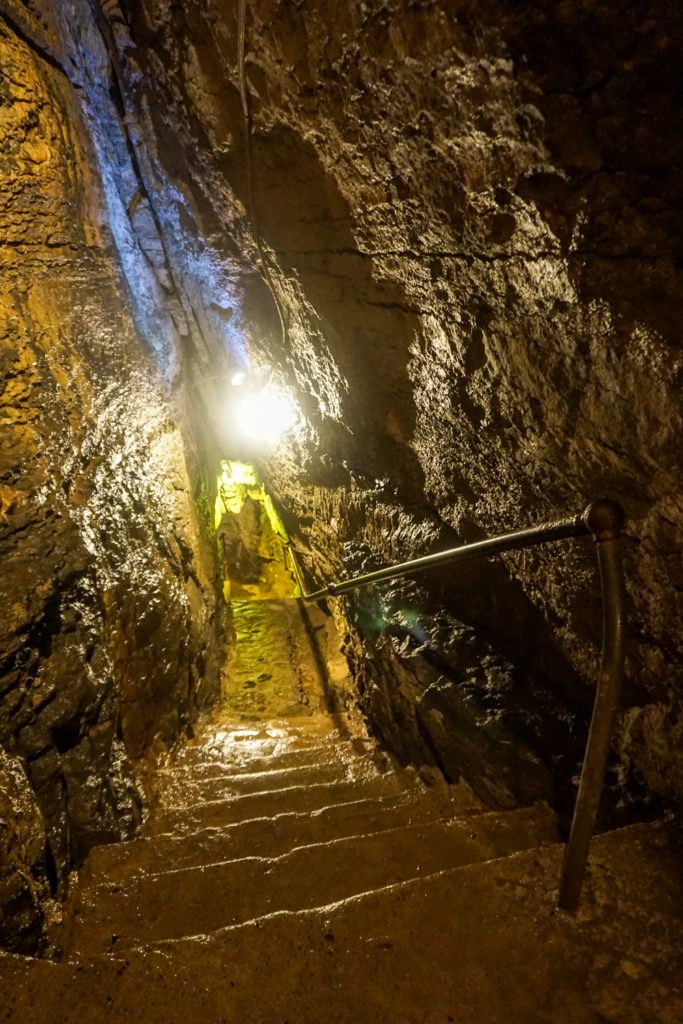 There isn't a multi-colored, high-end system of lights carefully designed to cast blue and red shadows, but there's plenty of light. You'll pass through some tight crevices and even at 5'4″ I ducked plenty to avoid hitting my head. But, nearly all of the tour is an easy walk with good footwear.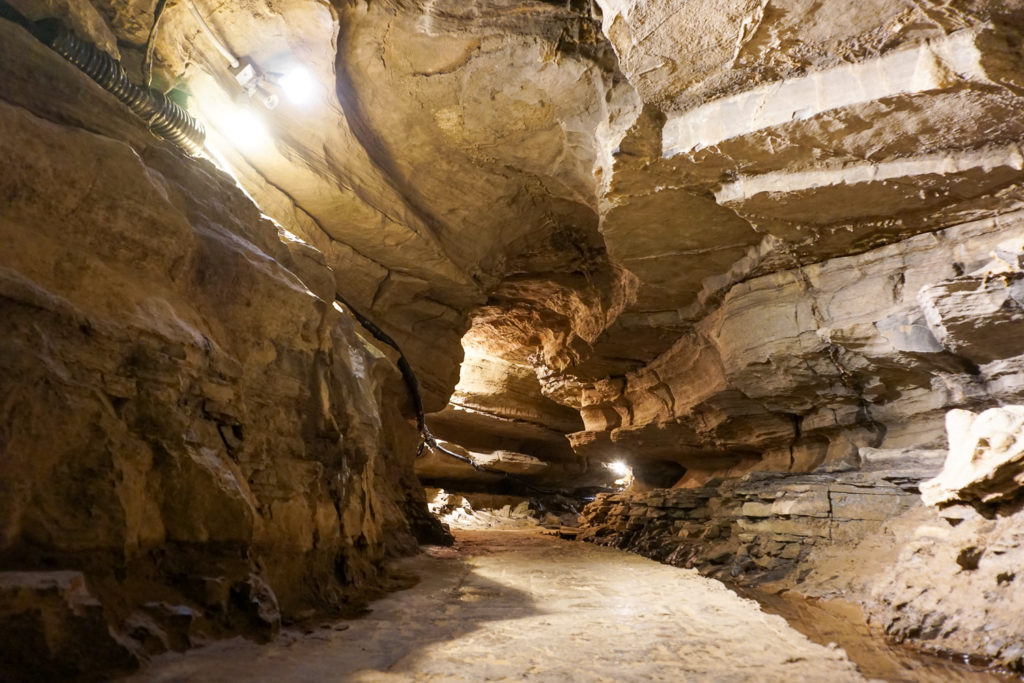 As I share the contrast between the Howe and Secret experiences, I only want to bring attention to the fact they're different. Neither is better or worse, but just different.
You can touch the rock formations all you want at Secret Caverns. If I lagged a little behind for photos, I didn't feel like I was holding up a group. Our guide was super laid back and seemed cool with whatever the group wanted.
That folksy, hippy-quirk seems embedded in every part of Secret Caverns from the roadside signs all the way deep into the system of caves.
A Underground Waterfall
The ultimate destination on the tour in Secret Caverns is an underground 100-foot waterfall. From somewhere at the surface, a natural water source feeds a constant waterfall dropping into a small pond.
The approach to the rocky grotto with a waterfall splashing and echoing through the chamber of Secret Caverns feels a bit like a scene in the Goonies. Sure it's been seen by tens of thousands of people, but seeing it for the first time stills feels magical.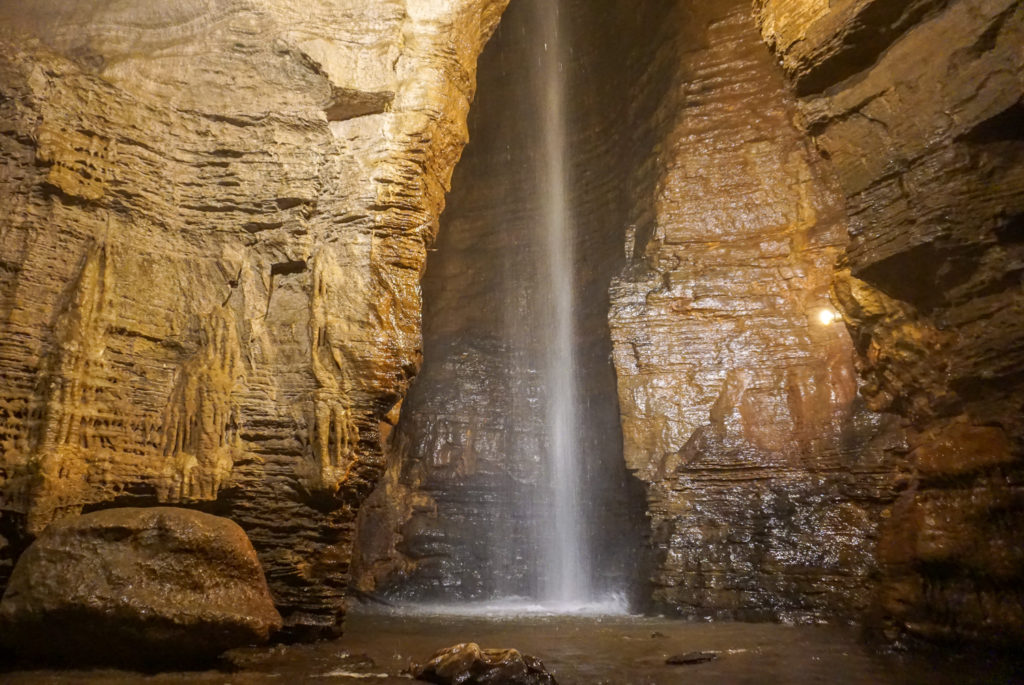 That waterfall is the final stop on the tour, so you'll be able to stop and grab some photos, and then turn back the way you came.
Visiting Secret Caverns
Secret Caverns isn't open all year round, but they do go right up into December. Hours are seasonal, and their website says to call if you're unsure. For more information and to plan your visit, checkout their website here.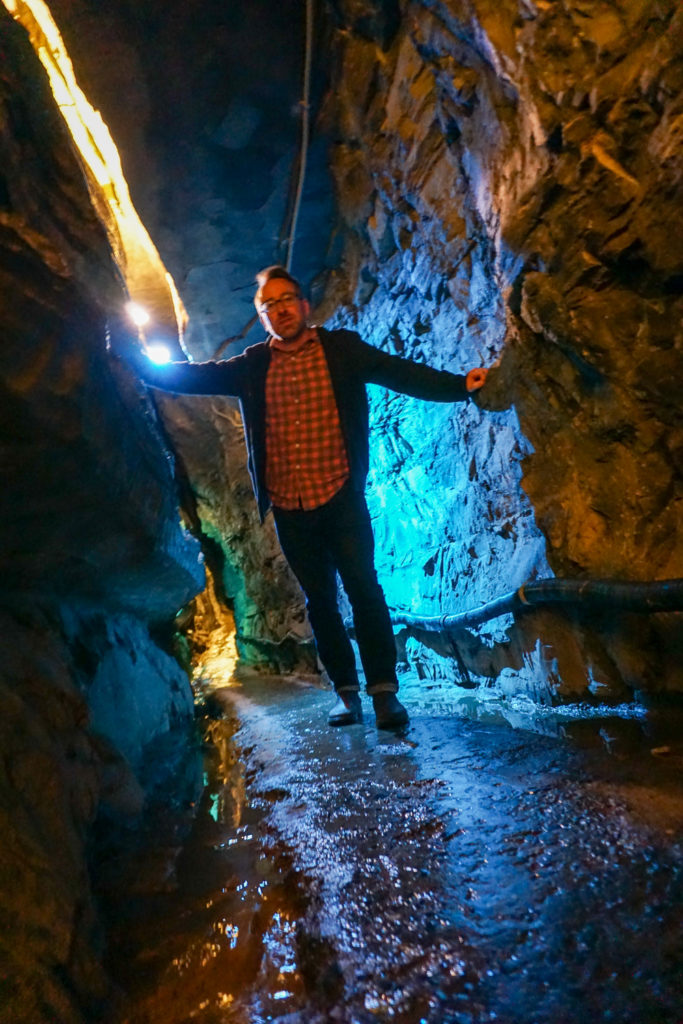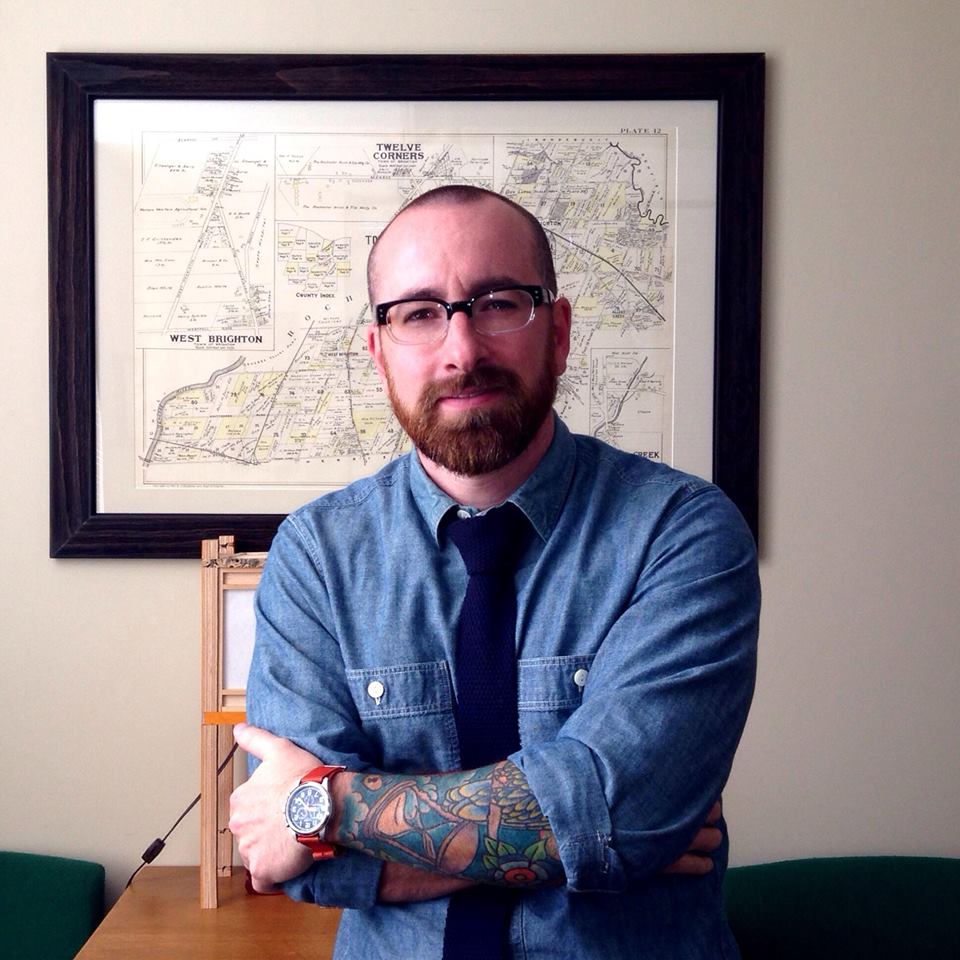 Chris Clemens is the Founder/Publisher of Exploring Upstate. From his hometown in Rochester, he spends as much time as possible connecting with the history, culture, and places that make Upstate New York a land of discovery. Follow him on Twitter at @cpclemens