Upstate News You Can't Use is a series to discover real stories, interesting advertisements, and punny headlines in historical newspapers from Upstate New York
by David Brooks
A few towns claim to be the birthplace of Memorial Day, but the official, on-the-record origin is here in Upstate. Most believe the holiday began with a tradition known as Decoration Day, but like every origin story, some would argue that, too.
According to History.com, "In 1966, the federal government, under the direction of President Lyndon B. Johnson, declared Waterloo, New York, the official birthplace of Memorial Day. They chose Waterloo–which had first celebrated the day on May 5, 1866–because the town had made Memorial Day an annual, community-wide event, during which businesses closed and residents decorated the graves of soldiers with flowers and flags."
Toward the end of the 19th century, Memorial Day was being celebrated in communities across the country. Then after World War I, the holiday became more about recognizing the dead from all the wars America had fought. With the tradition well underway, Congress voted in 1971 to officially make Memorial Day a national holiday. Their decision included that it be celebrated on the last Monday each May.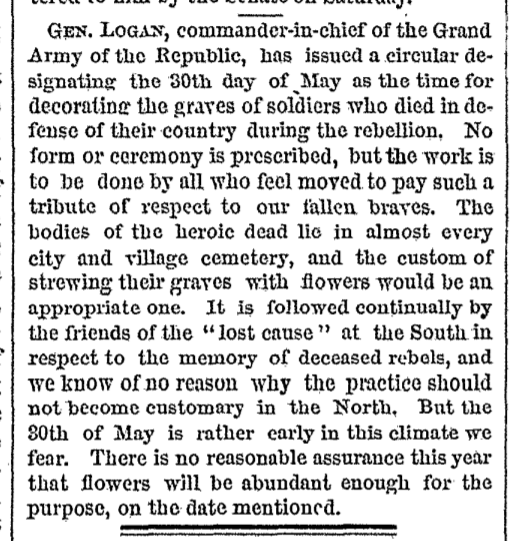 The Memorial Day Holiday
Memorial Day (or more appropriately the entire weekend) is now also viewed as the official unofficial start of summer. Nearly from its inception in 1868, the day has been not just to memorialize the dead but to recognize life. What better way to do that it seems, then shopping and eating.
Nothing says gratefulness for ultimate sacrifice like getting a good deal on a pair of shoes and eating food singed on a grill. Does this sound a bit callous or harsh? Perhaps it is. Or, maybe it is just recognizing that what we see today isn't a far cry from what was happening with Decoration Day early on.
The first few years after Decoration Day is declared there is a civic atmosphere to the holiday. There were committees and community groups organizing ceremonies, floral displays, wreaths, and speech making. But it didn't take all that long for folks to start turning a profit from it.
Cynical? Absolutely. But I like a good BBQ too.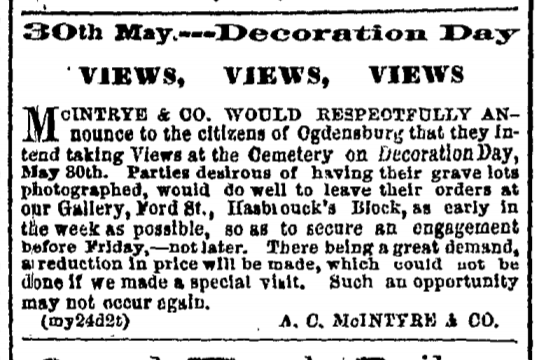 Decoration Day Traditions
It would take a few decades, and another war to really galvanize the holiday tradition in America and propel it into a National Holiday honoring the dead of all the wars in which the country has fought. World War I seemed to unify the nation, and in its aftermath Decoration Day took on a larger meaning. By the time it became known as Memorial Day, each state in the Union had official declarations for the holiday.
This also meant it took on a more commercial as well as recreational tone. Even despite some disputes in local communities, parades and gatherings lead to organized sporting events such as boat races and baseball games.
As the holiday weekend became more and more a way to mark the start of the summer season, folks began traveling to destinations to celebrate life, liberty, and freedom had to look good.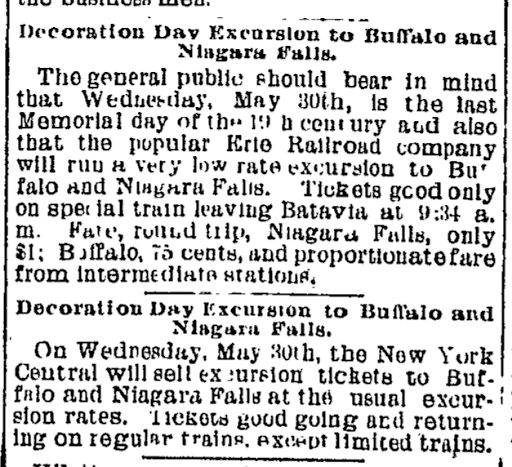 For decades papers ran the community "goings on" or "chatter," relaying who is visiting who for Decoration/Memorial Day.
Visits to or from family was a frequent snip. As the automobile became cheaper and the roads better, it was popular to "motor" into the countryside or over to Auntie Jeans for a picnic. Throughout the 1920's and 30's, Upstate news ran accounts of which organizations were in parades, what politicians were making speeches, and just where to get the best sale on shoes for summer.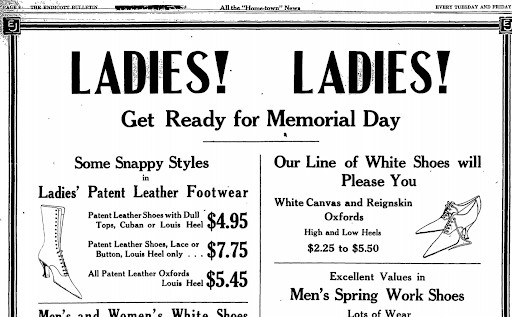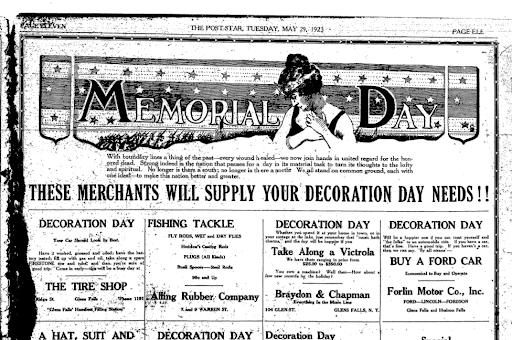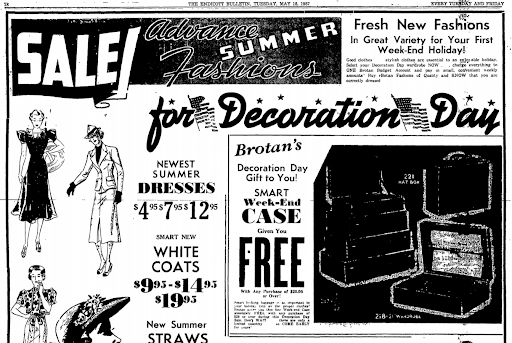 Memorial Day Travel Plans
But another tragic twist was happening as the nation was more and more on the road!
The unofficial kick off to summer and honoring of fallen servicemen lead to an increase in automobile accidents. The holiday weekend meant hundreds of fatalities annually. By the late 1950's and early 1960's we find evidence of this in the news. Not only were cars being sold at discounted rates over the holiday, but public service announcements were published to bring safety awareness to motorists.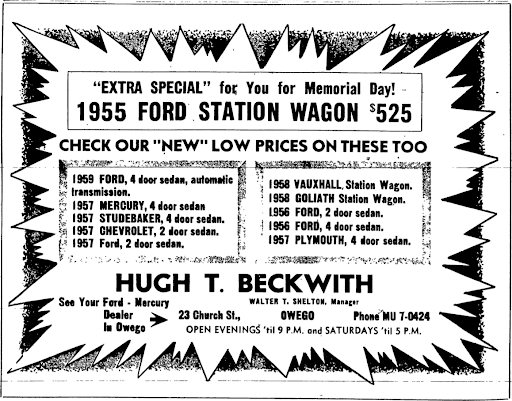 That public safety push is still being made to this day.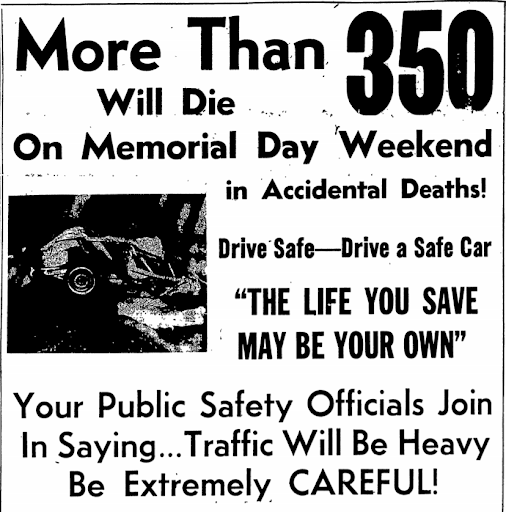 Memorial Day Sales
Full page ads in newspapers harked sales on everything from fishing reels and barbeque sets to pickles and catsup!
During much of the 1960's and 70's the newspapers printed ads as well as pictures of parades and celebrations. Despite the shadow of the Vietnam War, it seemed that citizens were still willing to recognize the sacrifices of early veterans if not their own desire to grill and camp over a long weekend.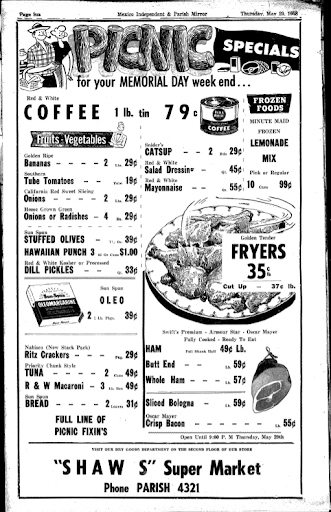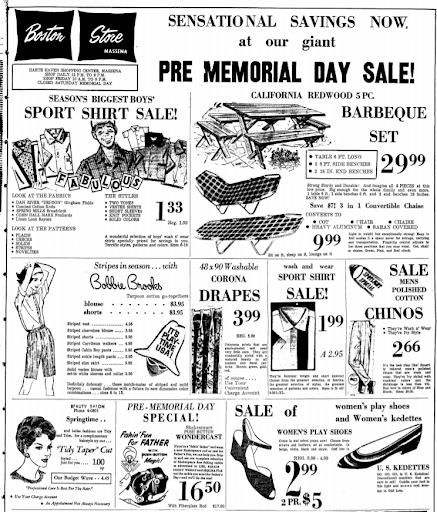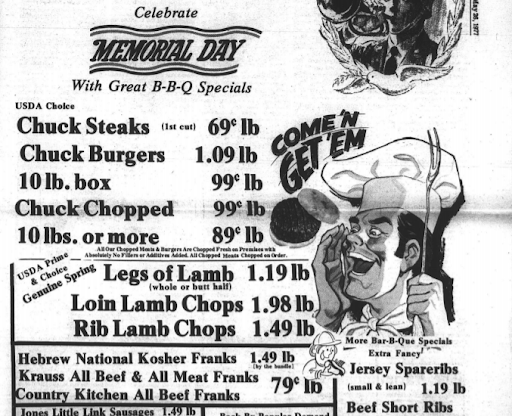 What It's Really All About
But during this era, the parades and speeches continue. Veterans march along side Boy Scouts and girls in pigtails. Politician's actually agree, America is the land of the free.
Neighborhoods close down streets and light grills, potluck dishes are passed, and baseball mitts get a work out.
In each moment that we turn the pages of the newspapers (or swipe our phone screens) and see ads convincing us to buy hotdogs, a new pair of shoes, a summer hat or dress, or maybe even a toy for the kiddos… we are, in some odd way, honoring the lives of those that died to create and then protect the freedoms we enjoy.
A final thought…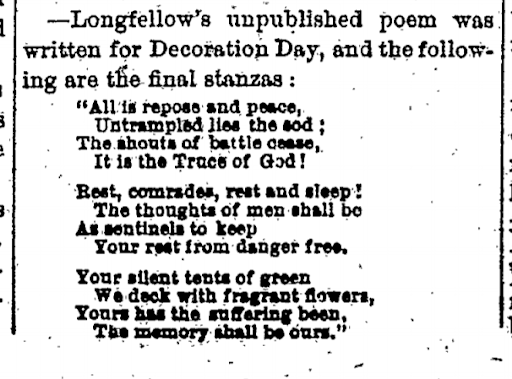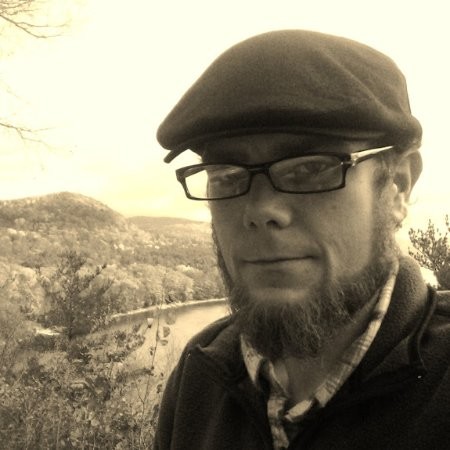 David Brooks has an American History degree from the State University of New York. He currently lives in Northville along the banks of the Great Sacandaga Lake. He serves as the Education Director for the Schoharie Crossing State Historic Site and on occasion can be found exploring the Adirondacks hoping to catch sight of Big Foot.