by Chris Clemens
At nearly 209 miles, Route 31 is one of the longest state roadways in New York. It stretches from Niagara Falls in the west, to Vernon in Central New York. In a few spots, it closely follows the path of the canal, but over the years it has undergone some re-routing. It passes through ten counties like Niagara, Monroe, Onondaga, and Oneida. From cities like Rochester and Syracuse, to small towns like Gasport and Weedsport, Route 31 offers a treasure trove of Upstate New York adventure.
One of the people I've come to enjoy exploring with over the years is my friend Chris Lindstrom. He runs a podcast out of Rochester called Food About Town where he interviews food experts from the region. We like to joke about how much we disagree on food, but we align perfectly with pushing the limits of discovery.
He reminded me recently how long it had been since we spent time on the road together. Thinking a day of exploring with Chris would be a great way to wrap up 2018, we created a very loose plan. Less than 48 hours later, we were on the road to pack in as much Western New York as possible.

We decided to spend a day driving the western half of Route 31 from where we live in Rochester all the way to Lewiston. If you're paying close attention already, you know that Route 31 doesn't end in Lewiston. Like I said, we kept it kind of loose. It was a ramble!
If listening is more your thing than reading, you can checkout the hour-long episode of Food About Town's podcast discussion. We discuss the whole trip in Episode 122!
Rochester, New York
Here in the city, Route 31 actually jogs around a bit. From Lyell Ave in the west, it follows Broad Street and later becomes Monroe Avenue. From there, it travels east into Brighton and Pittsford, and then continues for about 100 miles.
Our plan was intended as a general guide so we were open to creative detours. Instead of finding coffee perfectly on Route 31, we jumped a little bit north for stop #1.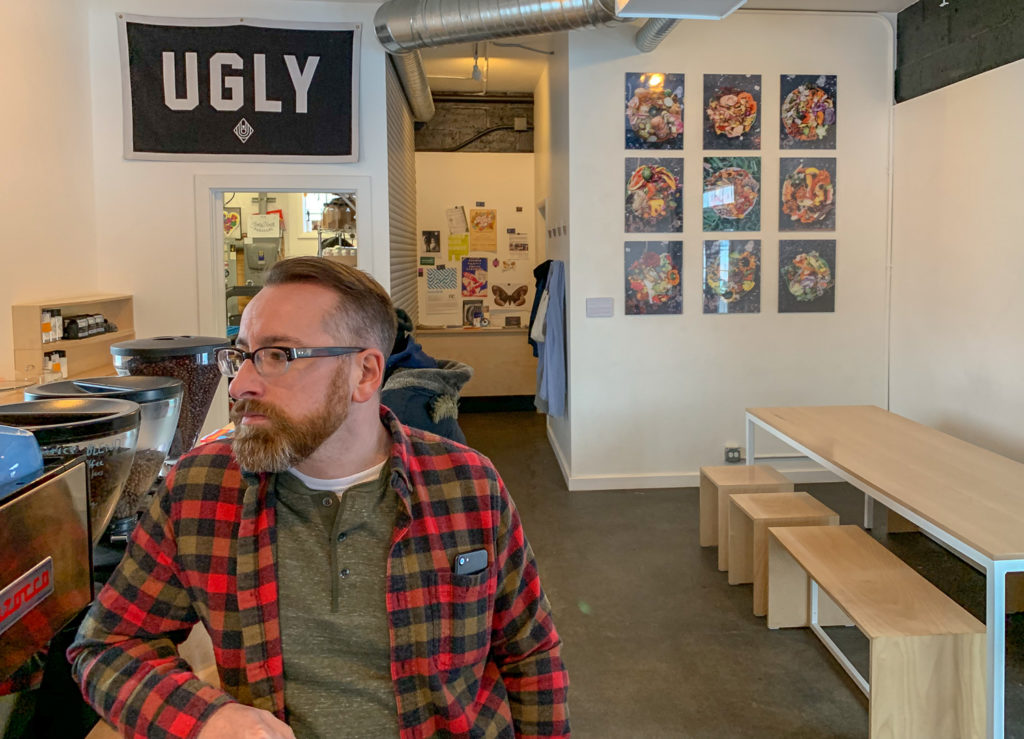 We started the day at Ugly Duck Coffee, one of our favorite specialty coffee shops. Ugly Duck is the work of Rory Van Grol, whose known around Rochester as one of the coolest people who could ever serve you coffee. His team of baristas is knowledgeable, and super friendly. Stopping at Ugly Duck Coffee is always a win, and it gave us a chance to sit down and do some planning for the next 90 miles.
Chris downed a double espresso while I choose my go-to cortado. We spent a few minutes working over the plan for the day. Then, with enough caffeine to get us started, we were off.
Albion, New York
Albion rests nearly in the center of Orleans County, and Route 31 divides the town just south of the village. As one of the original canal towns, Albion celebrates a pretty cool history with some noteworthy people having been born here.
Today, Albion is primarily a farming town, and serves as a shipping port for apples, cabbage, and beans. Nearly 10% of the official population identifies as Latino, which isn't that surprising if you consider the town's agricultural industry. Guess where you can find amazing Mexican food?
Lorenzo's Mexican Products is a small grocery just off the road in an old shipping warehouse near the railroad tracks. They carry foods that you won't normally find in supermarkets, but also have a small kitchen in the back. Chris and I had each been to the Lorenzo's Mexican Products in Brockport, but the menu in the Albion location was inviting.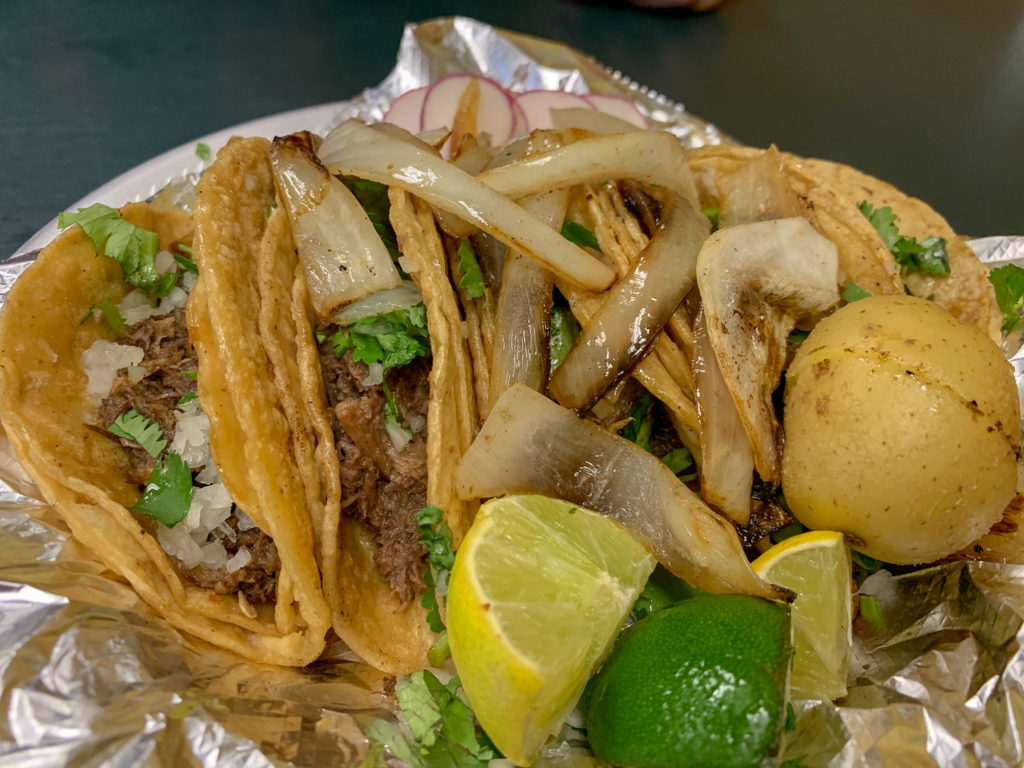 It might have been 10:00a, but we counteracted the morning espresso with five Mexican street-food style tacos that were out of this world. Five tacos, a couple potatoes, super fresh salsas, and authentic flavors for $8.00. That was a majorly successful start to the day.
Medina, New York
To Albion's west, Medina is also an original canal town with interesting history. As we drove westward toward our next stop, Chris seemed a bit surprised when we turned way too early, but I had purposely kept this stop a surprise.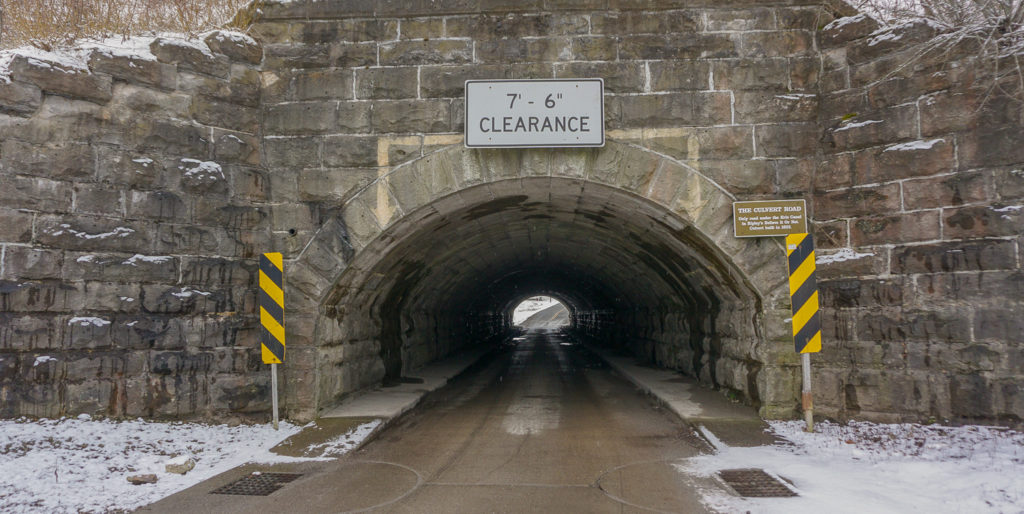 Near Medina, you'll find the only place in New York where you can travel under the canal. During the third canal revision it was determined that they'd need a monstrous bridge because of the pitch in the road. Instead of tackling the architectural nightmare of going over, they decided on the architectural nightmare of going under.
I didn't tell him about it until we were almost under the bridge, but he agreed it was a worthy detour.
Read more about Medina's Culvert Road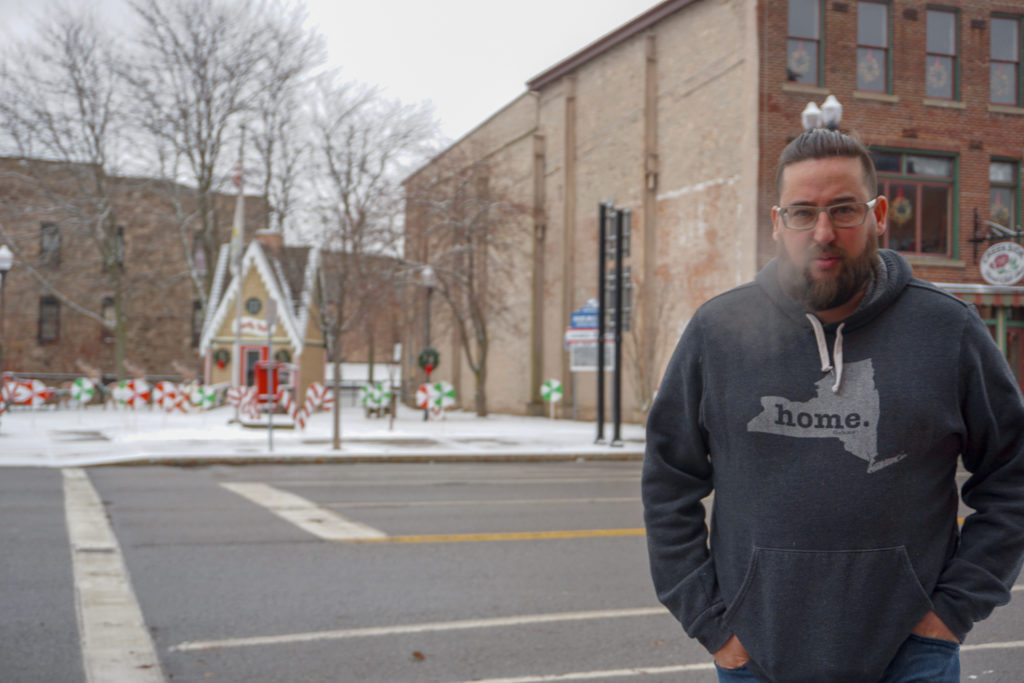 Our planned stop in Medina was right in the village at the Shirt Factory. Since taking over the longstanding local spot last year, the four new owners have been slowly unveiling a map of changes to their offerings. Where the focus was once a regular coffee shop and soup/salad kind of place, these guys are breathing new life into a re-imagined center for local pride.
The team of thirty-somethings have invested themselves in helping Medina move past its image of a quiet, sleepy town to a place that will be celebrated by travel writers and food critics abound.
By the time this post is published, the Shirt Factory Cafe will have already unveiled their new toast menu. Lucky for you, we already sampled the options, and we can solidly share that Medina's position on Route 31 is secure with places like the Shirt Factory doing their thing.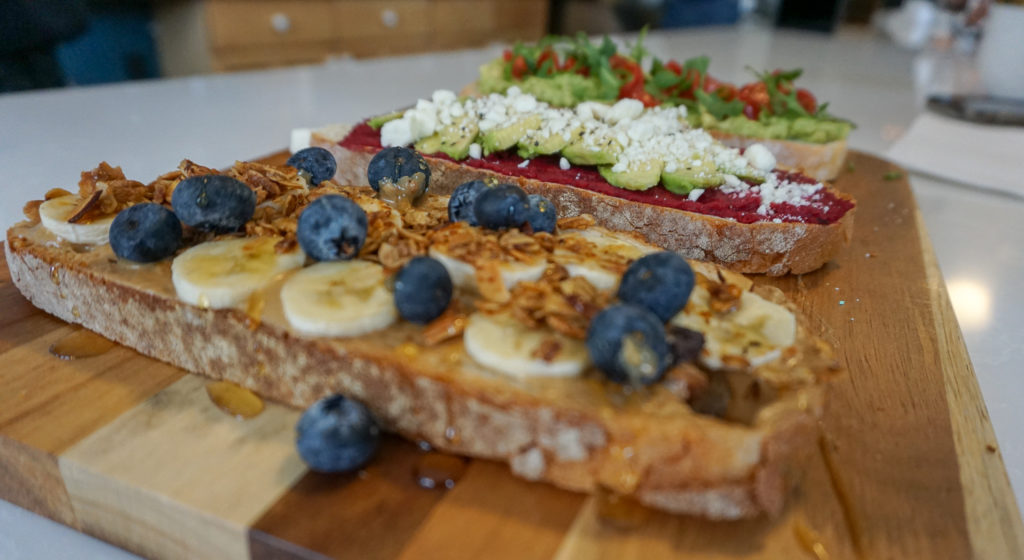 Middleport, New York
Route 31 will bring travelers right onto the Niagara Wine Trail. Though I don't drink anymore, Chris has become somewhat of a wine nerd in recent years. Making a stop somewhere on the trail was a no-brainer, but I let him handle the research for our next stop. Once he explained what Liten Buffel in Middleport was all about, I knew exactly why he chose it.
As one of the newest wineries in Niagara Wine country, it's even one of the newest in the state. Local winemaker Zack Klug and his business partner Patrick Vaughn launched only a couple years ago. But, their unique attitude and really unique wine-making method is earning them a reputation in the industry.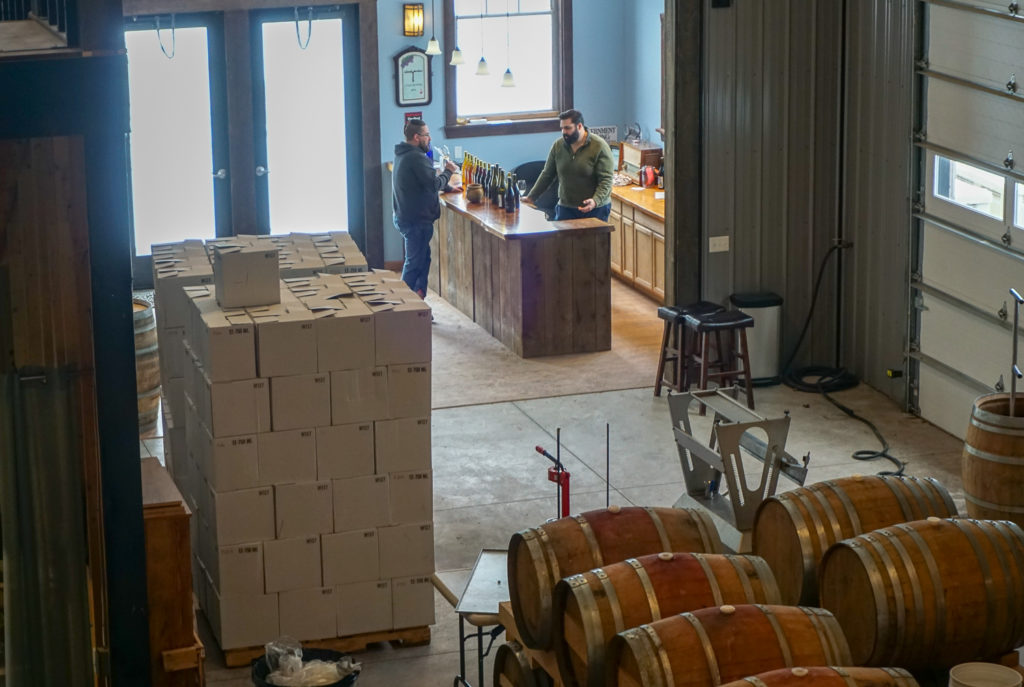 Liten Buffel is one of the few wineries that is entirely natural. In wine industry terms, it's sometimes called "low-intervention". That means the wine is produced entirely by sitting and fermenting on its own. They don't even have a grape press–the fruit is crushed entirely by feet!
Many wineries will add sugars, or acids, or even preservatives and artificial flavors to achieve their desired result. Modern winemakers and post-Modern winemakers sometimes scoff at the all-natural trend buzzing with a few diehard fans. Like it or hate it, there's no mistaking that Liten Buffel's products are some of the most unique you'll find.
Just ask Chris, because he sampled about 15 wines while we hung out talking with Zack for almost two hours. We covered the wine industry, Middleport's history, coffee, and more of the wine industry. If you're in Middleport, paying a visit to Liten Buffel should be high on your list. Even as a non-drinker, learning about their process was fascinating, and Zack was super cool to chat with.
Lockport, New York
The day was getting long, and our ultimate destination finally seemed in reach. With the passing of each town line, I had forced my travel buddy to endure what had now become a day-long tradition and shouted "Welcome to Lockport!!"
By now, he was mostly ignoring me at every border.
I followed it with, "Did you know Lockport has what was once the widest bridge in the entire world?" Chris gave me a bit of side glare to indicate he was listening, as long as I wasn't going to shout "Welcome to the Big Bridge!" when we got there.
The bridge just west of Lockport's famous "Flight of Five" lock system has undergone three rebirths. With the largest of the three canal versions being the current, the city built this "Big Bridge" in 1914. Measuring in at 389 feet in width, at the time, it was the largest on the planet. It's so big that it even has a parking lot! While it's no longer the widest, it's still pretty cool.
This is Chris parked on the bridge, and in the background to the left, you can see the other end of the bridge.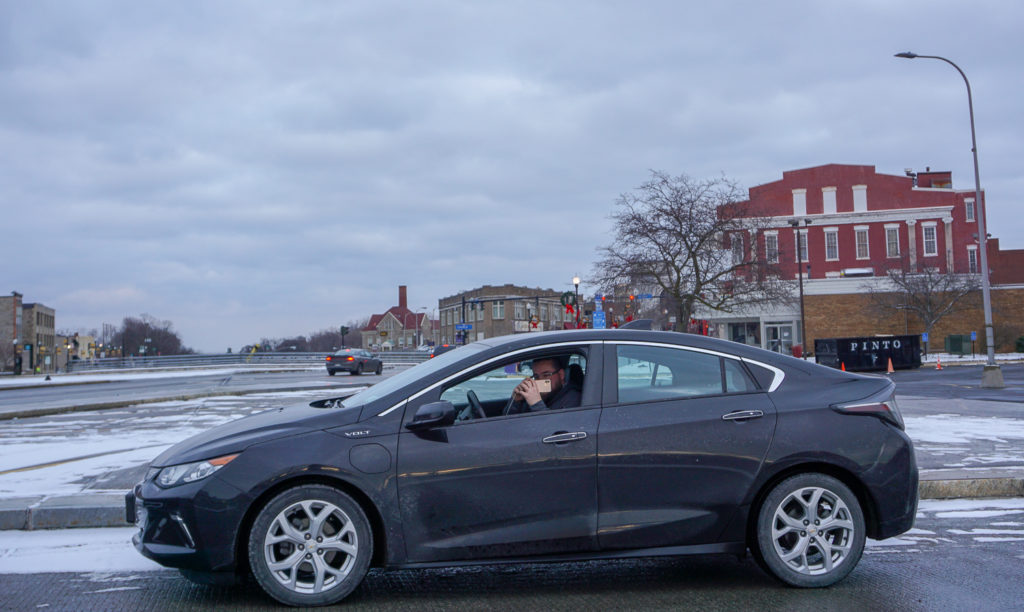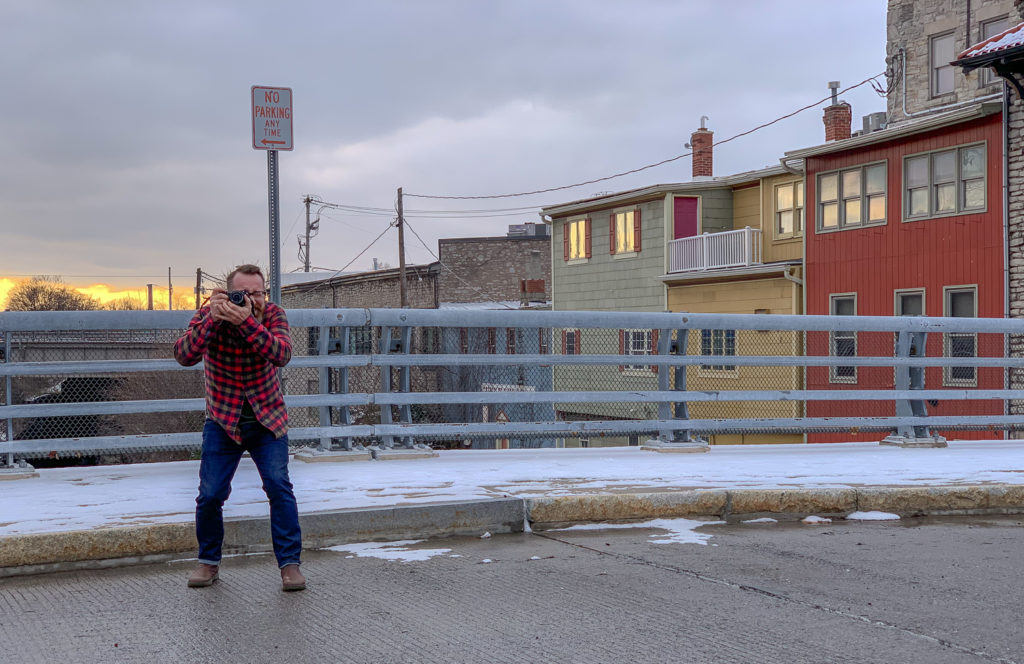 We were in need of a brief snack at this point. Even though Ted's Hot Dogs is more of a Buffalo thing than a Lockport thing, there's a location just a couple miles south of Route 31. A custom recipe foot long Sahlen's well done over an open charcoal grill couldn't really be passed up.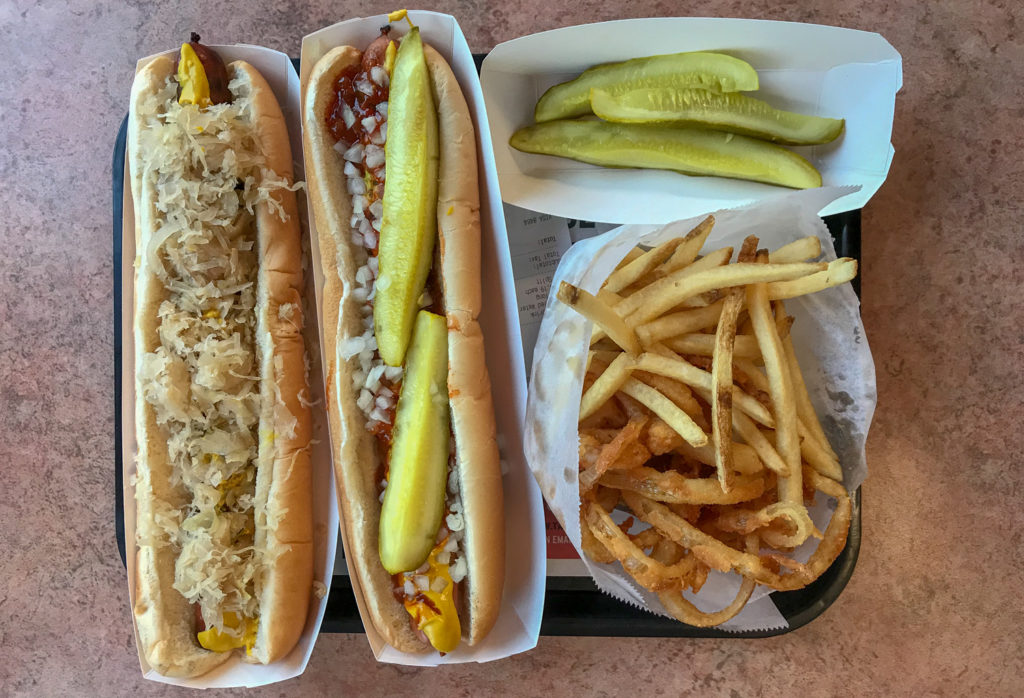 Lewiston, New York
Route 31 technically ends in Niagara Falls, but we were headed a bit north of that. In the 1930's, they built Route 104 about parallel to its southern neighbor Route 31. We jumped over and rode the newer route right into our final stop where I yelled "Welcome to Lewiston!" wearing a wide-eyed smirk.
The western edge of town is also the western edge of New York, and even serves as the western edge (or, northern?) of the country at that point. Route 104 traverses right through downtown, and terminates at the massive Niagara River. When we arrived, the sun was just beginning to set, and it was cold. Real cold.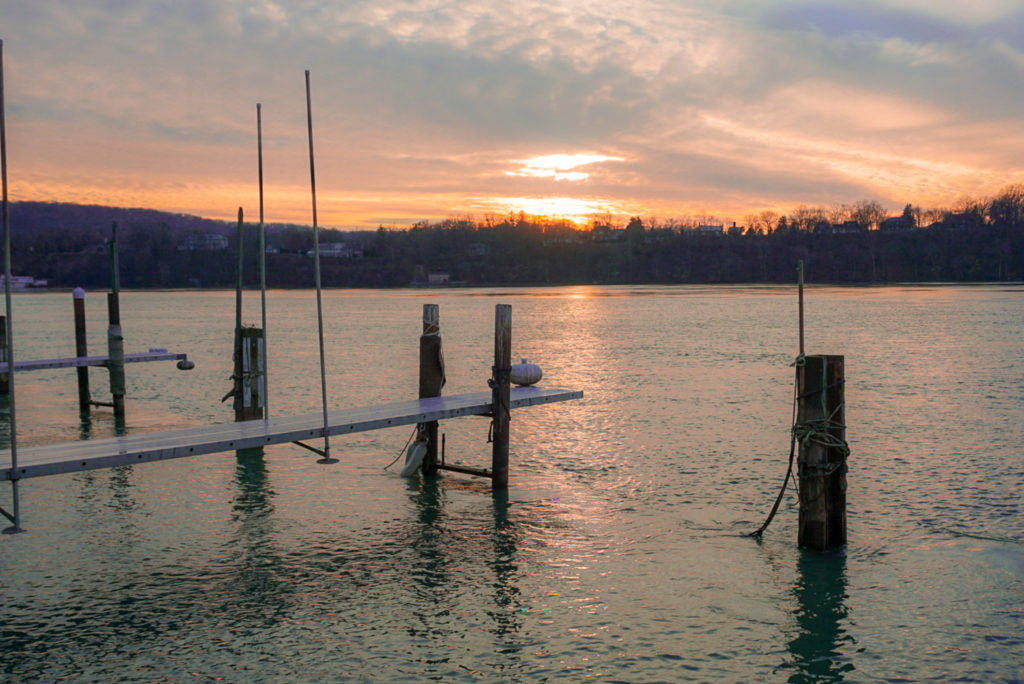 After a walk around the docks near the river and a quick jaunt into nearby Artpark, believe it or not we still wanted food. Warm food. Upon recommendation from folks on Twitter, we landed at the Brickyard Pub & BBQ. We tore down a light round of Pizza Logs, chili, and wings just like proper Western New Yorkers.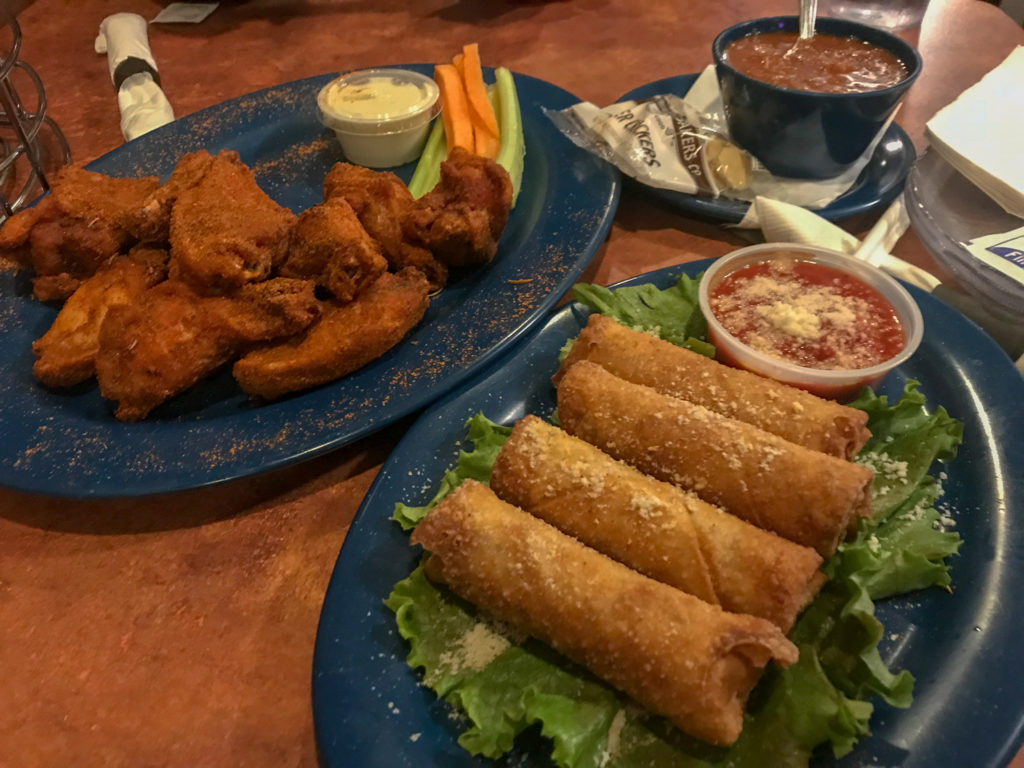 But, there was one final destination. The one that brought us all this way. Our last stop was the site of the ultimate in food history folklore. A fact hidden in plain daylight that seemed so obscure even our waitresses at Brickyard thought I was full of crap. But, the story is totally true, depending on who you talk to.
History of the Cocktail
Near the corner of 8th and Center Streets on the east side of the village of Lewiston there is a large historical sign. It marks the spot of the location where Hustler's Tavern once sat. According to some, Hustler's Tavern in Lewiston is the very place where the term "cocktail" was first used.
During the War of 1812, British troops burned Lewiston right to the ground. Hustler's Tavern is said to be the only building that remained after the raid. Historians believe that Catherine Hustler and her tavern were so well liked even by the opposition, it was decided that it should be protected during the town's demolition.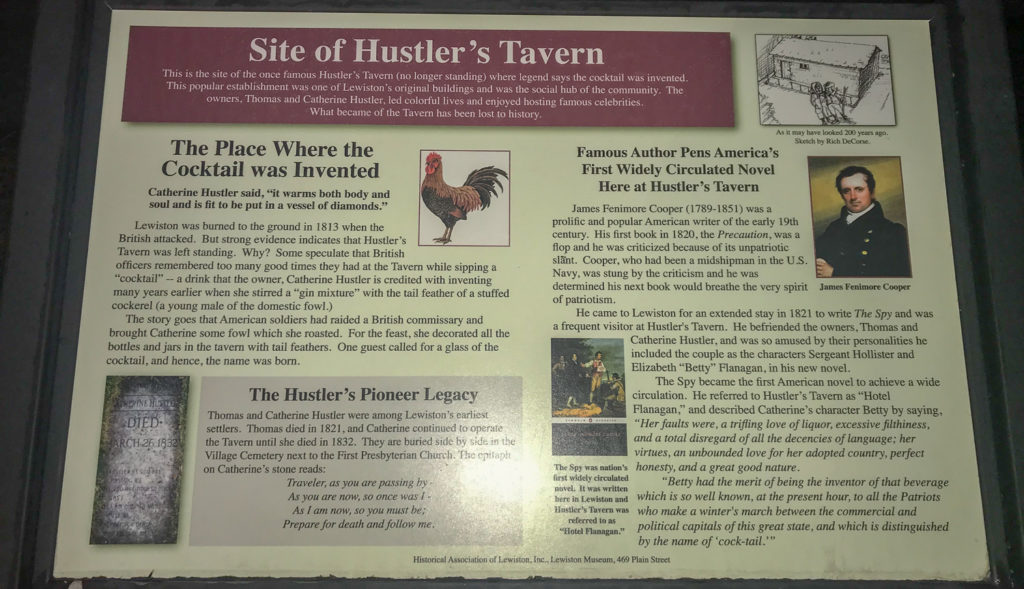 According to legend, after a raid on a British camp, American soldiers freed some fowl and brought the birds to Hustler's. Catherine prepped the birds and gave the men a feast to reward their hard work in the war. Looking to make the affair extra special, she took the attractive feathers from the tail of a bird, and dropped one into a gin drink as a stir stick. Someone shouted something about wanting a drink with a "cock tail", and the rest is history.
There are other places around the country that lay claim to the origins of the cocktail, but we were in Lewiston. It was time for local pride. Hustler's Tavern is long gone but near the historical signage, we found the Griffon House–a gastropub with a few locations in Western New York.
Here, on the very place that Catherine Hustler secured her place in culinary fame we finished our day with a couple drinks. For the sake of history, Chris had a cocktail, and I had a mocktail of ginger beer, lime, and fresh mint.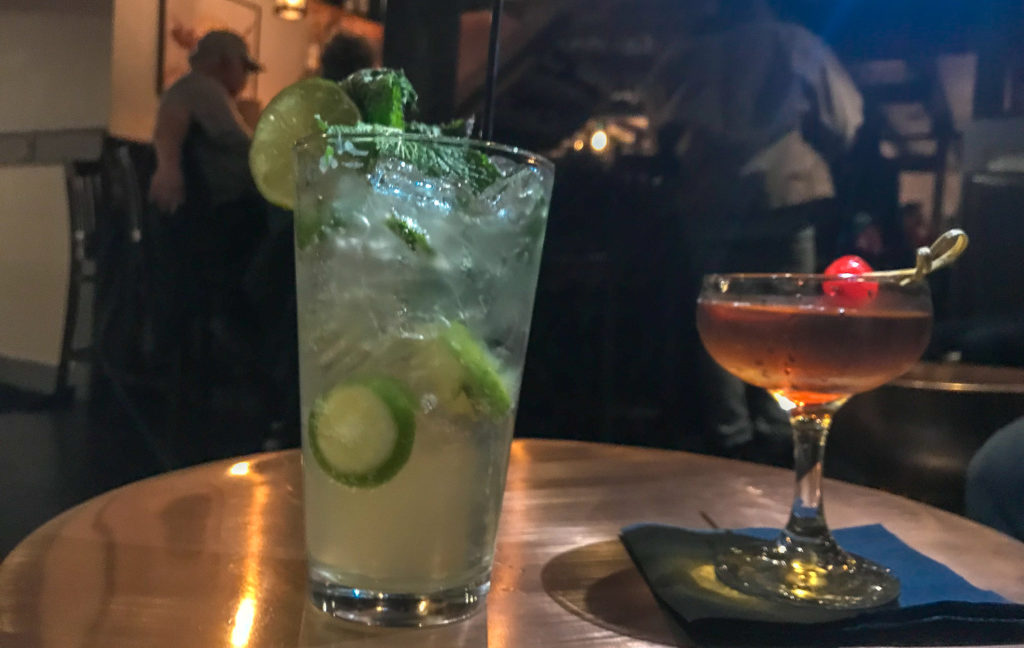 Route 104
It had a been a long day, but one filled with laughs, history, food, and seeing new places. The following day would be New Year's Eve, and the trip provided us an opportunity to look back on our year, and look ahead toward the next.
Out of Lewiston, we rode Route 104 east to head home, but something felt off. There was almost a sense of feeling that Route 31 was calling us back. "Remember all the fun you had today? Well, I'm right here!"
Just east of Lockport we bailed on the newer Route 104 and rekindled our relationship with the now familiar Route 31. We recapped the day and tried to decide how long we should wait before doing the eastern half.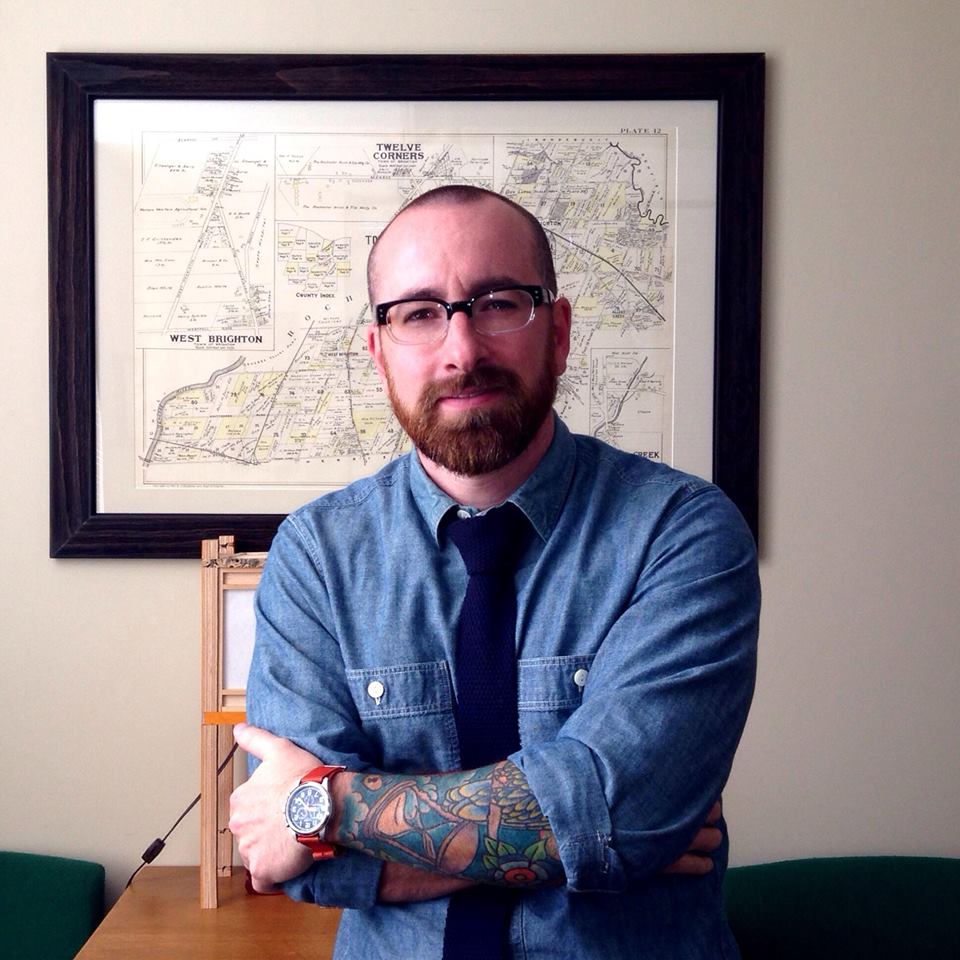 Chris Clemens is the Founder/Publisher of Exploring Upstate. From his hometown in Rochester, he spends as much time as possible connecting with the history, culture, and places that make Upstate New York a land of discovery. Follow him on Twitter at @cpclemens