by Chris Clemens
Whether you've lived in or just passed through Central or Western New York, you've most likely seen a Byrne Dairy truck on the road. You may have stopped in to a Byrne Dairy store at some point. You've likely enjoyed Byrne's iconic chocolate milk and if you haven't bought their ice cream to take home, you've probably had it out somewhere. If you're at all a fan of New York-sourced products, you've also likely been quite happy with one of Byrne Dairy's newest items. And, if you're at all like me, then you'd want to know how Cookiewich was made.
It turns out, Byrne Dairy's Cookiewich is almost entirely made by hand at a small plant in downtown Syracuse. The operation combines their large-scale branding with their hometown, family values to create a perfect frozen treat.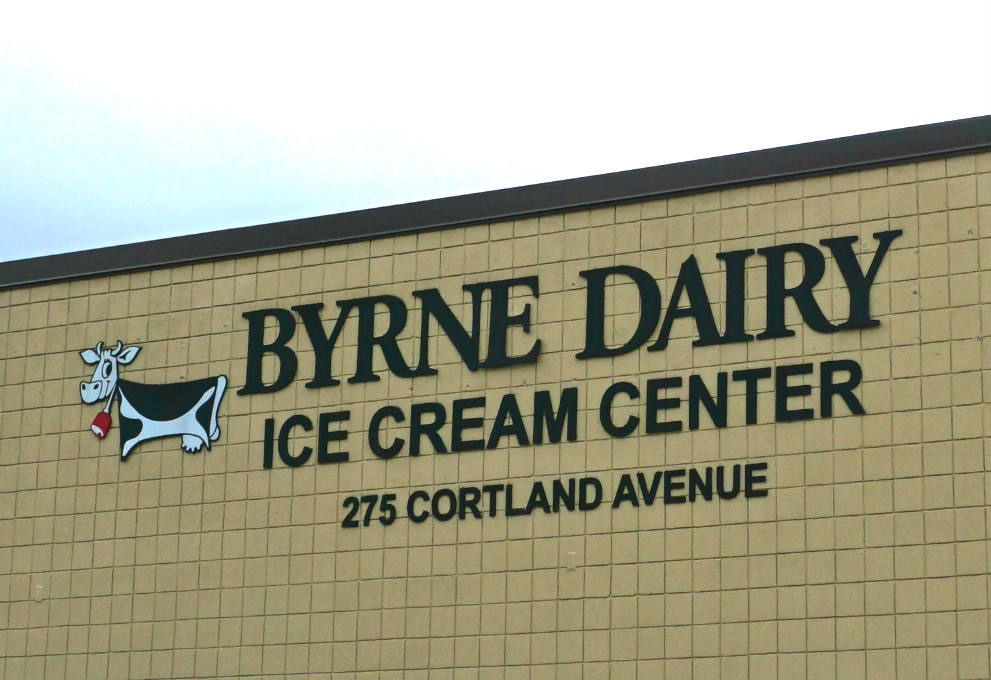 Byrne Dairy's History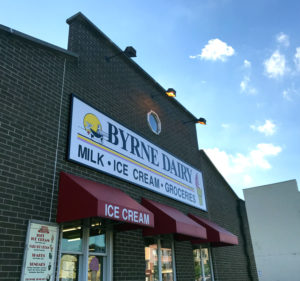 In 1933, Matthew V. Byrne, a Syracuse native, began to bottle and deliver milk to local families from a plant in downtown Syracuse on West Genesee Street. Just 13 years later, as the Byrne name had become synonymous with dairy in Syracuse, his three sons took over the business. For decades, operations increased exponentially as they continued to bottle and deliver milk to families.
Things changed in 1977 when Byrne Dairy began to use their milk to produce ice cream. Ever since that dramatic foray into a new world of creation, Byrne Dairy has added new products, added three more processing facilities, and built a line of convenience stores across the state. Their products are now found throughout the northeast in places like Costco and Wal-Mart.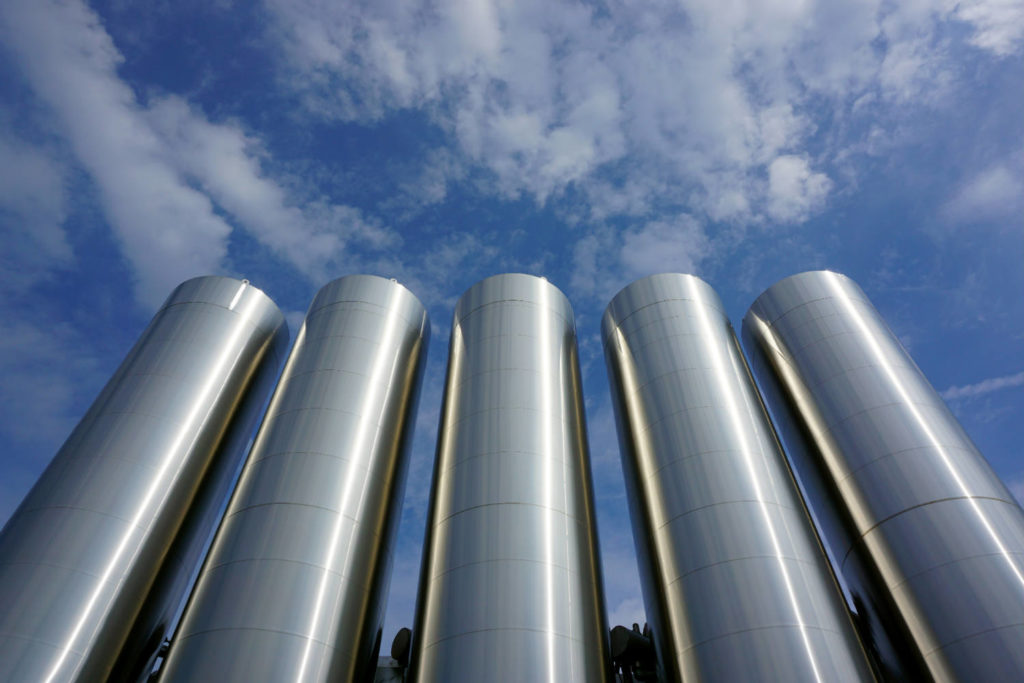 Despite creating large scale brand recognition and managing a growing operation, Byrne Dairy still celebrates a "small-town", family feel within the culture of their business. In fact, there are now eight employees in the company carrying the Byrne name–each working in levels from main floor production all the way up to corner office jobs.
Byrne Dairy is still a mom-and-pop operation in spite of their size. Business today between many Byrne Dairy farmers is still conducted with a handshake.
Which Cookiewich?
In 1983, Byrne Dairy took Central New York's favorite ice cream and slapped it in between two cookies to form their trademarked Cookiewich. They have different flavor combos like brownie mint, chocolate raspberry, vanilla and chocolate chip and for those of us who can't decide, a chocolate/vanilla twist.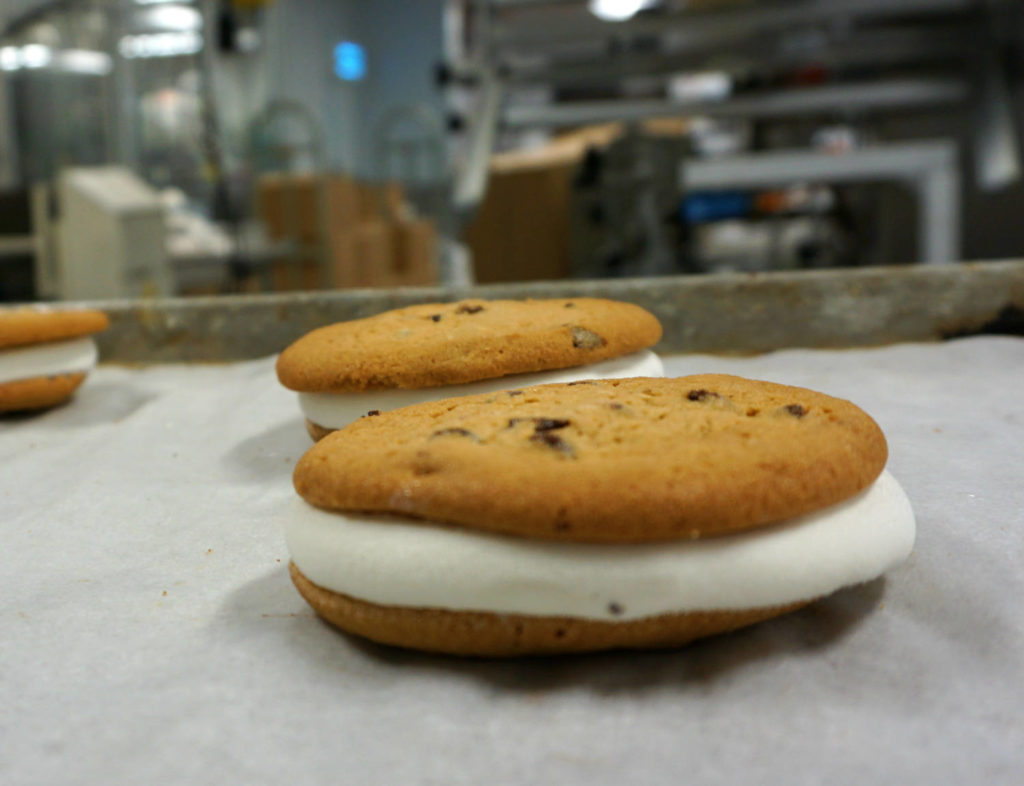 While the long list of options is pretty great, what's even more noteworthy about the Cookiewich, is that much of the production is done by hand. Sure, there's some machinery to help with things like wrapping, and portioning, but every single Cookiewich has gone through a series of stages where someone lovingly added a handcrafted element to the process.
Since I was a bit hesitant to just blindly take their word for how much was done by hand, I was given special access to get an up close look at exactly how the process works. I assumed you guys would want to see, too.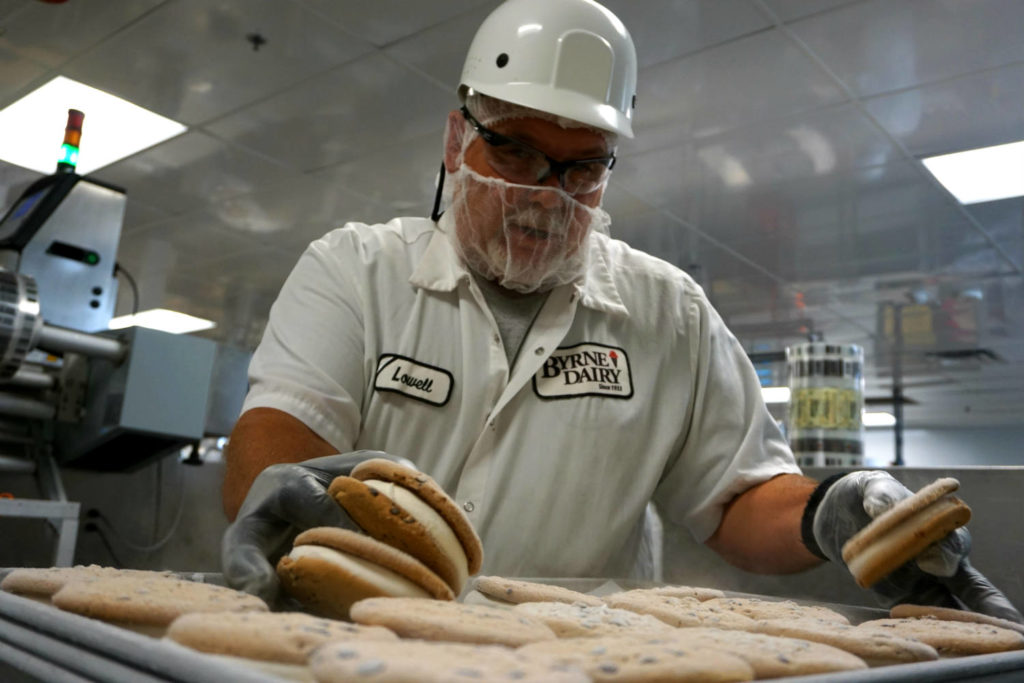 The Ice Cream Center
At 275 Cortland Avenue in downtown Syracuse, the aptly named Ice Cream Center is set up to receive milk from a nearby processing plant. Alongside the huge Cookiewich operation, ice cream packaged in the 1/2 gallon cartons you can buy in the grocery store is created and packed here. That same ice cream is used to fill the center of their ice cream/cookie sandwich. During my visit, the Ice Cream Center was making the vanilla ice cream with chocolate chip cookie combination, which just happens to be my favorite. To date, this is the most in depth look you'll find online for how the Cookiewich is produced and I'm really grateful to have had the chance to see such a tightly run operation up close, and to be able to share it with Exploring Upstate readers.
Disclaimer: The following photos are not, unfortuately, scratch-and-sniff.
Local flour for the cookies is sourced from Birkett Mills in Penn Yan, New York. You might know Birkett Mills because they're the ones responsible for creating the World's Largest Pancake back in the 80's.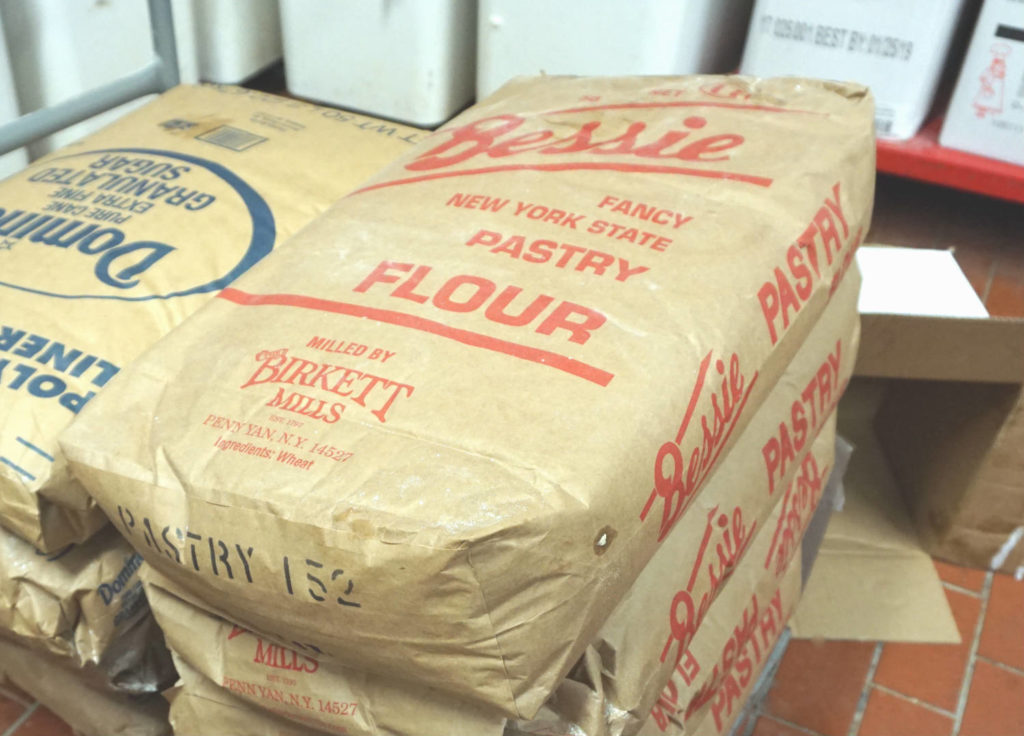 The Birkett Mills flour is mixed with a whole bunch of secret ingredients–a list I wasn't able to talk any employee in to giving me. But, I will say the scents around this mixer were pretty awesome!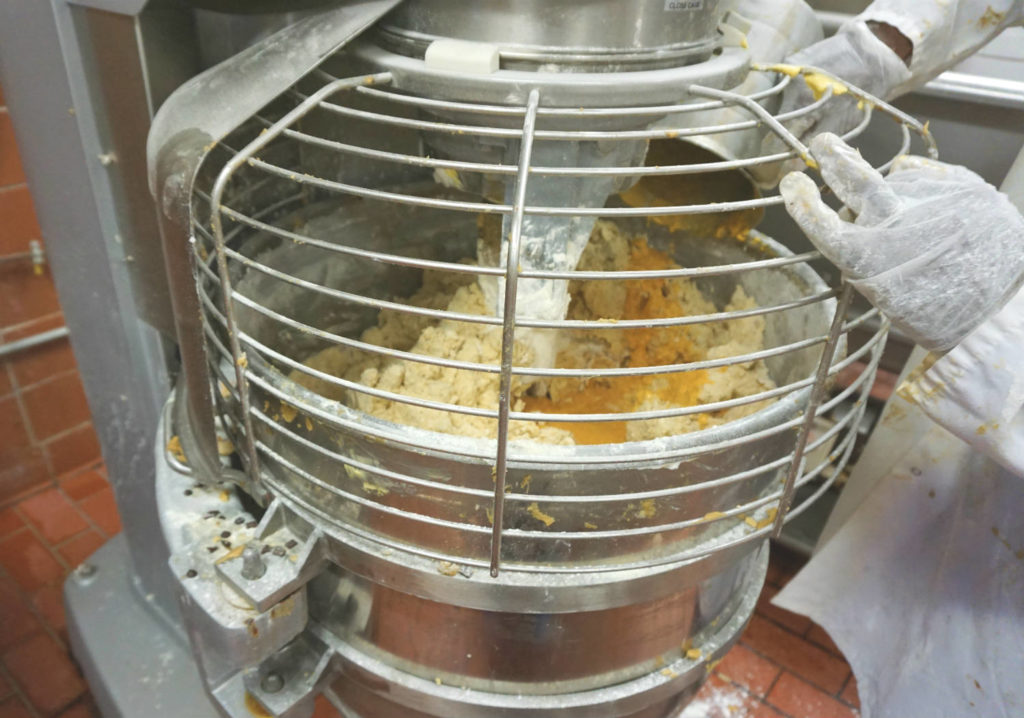 Once the cookie dough is mixed, it's fed by hand in to a small portioning machine that spits out little dollops of cookie dough headed to an oven for baking. Once baked, every single cookie is hand-picked to ensure that they're perfect enough to make it on to the next step.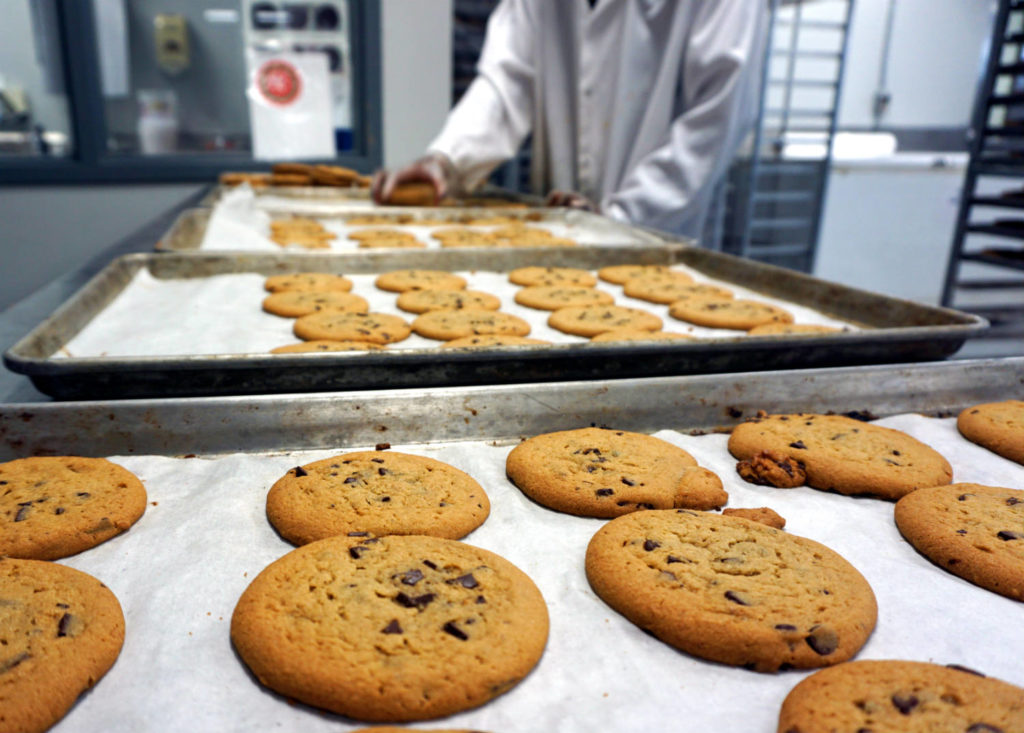 Those cookies head over to a machine where ice cream (made on site) is kept at just the right temperature to be extracted for the center. Afterward, there's another employee waiting to hand pick and place the top cookie.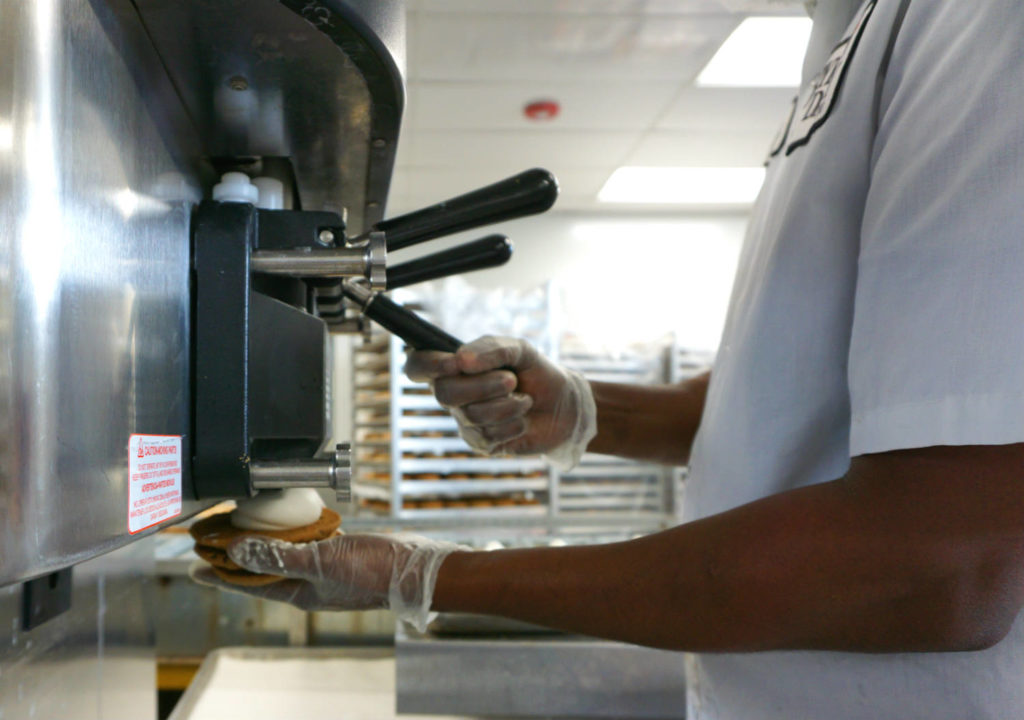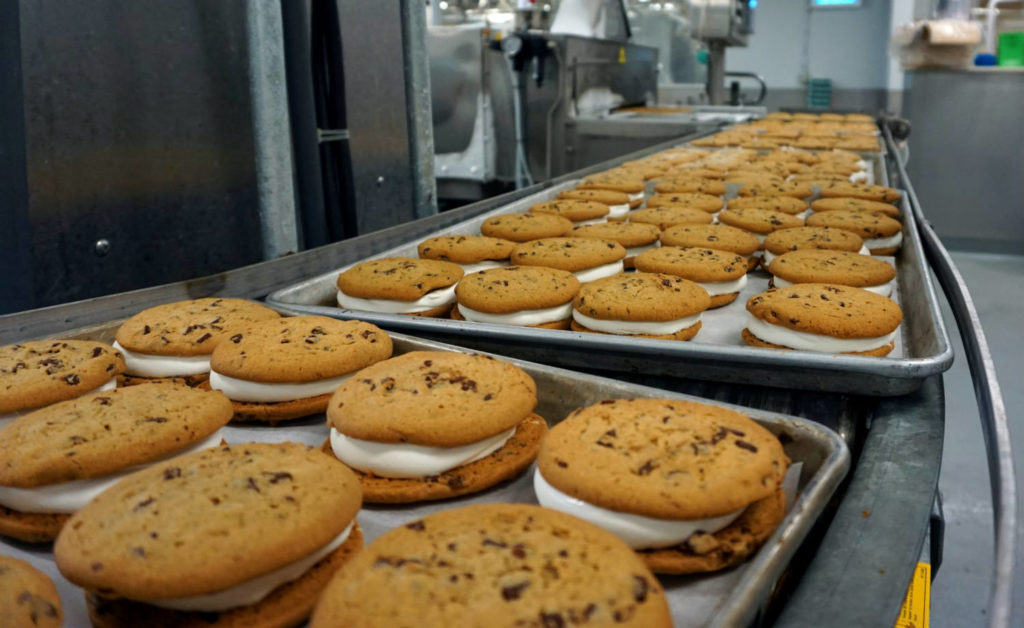 From here, they're much too soft for packaging, so they spend a few minutes traveling through a deep freeze process to harden the ice cream and give the cookie that great contrasting texture to the smooth center.
At this point, they're officially frozen. Each finalized Cookiewich is placed by hand on to a conveyor that sheaths them in to an individual wrapper and then passed on to the last person to handle them as they're packaged for distribution.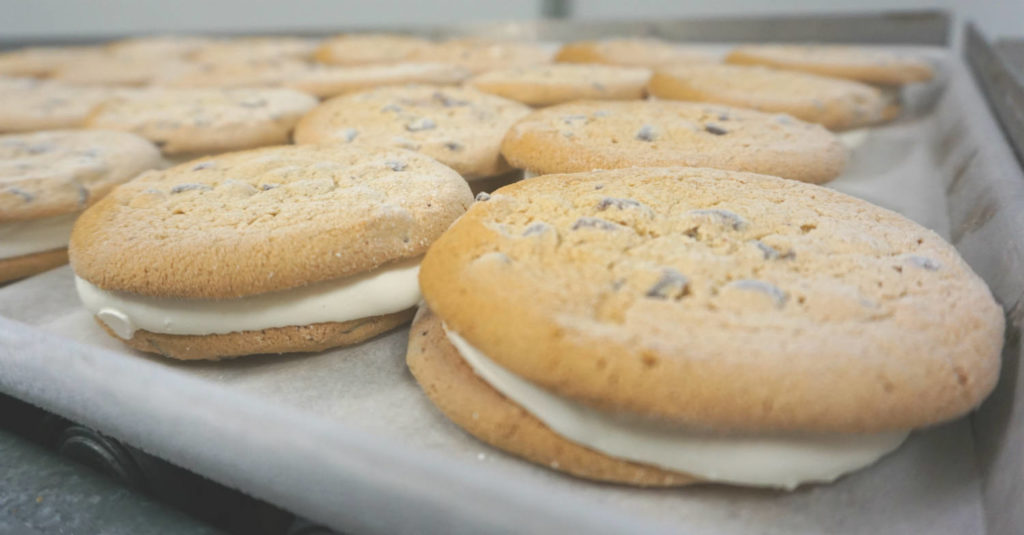 Then, there was one last set of hands to touch (just one, promise) Cookiewich.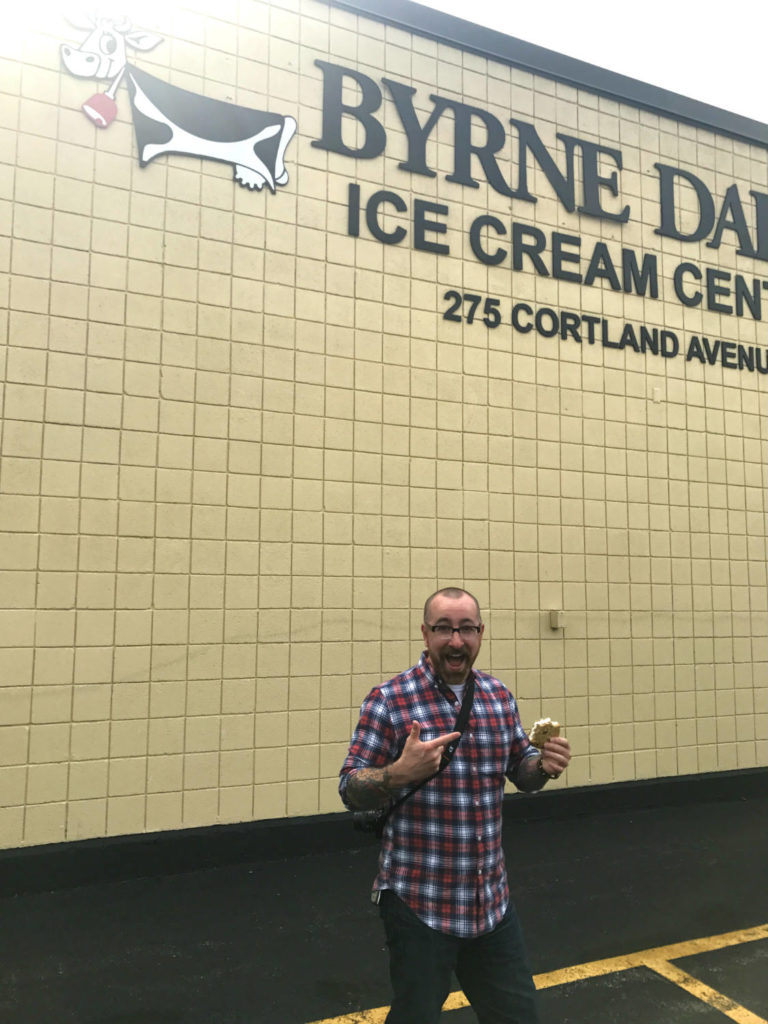 Finishwich
I really love getting the opportunity to celebrate local brands who are producing great products right here in New York. Knowing that there are folks working to ensure that high quality foods are created in an environment where even non-Byrne employees still feel like family gives me great pride in our region. Next time you're eating a Cookiewich, you can keep in mind that it was produced by a locally owned company with local interests in mind.
Sponsored in part by Byrne Dairy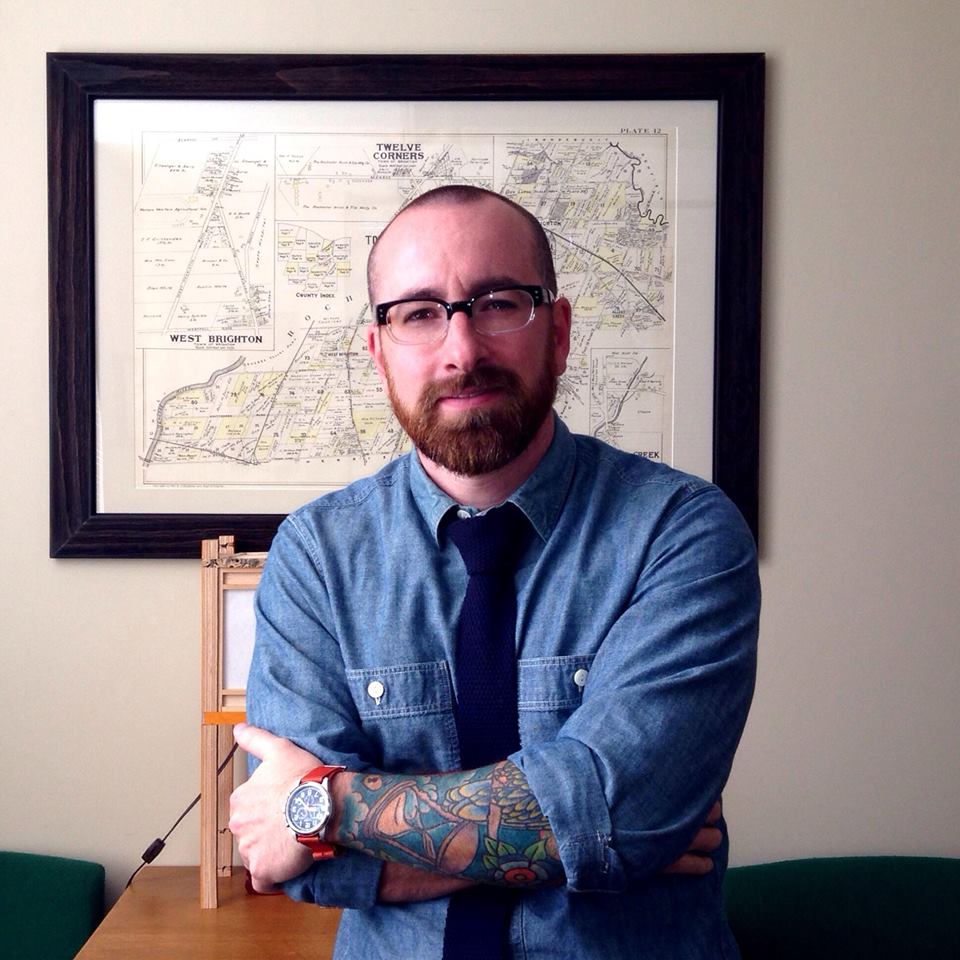 Chris Clemens is the Founder/Publisher of Exploring Upstate. From his hometown in Rochester, he spends as much time as possible connecting with the history, culture, and places that make Upstate New York a land of discovery. Follow him on Twitter at @cpclemens