a blog about everything in
Regardless of how you define the boundaries of Upstate New York, there are just about a million reasons to explore here. Each region of New York State is filled with unique history, food, culture, and experiences.
This site is a travelogue of sorts, but also intended to be a guide for your own discovery of Upstate. You can use the Explore By Region function to find posts and information by area, or find interesting facts and even what happened this day in New York history.
Whether you're looking to hike in the Southern Tier, find a museum in Central New York, or explore food in the Finger Lakes, let Exploring Upstate be an inspiration to finding your next Upstate New York adventure.
Join me as I hit the road with friends to discover everything in Upstate New York.
~ Chris Clemens, Founder
Explore Upstate New York by Map
Read travel blog posts by location
Want to learn some new random facts about New York State?
Chris Clemens
Founder, Exploring Upstate
Frequently Asked Questions
Upstate New York is a term that describes a geographic region and culture in New York State. It's typically used to identify the section of the state that is not New York City or Long Island.

A better question would be: Where is Upstate New York?
Upstate New York is a geographical region in New York State that is separate from New York City and Long Island.

Because the cultural identity of the City is so iconic, and many people who work in the city live just outside the borders, many people agree that the immediate surrounding towns and cities are still too culturally ingrained with New York City to be considered different enough to Upstate.

Many will use the term Downstate to designate the region immediately north of New York City.

Someone who lives in New York City might have a different answer about where Upstate is than someone from Albany. Collectively most New Yorkers agree that Upstate is the region of New York that does not include New York City or Long Island.

The exact border separating Upstate and Downstate New York is highly disputed but few would argue that Upstate is divided into smaller regions like the Finger Lakes and Western New York.
Upstate New York is divided into smaller geographical regions.

Adirondack Region
Capital Region
Catskills Region
Central New York Region
Chautauqua-Allegany Region
Finger Lakes Region
Hudson Valley Region
Niagara Frontier Region
Thousand Islands-Seaway Region

For more about how the regions in Upstate are defined see this post.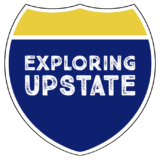 Privacy Policy
The information collected by Exploring Upstate is only used for internal purposes. Any information collected about visitors is never sold. READ MORE