a blog about everything in
Regardless of how you define the boundaries of Upstate NY, there are just about a million reasons to explore here. Each region of New York State is filled with unique history, food, culture, and experiences.
This site is a travelogue of sorts, but also intended to be a guide for your own discovery. You can use the Explore By Region function to find posts and information by area, or find interesting facts and even what happened this day in New York history.
Whether you're looking to hike in the Southern Tier, find a museum in Central New York, or explore food in the Finger Lakes, let Exploring Upstate be an inspiration to finding your next adventure.
Join me as I hit the road with friends to discover everything in Upstate New York.
~ Chris Clemens, Founder
Explore Upstate New York by Map
Read travel blog posts by location
Want to learn some new random facts about New York State?
Chris Clemens
Founder, Exploring Upstate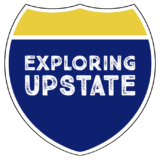 Privacy Policy
The information collected by Exploring Upstate is only used for internal purposes. Any information collected about visitors is never sold. READ MORE