Spotted Duck Creamery in Penn Yan provides one of the most unique frozen treat experiences you can find in Upstate.
by Chris Clemens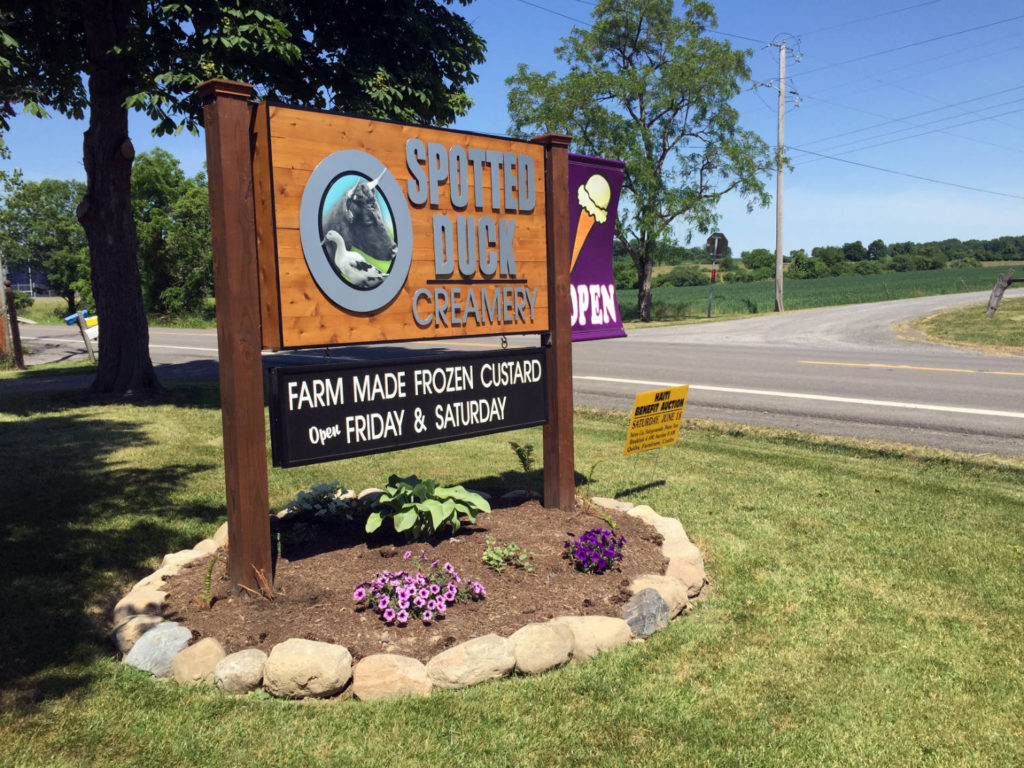 The rural roads that connect Keuka and Seneca Lakes in Yates County are now home to one of the most unique roadside treats in the Finger Lakes, and possibly even in the entire U.S. I recently got a behind-the-scenes-tour of Spotted Duck Creamery on Route 54 in Penn Yan. Since then, I have been quacking to my friends about it ever since. (Don't roll your eyes, that was funny and you know it.)
Owners Daniel and Elizabeth Hoover are veterans of an organic, homegrown lifestyle. They've recently opened their ice cream stand, borrowing its name from the very ingredient that makes their frozen custard unique. Since my visit, I've done a little bit research online. I can't find any other spot in the country who is making their line of frozen custard with duck eggs!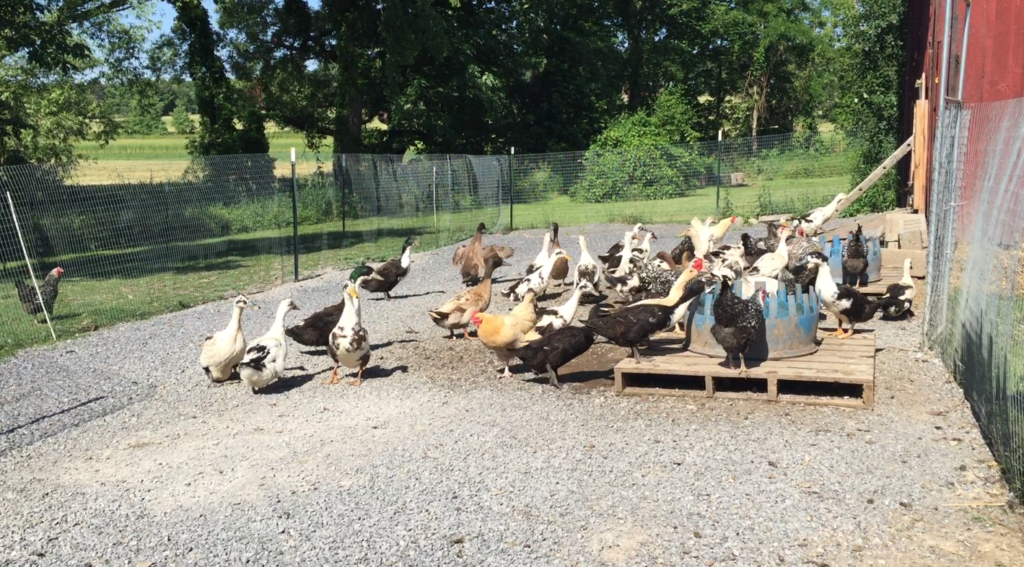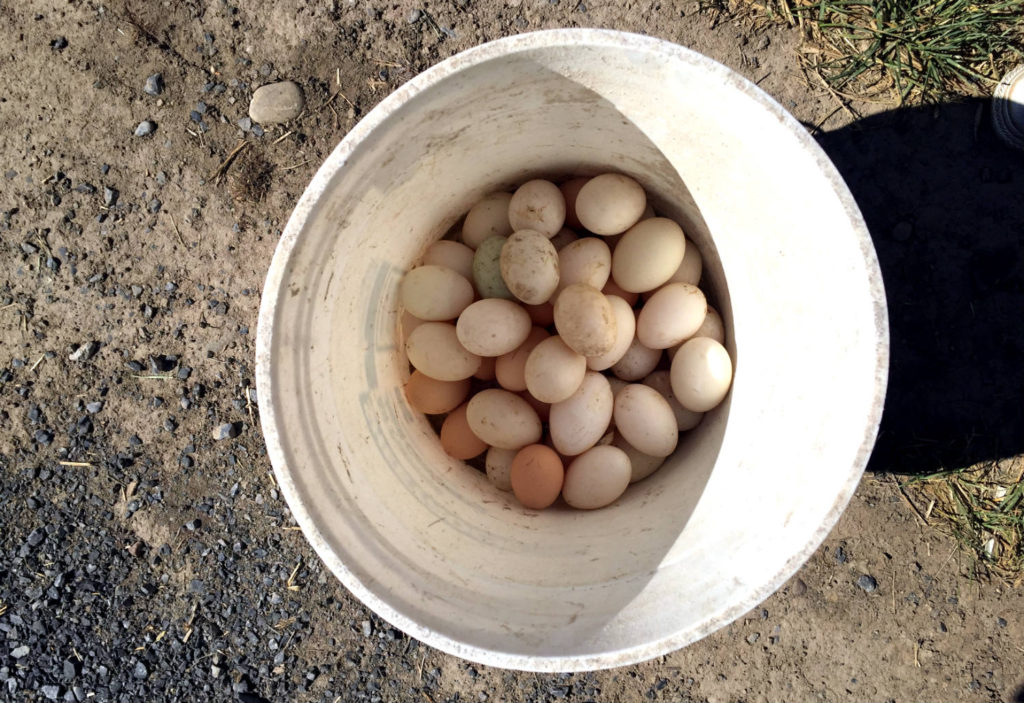 The Hoovers had previously owned a small, organic, farm-to-market grocery in Penn Yan that was a favorite among locals. After a suggestion by Elizabeth's aunt, Daniel decided to try his hand at making homemade ice cream with an old churn owned by his father–the same churn Daniel used with his father when he was a kid. Just like her husband, Elizabeth was raised on an organic farm, so their decision to only use the freshest and best, local grown ingredients wasn't just a lofty goal for either of them–it was a must.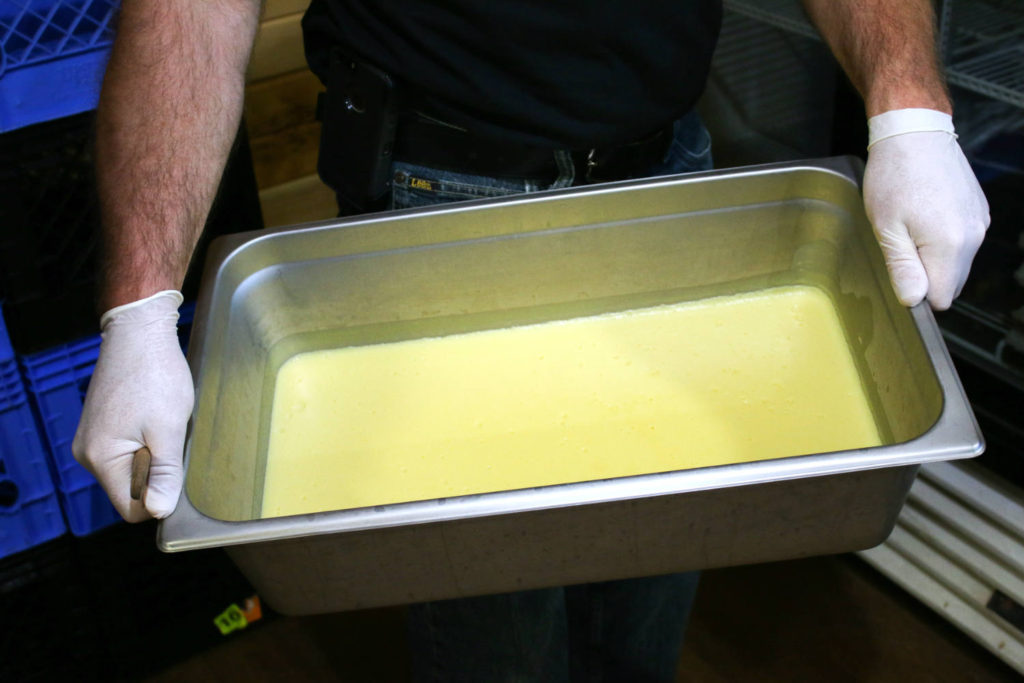 To clarify: the term 'ice cream' is somewhat of a general catch-all to describe a vast array of frozen treats that use a certain amount of dairy in their production. Under that umbrella term, you can find gelato, sorbet, frozen yogurt and also the treat of choice at Spotted Duck Creamery: frozen custard. I'm guilty of believing that a half gallon of the generic stuff found in the frozen section at the market made with corn syrups and emulsifiers will sometimes do the trick, but, frozen custard made with duck eggs and all local, organic components is something on an entirely new level. It's almost not even fair to compare them.
One of the key ingredients in all frozen custard is egg. The Hoovers started out using chicken eggs and agreed that it was good, but they upped the ante even further by experimenting with a duck egg. The result of a firmer egg white and a larger yolk was a much creamier texture in the final product. Pair that with flavors from the vanilla extract that they make themselves or black raspberries picked in Naples and the immediate response from their lucky taste testers was that Spotted Duck Creamery had just changed the ice cream game on everyone.
Visit to Spotted Duck Creamery
For my visit, I brought my good friend Meredith of MyFingerLakesNY along. (In fact, she wrote about Spotted Duck as well, which you can read here.) We spent a couple hours with the Hoovers following the process of taking custard, mixing in the organic ingredients, and putting it through their brand new churn together. Visiting with the ducks and chickens, egg-hunting in the barn and meeting the newly hatched flock of Ancona spotted ducks gave us a rare opportunity to see precisely where our food was coming from, and why it was so outstanding.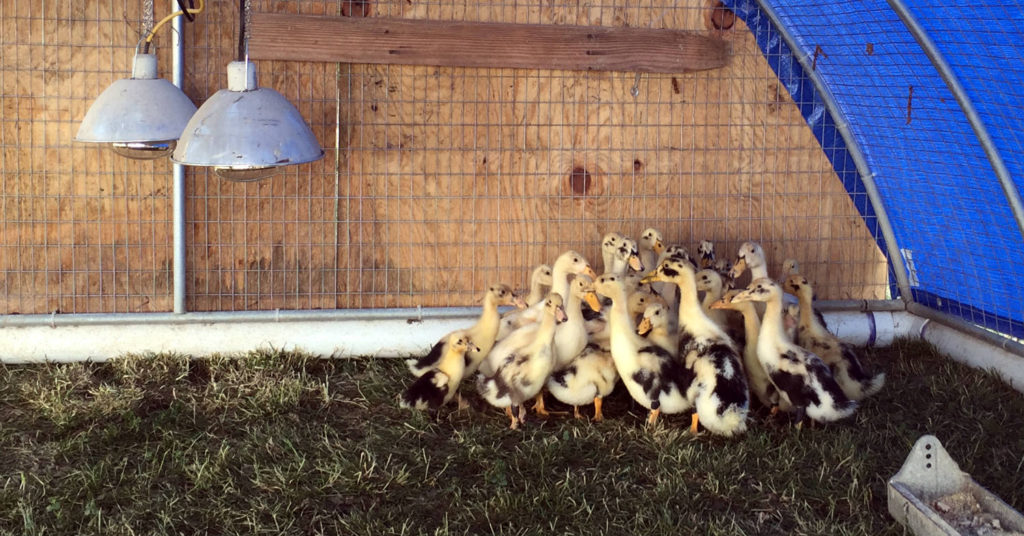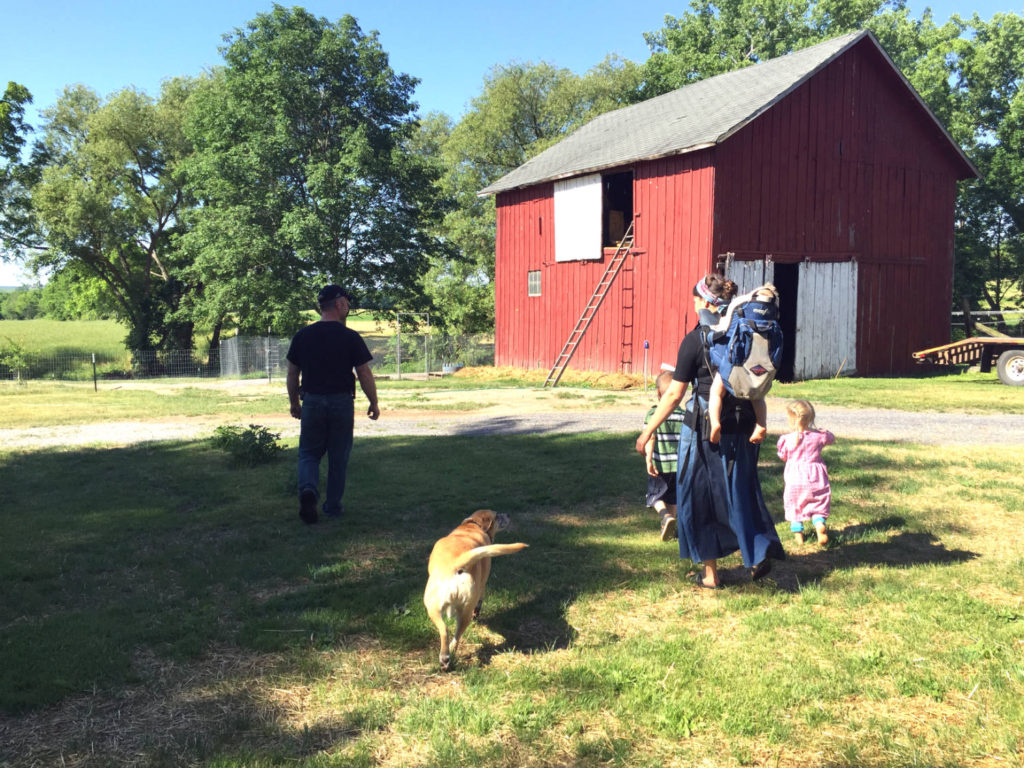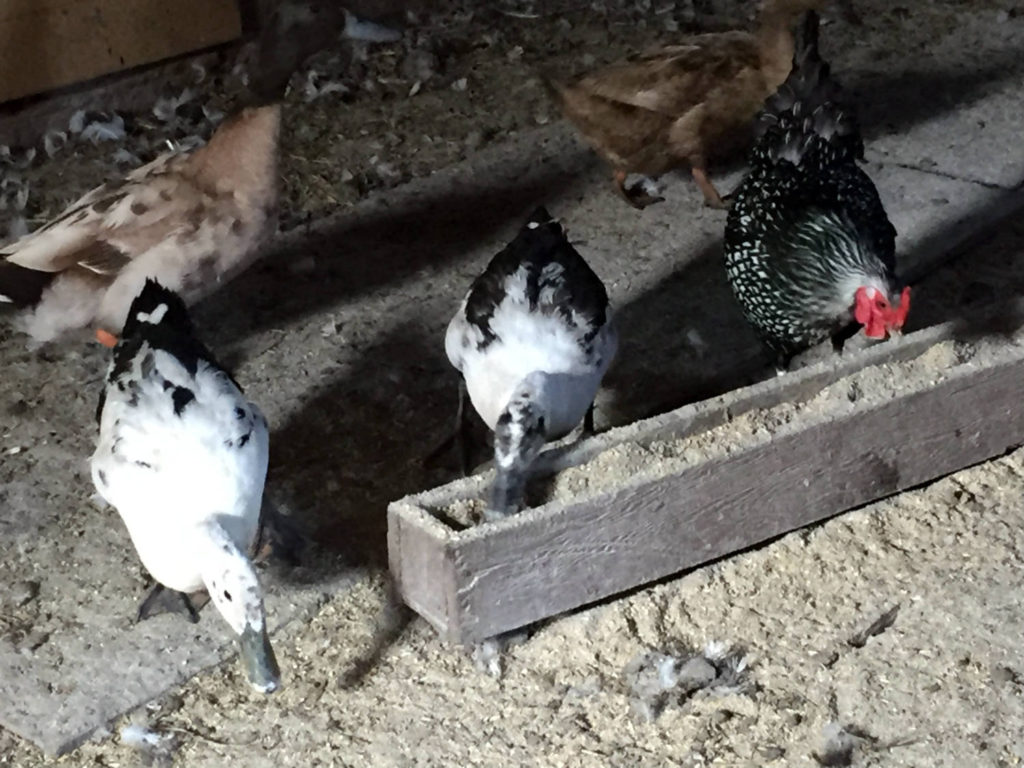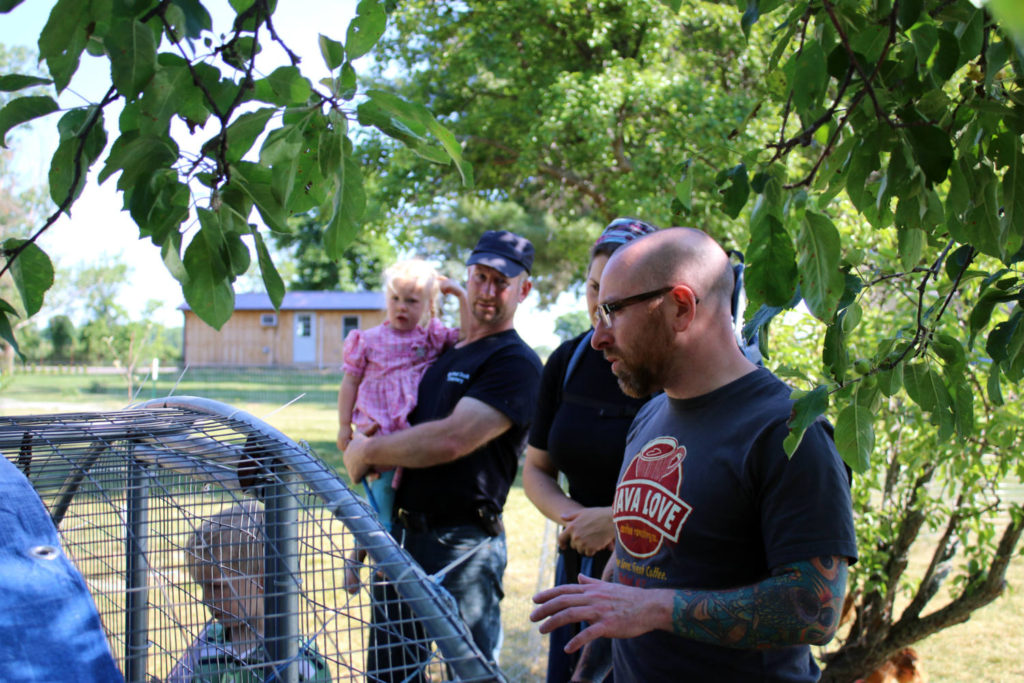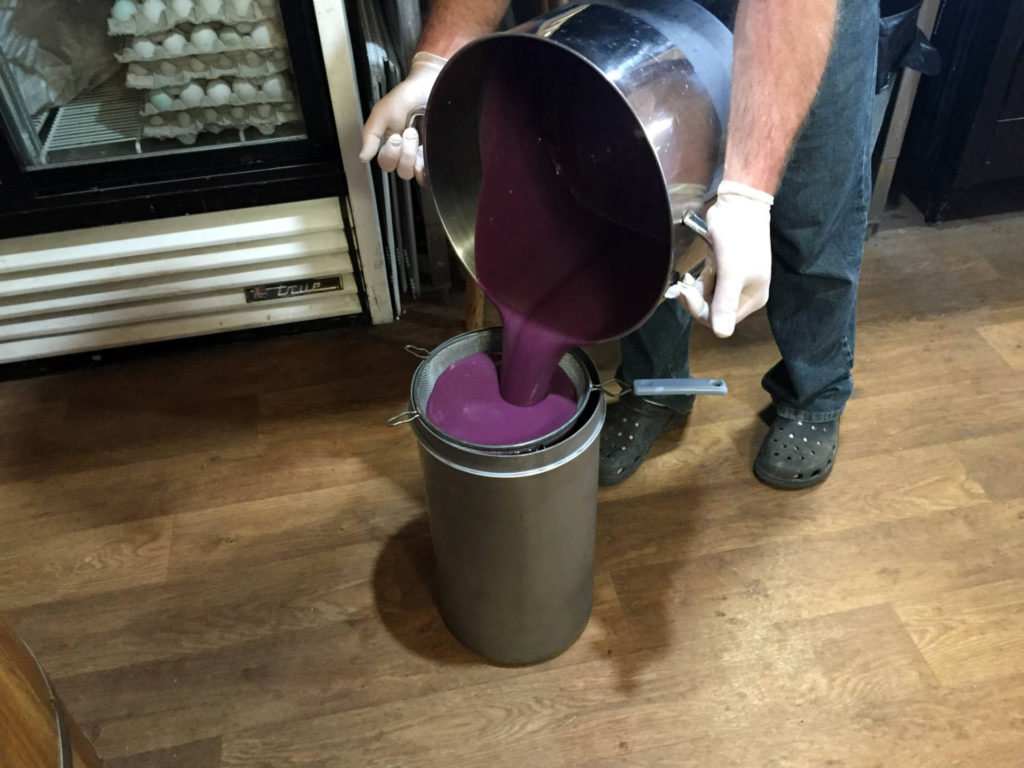 While a step-by-step overview of production is a fascinating operation, the culmination of the process was tasting a freshly churned batch of the Wild Shangri-La Berry. If the smirk on my face in this photo captured by Meredith isn't obvious evidence, it's a frozen treat entirely unlike anything I've experienced.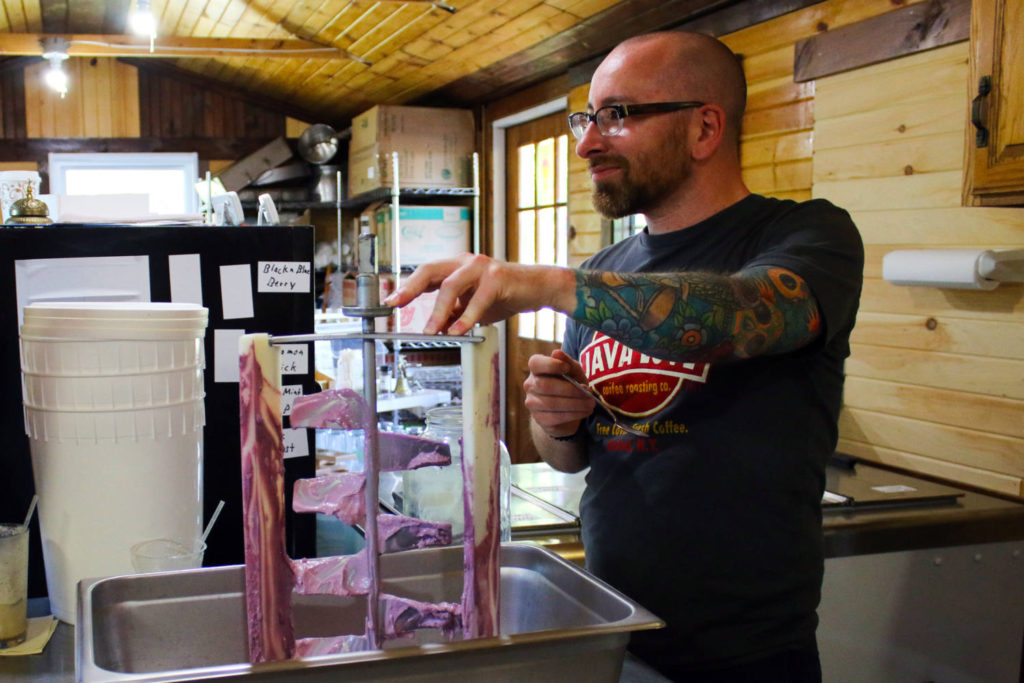 Spotted Duck Creamery has whipped up flavors like Tad's Java Junction (actual local, organic roasted coffee grounds provide texture!), Strawberry-Rhubarb, and even a daring Hot Mud, which is dark chocolate with just a hint of jalapeno. Choosing only one will probably be a difficult task, so they've also kindly provided a frozen custard flight as a menu option.
Just like their ingredients, the operations are intended to be as Earth-friendly and life-sustaining as possible, so if you stay on site, you'll be dining with real silverware in a mason jar dish, but even the to-go provisions are entirely recycled and biodegradable.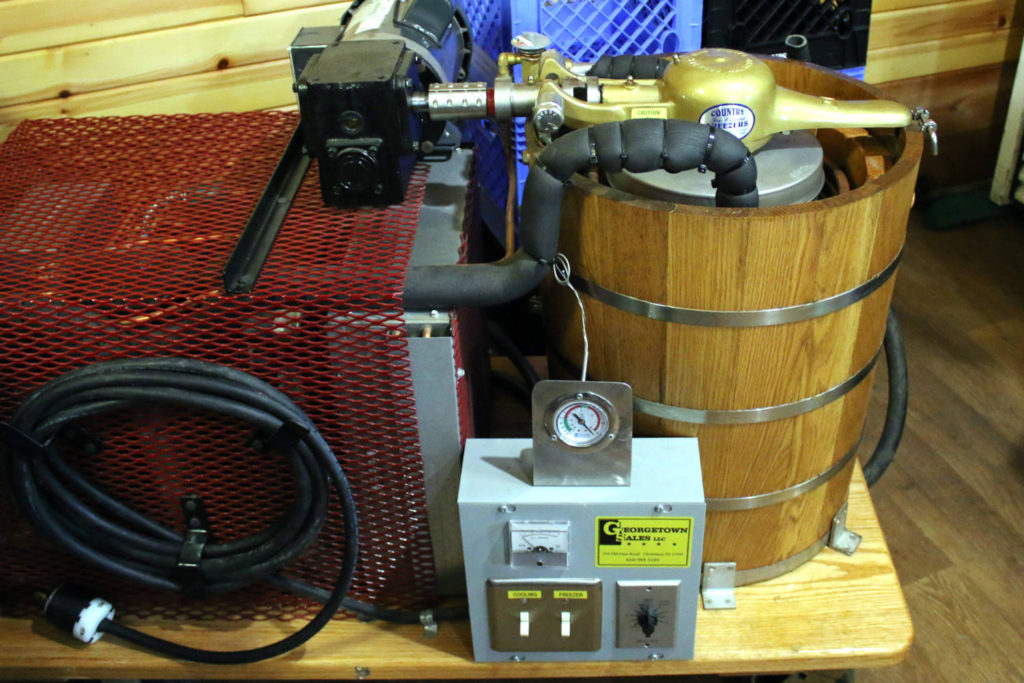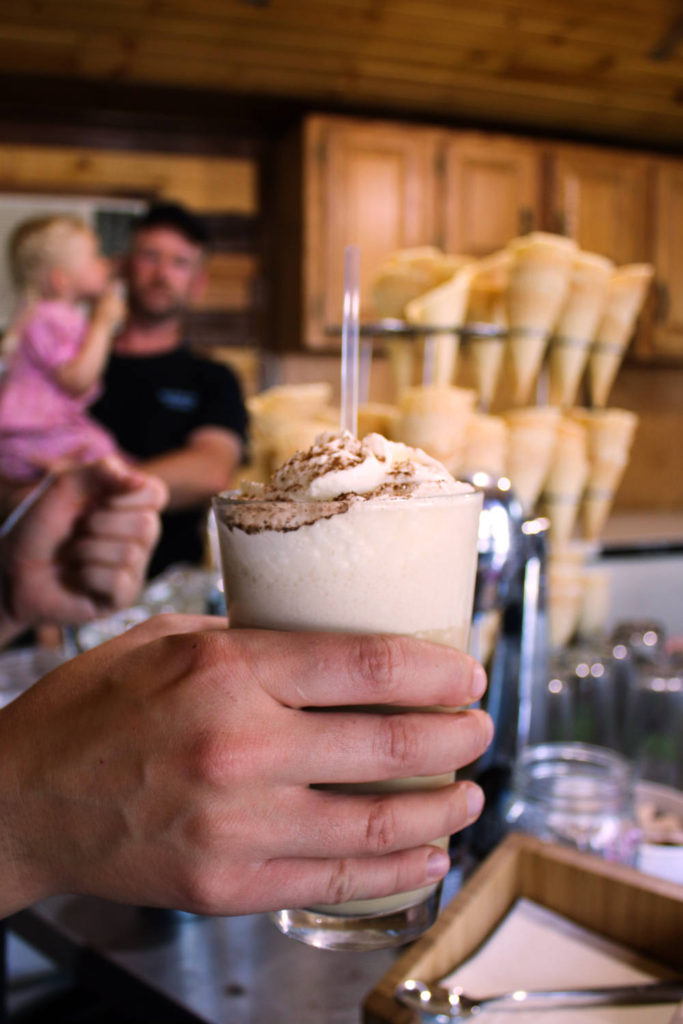 If serving some of the most unique and tastiest frozen custard in Upstate New York wasn't enough, the Hoovers now have multiple vehicles to carry their custard. Homemade waffles cones are always a safe bet, but you can also get a cookie sandwich or frozen coffee with a scoop of vanilla custard–again, all of it is organic! Brewed with locally roasted beans, they even made the ice cubes from the same coffee so a melting cube wouldn't water down the flavor.
Want an even bigger surprise? This frozen coffee, featuring housemade whipped cream, runs only $3.00. That's like a medium-sized regular coffee from some of the national chains! Meredith managed to snag this great shot before I chugged it down.
I'm not sure I would've anticipated that I could've ever written so much about a small, locally owned ice cream shop, but to be honest, I had to try and find a way to scale back my excitement for what the Hoovers are doing here. Luckily, Penn Yan is about an hour from me in Rochester, or this would soon be a blog about me needing to explore fitness clubs.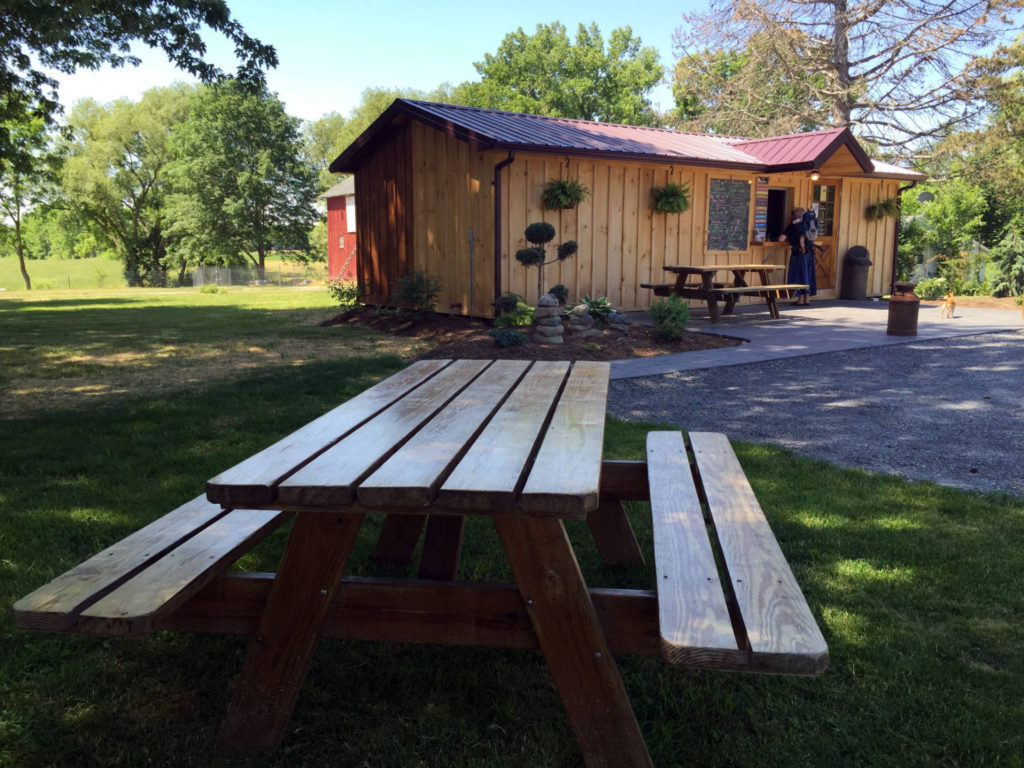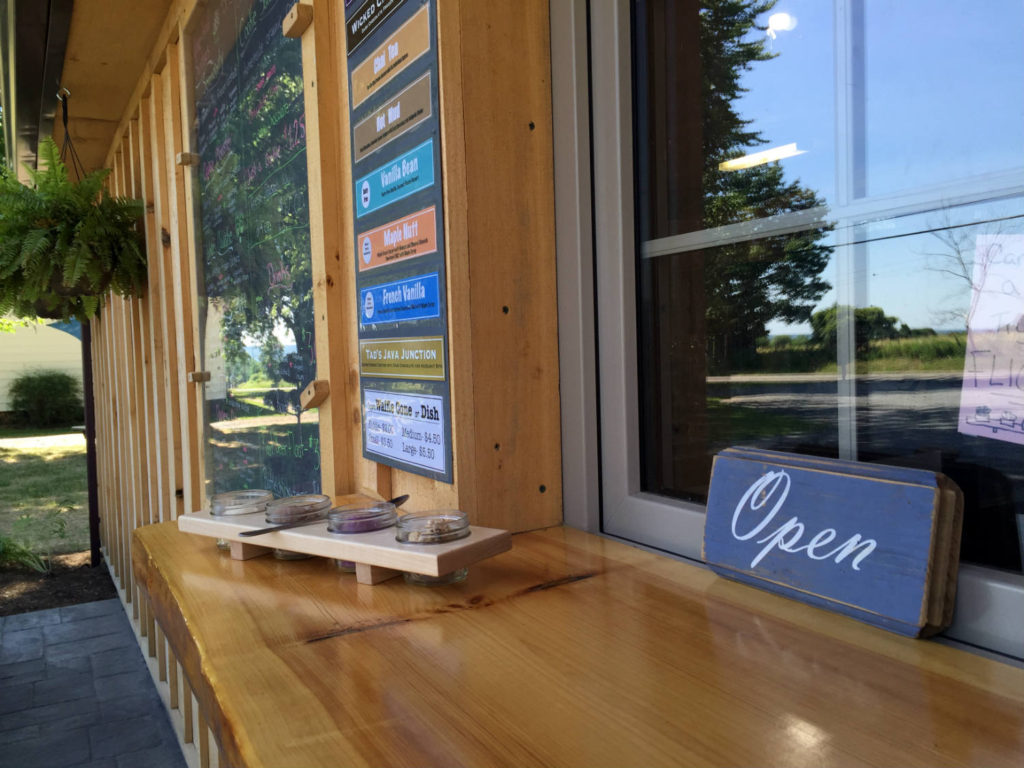 Spotted Duck Creamery is located just a bit west of Seneca Lake on Route 54. Currently, their hours are Fridays and Saturdays from 11a-8p. I don't care if you have plans, cancel them, and go find out what the quack is up with duck egg frozen custard.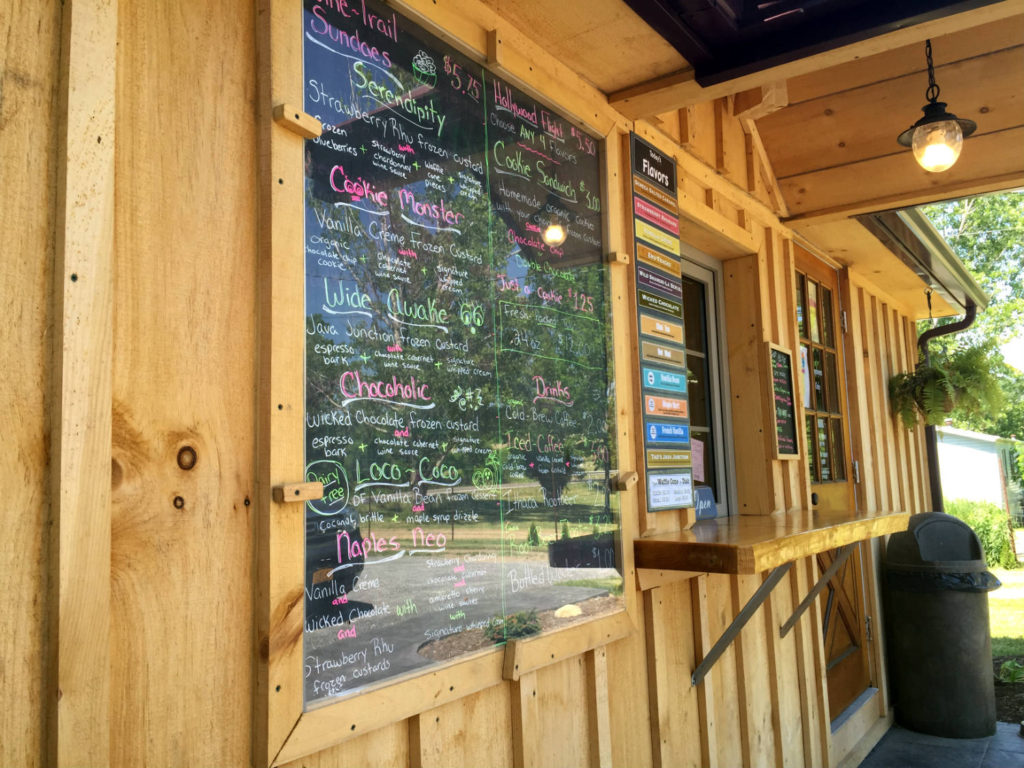 For more information, visit their website and go follow them on Facebook and Instagram!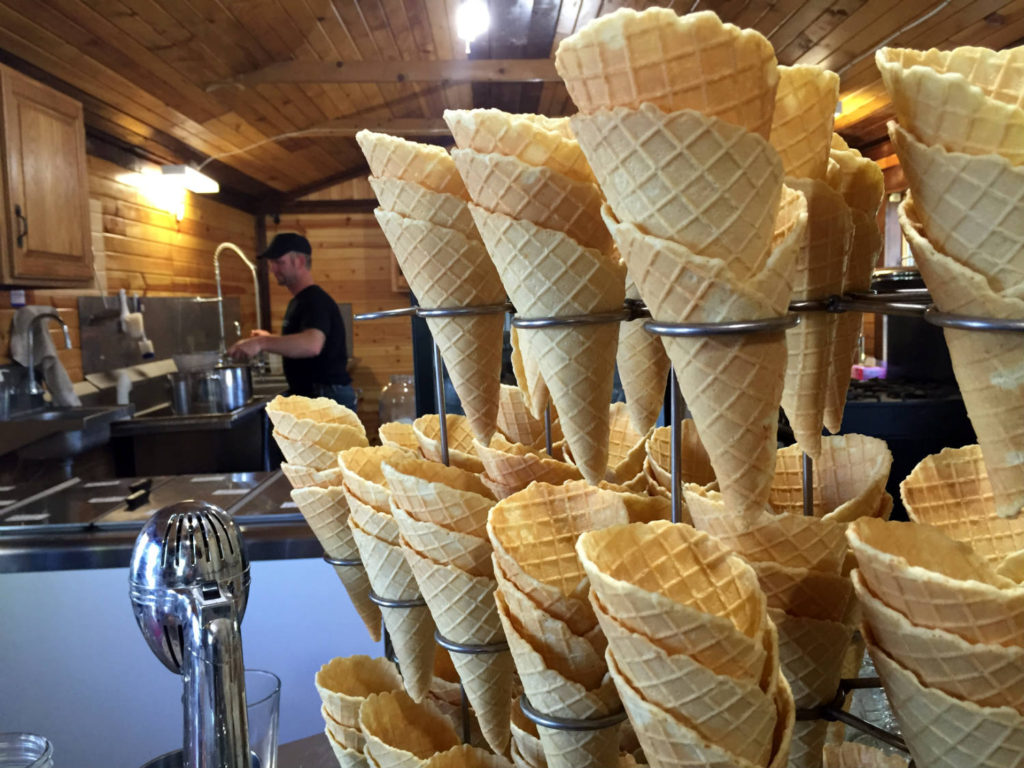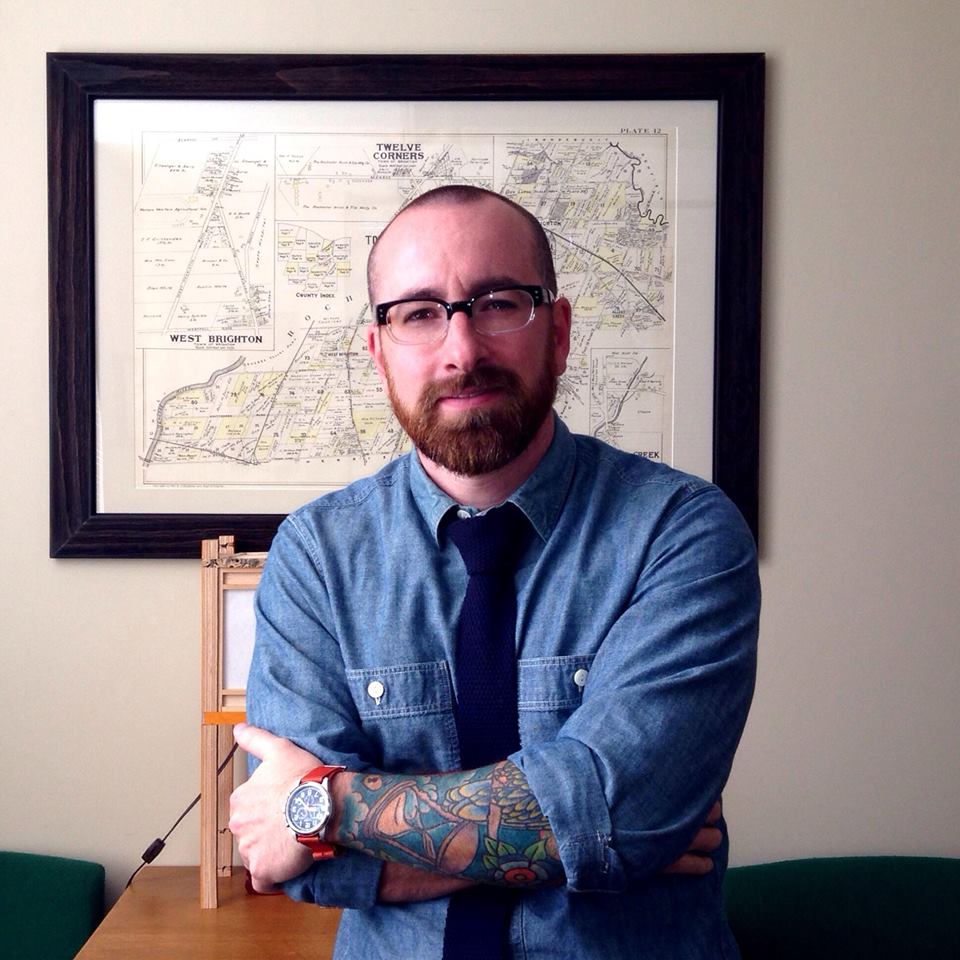 Chris Clemens is the Founder/Publisher of Exploring Upstate. From his hometown in Rochester, he spends as much time as possible connecting with the history, culture, and places that make Upstate New York a land of discovery. Follow him on Twitter at @cpclemens