Some would argue that the phenomenon of the religious revivalism that took place here can easily be accounted for by the fact that the land in Upstate NY is in itself inherently spiritual. The terrains once graced by continental glaciers dating as far back as two million years have been home to numerous societies and cultures, many of whom have attributed some great spiritual association to the lands that we call home. When those ice sheets moved their way south from the Hudson Bay about 12,000 years ago they carved valleys and left hills in parts of Central and Western NY and a few of those striations would later earn the area its moniker of the Finger Lakes Region.

A region that spans the Central to Western part of NY, the Finger Lakes are commonly known for many of the lakes and towns and proper names that are still used today that make reference to a time when the Iroquois tribes ruled the land. The tribes that were each part of the Iroquois knew the land was special and particularly fertile. That same fertile land is now used to produce some of the top rated wine in the entire United States and though this blog is particularly about the religious movements in NY, wine is exactly how the story of The Mission begins.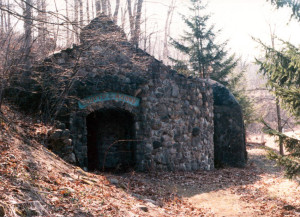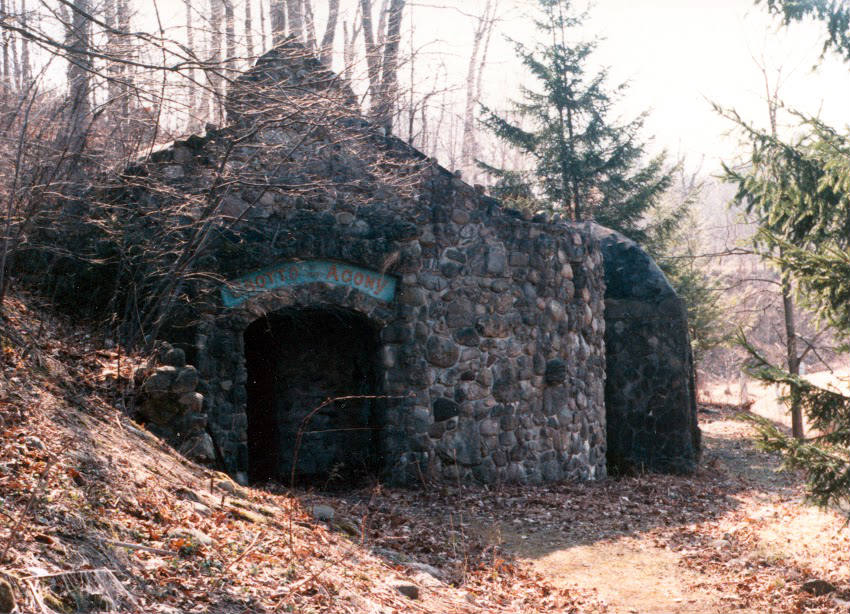 I had read and found pictures of a particular set of grottos and a mission property once bustling with movement that lay perched atop a green sprawling hilltop overlooking Hemlock Lake, one of the minor Finger Lakes that now serves as a water supply for the City of Rochester. Every time I came across a morsel of information I became a bit more enamored with a story that seemed to be devoid of any easily accessible history. A few personal friends have mentioned it as something to be interested in, but no one has ever been able to provide any information other than the little that appears to be online. One unseasonably warm Saturday in early November was a perfect day to go exploring an area I wasn't familiar with and to attempt to locate this mission house whose status appeared to be somewhat of a mystery. The day ended up being way more than I and my friend accompanying me had bargained for, and our expectations of just doing a little reconnaissance turned into a pretty incredible adventure and a brief (but thorough) look into a slice of spiritual history that helped shape the Finger Lakes in the latter portion of the 20th century.
The story of The Mission actually begins in 1865 when Reverend Bernard McQuaid purchased land on a hill located on the Western bank of Hemlock Lake. In doing so, he founded one of the first wineries in the entire Finger Lakes region for the purposes of supplying local churches with altar wine. McQuaid named the winery 'O-Neh-Da Vineyard' to honor the Seneca tribe's original name for Hemlock, as it is the only of the eleven Finger Lakes to have been given a European name. Just a few years later in 1868, McQuaid would become Bishop when the Diocese of Rochester formed, and then in 1872 the final works were put in place when O-Neh-Da would begin its first round of wine making with Ed Mulvaney as the foreman. Soon thereafter the Rochester Diocese inherited the winery and property from McQuaid and took over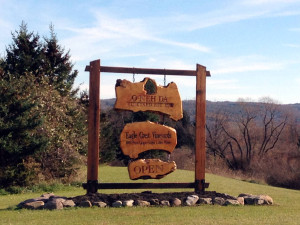 operations. When Prohibition laws kicked in, sacramental wine producers were allowed to continue operations, but O-Neh-Da ceased its wine production until 1934 when the Repeal made alcohol and its production once again a legal business model. The winery is still there today though when we visited, we were told that nearly nothing at the winery was original except the tradition and the long standing history. O-Neh-Da is one of the two oldest wineries in the entire Finger Lakes Region and still produces a long list of sacramental wines. It was cool to check out and be on the property, but there were way bigger things for us to checkout just up the road.
We drove North on Mission Road past countless men in camouflage and bright orange vests carrying rifles and we wondered if the start of hunting season was the best time to go exploring the back roads of Upstate. We had wondered about these underground grottos and sprawling mansion houses for a long time, so we weren't to be dissuaded. Suddenly the tall, leafless trees and landscape opened up to reveal the purpose of our mission. We parked on the side of the road totally unknowing of what to do next. This blog of exploration does include taking risks and probably sometimes going where people aren't exactly supposed to, but I constantly am conscious of wanting to be respectful and mind trespassing laws accordingly. We had no idea what to do here with this one. Standing on the side of Mission Road, looking up at what seemed like millions of windows on 4 floors of a huge campus, we kind of expected to see one drape in a window high up pulled aside and a creepy, ghost face look out and then quickly move out of sight. But, as I said, we are not easily dissuaded. My accomplice told me, 'Go knock on a door.' and I immediately thought out loud, 'Which one!?'
We approached the building in awe of its size and history and incredible view overlooking the region and we began to ascend the steps and passed the 'No Trespassing' sign and 'No Hunting – Don't Ask' sign. We got a little braver and walked to the side of the building and then around the back just as in the distance someone fired what seemed to be a cannon. Behind the South building was a newer car with a door to the garage open, and then we saw other cars and then people! With a few vehicles and a trailer backed up to a rear door, people seemed to be moving furniture out, which was a surprise to us since everything we had read online said no one lived there. A couple smiles and friendly waves from them told us they probably weren't stealing furniture and it was cool to approach. After settling some confusion about the nature of our visit, and assuring them we weren't the extra sets of hands they were expecting to show up, we got an opportunity to talk with a few people who explained a bit more.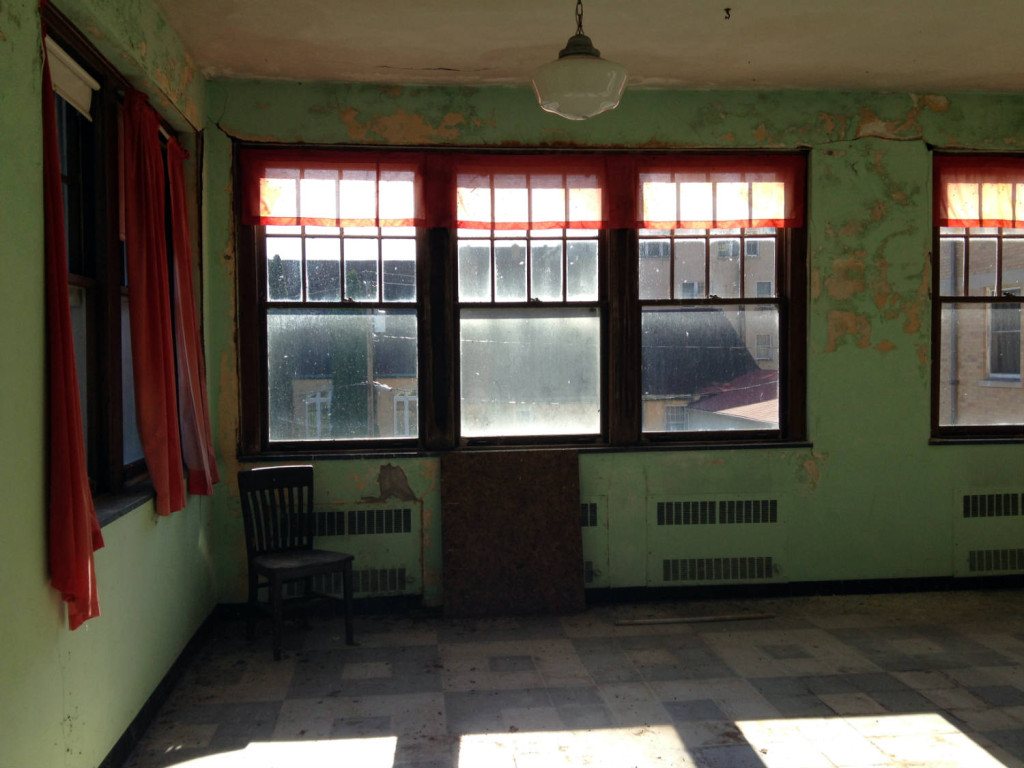 Unfortunately, no one person seems to have the exact full history of the property, and different sources seem to have different information. A newsletter from 1997 called 'Yore Links' by the Ganeasos History Keepers says that in 1924 the property was purchased by a group called the Society of the Divine Word (Societas Verbi Divini), but in checking with the headquarters, their information says the purchase occurred in 1936. The folks we talked to in the parking lot didn't have any dates at all and it began to occur to us that the mystery of this place was in part due to the fact that the history and it's story was already gone. It hadn't even been a hundred years yet and just a select few seemed to know the story of what once was St. Michael's Mission.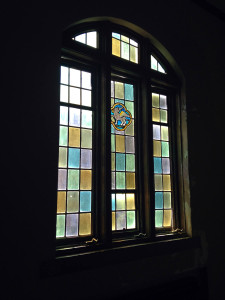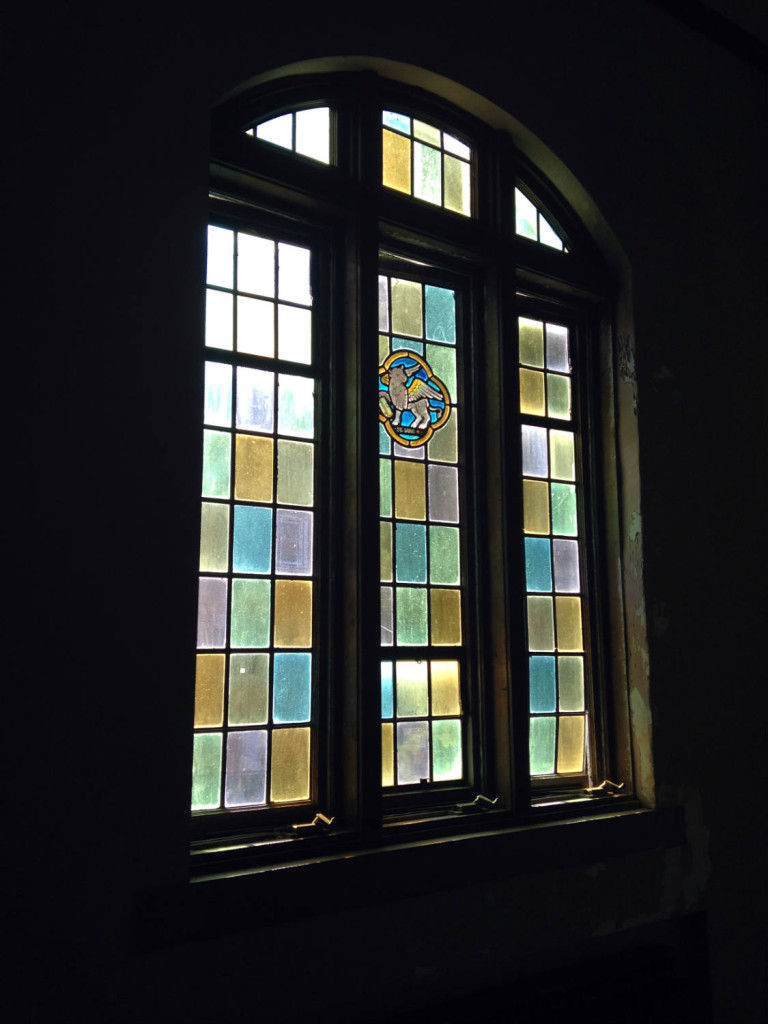 The Society of the Divine Word (aka. "The Divine Word Fathers" here in the U.S., "Divine Word Missionaries", "Societas Verbi Divini" and also just "SVD") is a Roman Catholic order for men founded in 1875 in the Netherlands by Arnold Janssen. The group first came to the U.S. in 1895, but sometime in the early 1920's acquired the property and began construction on what is today a sprawling 170 room complex. With the South building's construction in 1936, the Mission now had its high school, and many of those in attendance would study between four and fourteen years in that same building. In the 1950's enrollment hit its peak as about 250 were in attendance at once, and that allowed the SVD to build another building, the North wing, in 1957. Originally the plans called for a gargantuan cathedral between the two wings, but it was later determined that a modest chapel would be best suited to fill the space and the plans were greatly downsized. As it turns out, it was only a decade later that the SVD would begin to feel a financial weight, and in efforts to maintain as much as possible, they sold the winery in 1968 to a group in in California. Unfortunately, the group never recovered financially in Conesus and made multiple attempts at leasing the property to various groups like the Livonia School District and then a holistic health center, (which remnants still exist from in the North wing) and even an alcohol rehabilitation unit. While standing talking to our new friends, I learned that later on SVD sold the entire 110,000 square foot building and property in 1985 to a group called the Christ's Church of the Restitution. These new owners intended for the property to be a vacation retreat for spiritual leaders needing a break. When that too didn't pan out, it was donated to a church somewhere in the mid-2000's, and the mission leaders of that church were who we found ourselves talking to.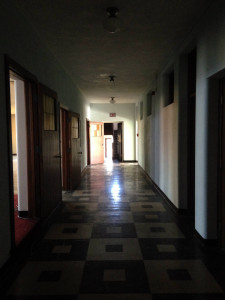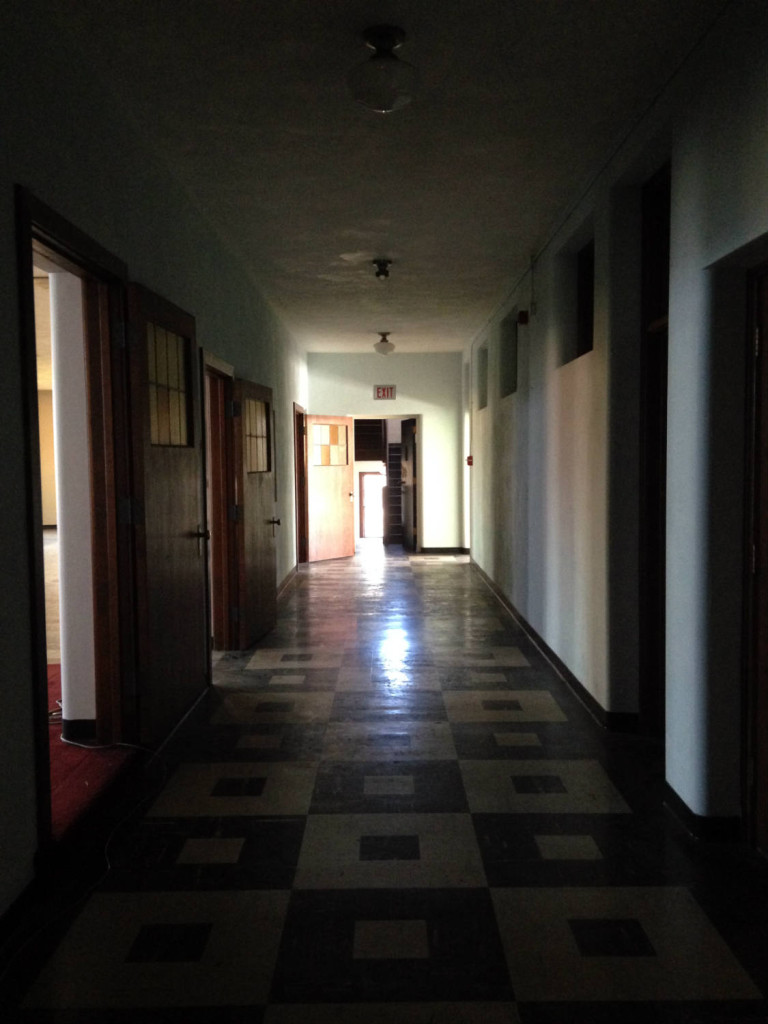 It was somewhat ironic that I had been in Colorado Springs the week previous, and now we were face to face with residents of Colorado Springs who call The Mission home for a certain number of months out of the year. The group known as The Vision for Nations Fellowship is based in Colorado Springs and they inherited the Mission as a donation, and now use it as an all purpose destination for their mission work. The Mission is housed year round by caretakers, but the summer months see groups of people from around the country coming to stay and study with other like-minded evangelical Christians. One of the folks we talked to assured us he didn't mind taking a bit time off from moving furniture and the three of us split off from the group to continue chatting and exploring the property.
He explained as we walked that before they inherited the property, the Catholic Diocese of Rochester basically pillaged the entire property taking anything of worth or value. As a result, much of what we were about to see was bare bones walls and floors. As we entered the rear of the chapel, it felt as though we were in a building that had been abandoned forever, and just recently someone was making an attempt to renovate it. There were brand new looking rooms with fresh drywall and paint with a newly outfitted kitchen which all looked fantastic, and then on other floors were rooms that would've made perfect locations for the shooting of a horror movie. Many of the rooms and halls were in various states of renovation, and it was an odd idea to try and imagine that just 70 years ago the building was new, pristine and bustling with hundreds of people seven days a week!
From the basement gymnasium to a rooftop perch, the three of us walked and talked and explored nearly every area that was accessible. Our new friend explained that their church based out of Colorado Springs intends to make use of the property by offering tours, retreats, training, conference space and educational opportunities while partnering with other like-minded groups and communities to achieve their mission.
Before I had ever learned any other history about the Mission, I learned of a number of grottos that had been built, maybe even underground, by a Priest residing at the community. Admittedly, we were hoping to find them even if the property had been abandoned and even though we were loving a full tour of the buildings, we had to bring them up. With a tight lipped look of fear that seemed like he was concerned about ruining our good moods, we were told that the previous organization also had entirely removed all statues and remnants from the grottos, but he agreed to show us the remainders.

The three of us walked out the back of the complex of buildings and then behind the garage toward the wooded area surrounded the complex and and stopped short in our tracks. Just behind the garage, years and years ago, the SVD group had taken a full sized school bus and plopped it down and built stone walls around it, effectively turning a school bus into a shed. It obviously wasn't directly related to the history of the property or even religious history, but finding fun little gems like the school bus are really fun!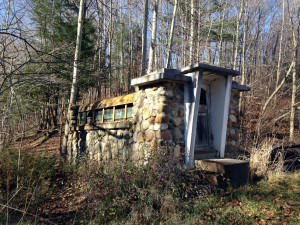 Further into the woods on the South end of the property, we were guided down an unkempt path into a small ravine overgrown with brush and trees. Immediately we began to spot a number of stone columns, and it was pointed out that those columns once were part of a large ring of the Stations of the Cross. The Catholic Diocese had taken almost anything on them that could be removed back in 1985, so the ravine was filled with basic, bereft stone columns that told only a story of what used to exist. We crossed a small stone foot bridge that looked as though it once offered a picturesque promenade through the ravine but now almost didn't even seem safe to cross. Just past the bridge were a couple burial markers, which for me made this ravine even more sad. This ravine was once a spectacular work of art dedicated to peace and tranquility, which probably made it a perfect place to bury a loved one, but now it made me wonder if anyone remembered the stories of the people buried here.
Just past this spot was the first of the grottos that we had seen pictures of online. Sitting up a bit on the side of the hill, it was now crumbling and there was absolutely no indication of what grotto it may have been because the only thing that hadn't been taken was the stone walls themselves. We came upon another grotto with a large cross that once featured a crucified Jesus, but now was a stone structure with a few marks indicating what used to be. We now understood why we thought there were 'underground' grottos on the property as we approached a collapsing stone structure with wide eyes. Our guide warned that they were condemned so we couldn't go in, but it was too difficult for us to not stick our heads in some of the windows. A walk-through shrine had been built with multiple rooms and even two floors where once a number of different scenes from the Bible all existed. Occasionally scattered you could see broken terra cotta tiles or a fake flower that had once adorned part of the grotto. We were told that the group that now owns the Mission wants to fix up the area and make them once again a beautiful hillside setting. They have a tremendous task in front of them.
We kept walking a bit and came across another larger foot bridge, which we were told is often a common setting for class photos from when the SVD group was operating, but now most likely wasn't even safe to walk over. Avoiding the bridge, we crossed back over the stream and had almost come entirely around which would have been the Stations of the Cross, but now was just a ring of those stone tablets. The Rosary Grotto was closer to the Mission buildings and still pretty much in tact. A couple murals painted on walls and a spot for offerings were all that had remained. I won't speak for anyone else, but I have to admit I had a lot of feelings here. Someone had gone to a tremendous amount of work to plan and build this entire ravine. I was feeling a bit excited about exploring a new place and was wide-eyed at all the really incredible things that most people probably don't realize exist. Then I was struck by a bit of sadness that most people probably don't realize this all existed! The artisan dedication and hard work that went into creating a sacred space for SVD was quickly becoming a memory, and I've wondered how many of the students that attended St. Michael's Mission even still remember (or, are even still alive).
The other feeling I had was around the fact that my friend and I had set out entirely unknowing of what the day would bring and not only did we cross off an item on our list of things we wanted to see, we also managed to make a couple new friends in the process. I didn't mention it earlier, but everyone we talked to that day was about our age so it felt pretty natural to hang out with them. We were grateful for all the people we met at the Mission that day for being super cool and hospitable. Though the Mission seems like it has seen better days, it appears that the current group calling it home is dedicated to making it the incredible gem it was once was.
Sources and Additional Reading
Official Website for The Mission
St. Michael's Mission House 1924-1986
SVD Seminary, Conesus on the Rochester Seminarian
Saint Michael's Mission on HemlockandCanadiceLakes.com
Group Renovates former St. Michael's Mission on Rochester Business Journal
*This post previously appeared on ExploringTheBurnedOverDistrict.com