Upstate News You Can't Use is a series by David Brooks to discover insane ads, fantastical headlines, and ridiculous news in historic newspapers from Upstate New York
by David Brooks
That's it! We made it to October. Past all the Back to School hubbub and full bore into pumpkin spice season!
For nearly all of us, the return of September air meant reminiscing about school days. Whether you have children (heck, weren't we all children at some point?) "school" churns with mixed emotions for everyone. Most of us are lucky. Public education – even with its faults – is free and sets a foundation for who we become in life. If you're reading this, it means someone had to teach you, foster your development, and provide you with the means to understand what lies before you.
Promote then as an object of primary importance, Institutions for the general diffusion of knowledge. In proportion as the structure of a government gives force to public opinion, it is essential that public opinion should be enlightened.

– George Washington
In America, and New York in particular, the concept of a foundational education being available to everyone is rooted deeply into our history. It is what we do with it that matters.
Crime School
Showing up has always been the hard part for students though. And just what to do about it has been long debated.

Fun School
In New York there are laws to mandate the attendance of children to schools. Getting students to "buy into" the importance is another obstacle.
The idea of making it "fun," well, that has mixed results. While parents today, and probably much like those in decades past, are happy to send kids back, students have to be convinced. That is probably harder today than it has ever been.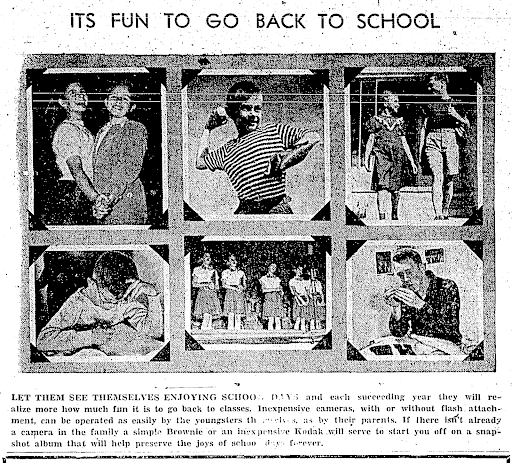 Not quite the Instagram story deluge of that first week in September, but a good marketing concept from Kodak right there. More on "selling" back to school later in this article.
As the kiddos flock back to school, it might be worth remembering that each generation has bemoaned the loss of knowledge being passed on. Or, taken exception to the fact kids don't seem to pay attention to learning anymore. Seems people throw around that big M word all the time accusing them of being lazy and disinterested.
Every generation is derided by the one before – it's kinda like hazing in school eh? Wait, they don't allow that anymore.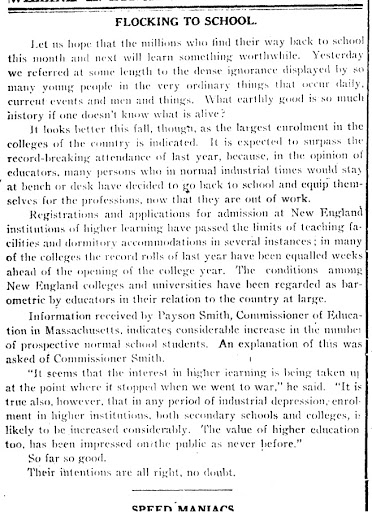 Bright Ideas
As kids perform at school, covering their three "R"s in overly tech infused ways, they may be faced with poor performance. How about they blame the lighting at home?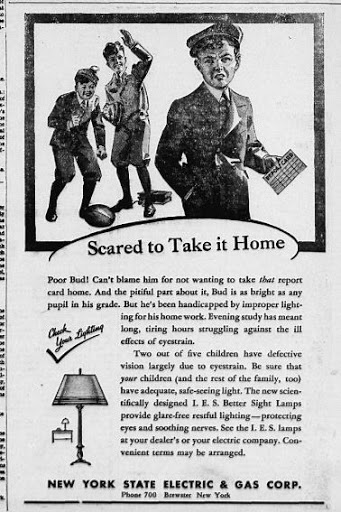 This ad is pretty interesting, it's a PSA and advertisement all in one! Poor Bud indeed!
Back To School Ads
It's easy for us to think of all the ways students get distracted today, but there has always been hurdles in the way for kids to learn. This one is great as it seems to blame the parents too!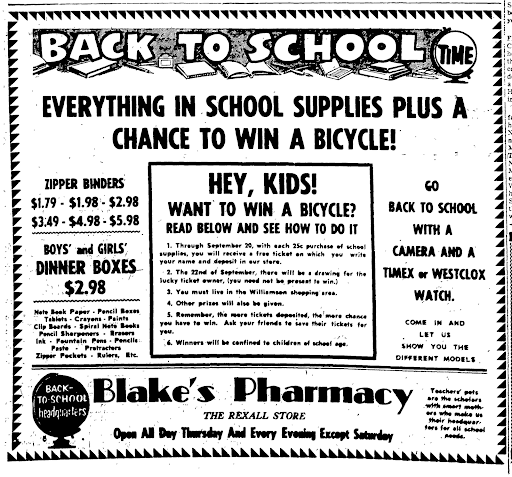 Back to school ads haven't really changed all that much, have they? Getting kids to be excited about all the fun they'll have this year, convincing parents they are getting a "deal" on clothes and supplies. Contests and all!
As the kid that never had the cool Trapper Keeper, those zipper binders sound pretty great.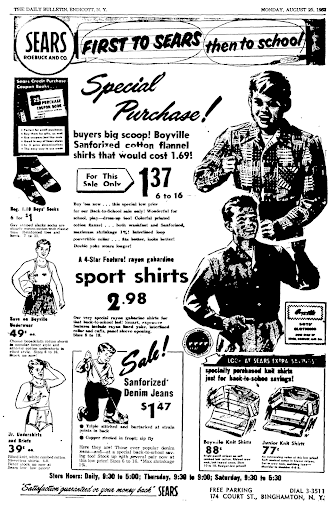 Papers going back decades, even to the 1800s, showcase materials and clothing that will put kids in a position to succeed at school. Many are ads for pants and coats, pretty dresses, and of course shoes! They're all mostly targeted to adults – unlike the center of that contest ad. It wasn't until the second half of the 20th century that ads seem to start targeting the children themselves. Even movie theaters would have back to school matinee specials to get kids into seats before returning to their desks.
It's Also For Parents
But with the return to school, it can also mean new opportunities for parents! I recently saw a meme being posted and shared on Facebook about mothers exuberance for the freedom they'll have until June to shop at Target during the day.
Sexism aside, that reminded me of this ad I had come across from 1929.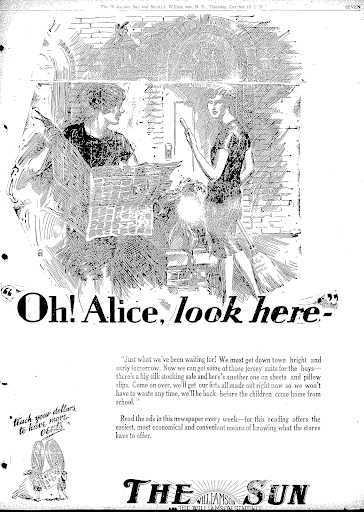 Please, these ladies are soooo getting a pumpkin spice latte on their way in!
We really aren't all that different than our grandparents or great grandparents. They all had the anxiety of back to school, then as parents they faced the same excitement and dread of their children as the waning days of summer sped past. Each generation is accused of being dumber and less motivated than the last. All while facing new challenges to learning; everything from friends, fashion, and curriculum to deadly influenza, fallout drills, and mass shootings.
Whether you have just sent your kids back to school, gone back into the classroom yourself, or have been inundated by friends cute photos of their adorable little learners all over your social media feed – back to school is really a magical time.
One where the phone-booth doors open and we all get to have an Excellent Adventure!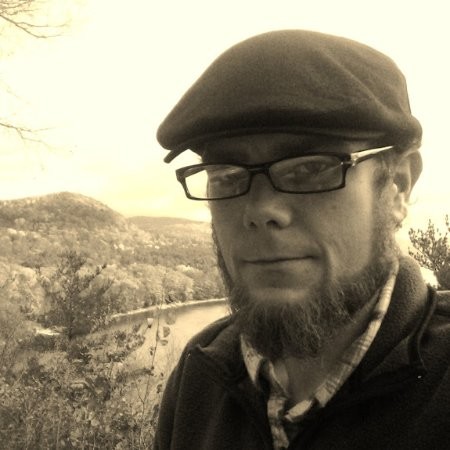 David Brooks has an American History degree from the State University of New York. He currently lives in Northville along the banks of the Great Sacandaga Lake. He serves as the Education Director for the Schoharie Crossing State Historic Site and on occasion can be found exploring the Adirondacks hoping to catch sight of Big Foot.